BYU Cougars
Kansas Welcomes Big 12 Newcomer BYU to Conference Play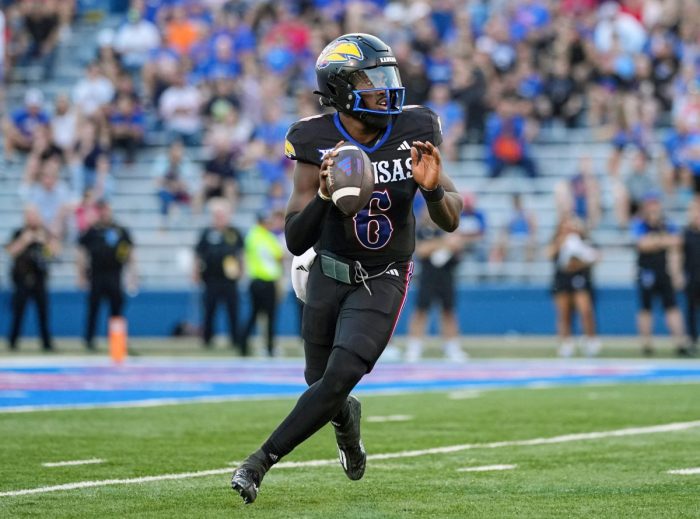 A new member of the Big 12, Brigham Young University, will head to Lawrence, KS on Saturday, September 23rd to take on the Kansas Jayhawks at 2:30 pm at David Booth Kansas Memorial Stadium. This game will air on ESPN and both teams are coming into this game with a 3-0 record. Kansas is just a tick over a touchdown favorite against BYU.
KU fans can breathe a sigh of relief after that last game on Saturday. Kansas was able to sneak out of Reno, Nevada with a 31-24 win over the Nevada Wolfpack in a late-night affair that ended after midnight in the central time zone. The Jayhawks, who were 28-point favorites, struggled to get into a rhythm in the first half. However, they did get things going in the second half. Devin Neal finished the game with 89 yards on 17 carries and got 3 touchdowns.
Jalon Daniels had a very efficient game from the pocket. completing 21 passes in 27 attempts for 298 yards. He spread the ball around pretty evenly as well. Mason Fairchild led the way with five catches for 74 yards, Devin Neal had one catch for 59 yards, Luke Grimm had four catches for 55 yards, Quentin Skinner had four catches for 50 yards, and Lawrence Arnold had five catches for 46 yards. If Daniels can continue to keep teams off-balance, the Jayhawk offense should continue to have plenty of success.
On the defensive side, Craig Young and Tommy Dunn Jr. picked up sacks for the Jayhawks. In news that is not surprising to anyone who has been paying attention to the Jayhawks the past few years, Kenny Logan Jr. led the way with nine tackles, including 2.5 tackles for loss. Rich Miller added six tackles including 1.5 tackles for loss. There was a total of 10 tackles for loss on the day and the Jayhawks defense did a pretty good job overall.
On the other side of the field, BYU is coming off a big road win at Arkansas. The final score was 38-31 with a powerful comeback effort in the second half. After being down 31-21 as late as 5 minutes left in the third quarter, BYU scored the final 17 points of the game and came out on the other end with the victory. Now the two programs are set up for a battle of undefeated teams.
After looking fairly mediocre in their first couple of games, BYU came to play this past week in an impressive road win. KU looked great in their first two games but squeaked out a win on the road last week. This should be a measuring stick game for both teams to see how things could play out the rest of the season in the Big 12.
Kendon Slovis is a journeyman quarterback who started at USC, then went to Pitt for a season before ultimately landing with BYU. He will look to continue his solid start to the season against the Jayhawks. KU needs to keep the pressure on him and mix in some blitzes so he doesn't get comfortable if they want to make some noise on defense.
The KU offense should be able to continue to put up a lot of points. If the Jayhawks can learn anything from last week, it is don't let up in the 4th quarter. BYU showed they will not give up and will fight all the way to the finish. KU will need to keep their foot on the pedal from start to finish if they want to stay undefeated and get off to a 1-0 start in conference play. The Cougars will try their best to disrupt the Jayhawks' plans.
Despite BYU's best effort to pull off back-to-back road upsets, I will say KU wins this one 34-30 in a game that stays close the entire way. That would give the Jayhawks their first 4-0 start in back-to-back seasons since the 1914 and 1915 seasons. An incredible streak could very well come to an end this weekend. Hopefully, all of the BYU fans enjoy their time in Lawrence.
Welcome to the Big 12, Cougars!