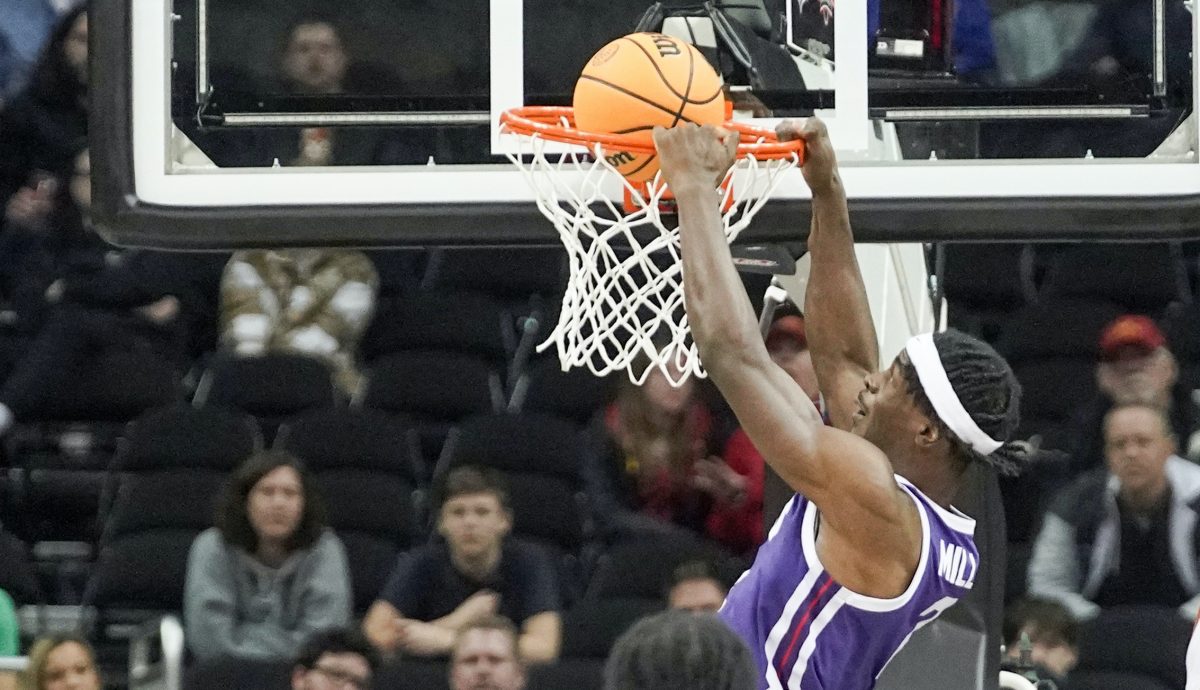 The TCU Horned Frogs are preparing for the 2023-24 men's basketball roster and below is a preview of every player on the roster entering November's opening game.
Below are the returning players, the transfers and the freshmen that will play a role in TCU's upcoming season.
Expected to Return
Micah Peavy
Versatile and reliable, the 6-foot-8 senior guard can be effective as a starter or coming off the bench. Last season he averaged 7.0 points per game while playing in 30 of 35 games and making eight starts. He also averaged 3.1 rebounds and was trusted at times with one of the toughest defensive assignments on the floor. This could be the season that Peavy, a former state champion at nearby Duncanville (Texas), breaks through.
Emanuel Miller
The 6-foot-7 senior forward averaged 12.3 points and a team-leading 6.5 rebounds per game and returns as the primary scoring option in the frontcourt. He was an All-Big 12 Honorable Mention pick each of the last two seasons. He started nearly every game and ranked sixth in the Big 12 in rebounding. He also shot 50.5 percent from the floor, which was second-best in the Big 12. With Mike Miles Jr. now in the NBA, this could be Miller's season to be the No. 1 scoring option overall.
Chuck O'Bannon Jr.
He'll use his final year of eligibility with the Horned Frogs, a former five-star recruit who started his college career at USC. The 6-foot-7 forward is a solid outside shooter who averaged 7.7 points last season. He scored nearly 10 points per game two seasons ago for the Frogs. He was also TCU's leader in made 3-pointers and in blocked shots last season.
Xavier Cork
He gave the Horned Frogs valuable minutes as a starter when last year's starting center, Eddie Lampkin, was hurt and later when he was no longer with the team. He averaged 4.4 points per game. The 6-foot-9 senior forward once averaged 12.7 points, 6.1 rebounds and 1.8 assists during his sophomore season with Western Carolina in 2020-21. So he's capable of having an impact in the scoring column.
JaKobe Coles
Another versatile player who can be used inside or outside, Coles averaged 8.6 points per game. The 6-foot-8 junior forward also had 4.0 rebounds last season. He had a season-high 21 points, one of 12 games in which he scored double figures. He will likely compete with Cork for floor minutes at the three or four position.
Tyler Lundblade
Lundblade, a 6-foot-7 redshirt sophomore, is part of a group of players that will vie for more playing time this season. The McDonald's All-American nominee averaged 10.6 points, 2.9 rebounds, 1.2 assists and hit 45 percent from three in 2020-21 at Greensboro Day School in North Carolina
Darius Ford
The 5-foot-11 junior guard played in just six games last season and played 11 minutes. He averaged 15 points and 5.0 assists per game during his senior season at Paul Laurence Dunbar YMLA.
Trey Stuart
The 6-foot-2 sophomore played in six games and logged six minutes last season. He averaged 15 points, 7.0 rebounds and 5.0 assists per game as a senior at Brock High School.
Cole Despie
The 6-foot-4 junior guard played in five games and logged five minutes last season. He averaged 17.6 points as a senior at Bellarmine College Prep in San Jose, Calif.
Zach Gonsoulin
The 6-foot sophomore played in six games and logged six minutes last season. He played at IMG Academy, where he averaged 12.1 points, 3.3 assists, 3.2 rebounds and 1.2 steals per game.
Arrivals Via Transfer
Avery Anderson III
The 6-foot-2 senior guard is a DFW product who transferred in from Oklahoma State. He missed the end of last season with an injury, but remained one of the team's top scorers, averaging 11.1 points. He could fill the scoring gap left by the departure of Miles. In 2021-22 with OSU he averaged 12.1 points, which was No. 14 in the Big 12.
Ernest Udeh Jr.
The Horned Frogs picked up some frontcourt help by signing the 6-foot-11 sophomore forward after he hit the transfer portal from Kansas. He shot 75.6 percent from the floor last season, and in a part-time role he averaged 2.6 points and 1.8 rebounds per game. He steps into a situation where the Horned Frogs need help inside and Udeh is going to get every chance to prove he's the starter.
The 6-foot-9 senior forward averaged 12.4 points and 10.0 rebounds per game last season for Coastal Carolina. He has more than 1,000 career points and he led the Sun Belt Conference in double-doubles a season ago.
Jameer Nelson Jr.
The son of St. Joseph's star Jameer Nelson, the 6-foot-2 senior guard averaged 20.6 points for Delaware last season and has one year of eligibility to use at TCU. His 20.6 points led the Colonial Athletic Association as he scored at least 20 points 16 times. As with other guards on this team, the departure of Miles, along with guard Damion Baugh, opens up the floor for players to pick up the scoring slack.
The Texas A&M-Corpus Christi transfer averaged 15.7 points, 2.3 rebounds and 1.2 assists per game last season. The 6-foot-3 senior also went to Mansfield Legacy. Last season he hit a career-best 43.7 percent of his shots, including 40.2 percent from 3-point range. He was named Southland Conference All-Conference Second Team and SLC All-Tournament Team last season.
Class of 2023 Signees
Jace Posey
Posey, a 6-foot-5 forward, logged his prep time at Strake Jesuit in Houston, Texas. He is a talented outside shooter who will be given time to develop with the experience TCU has on the roster. The four-star recruit was the No. 92 player in the country per 247Sports.com and averaged 17.0 points, 8.0 rebounds and 3.0 assists per game last season.
Isaiah Manning
The 6-foot-7 forward is local to TCU, as he played at Legacy High School in Mansfield, Texas. the local product home was a priority for TCU coach Jamie Dixon and his staff. He was ranked No. 87 nationally by 247 Sports. He averaged 14.8 points, 6.1 rebounds and 1.1 blocks per game as a senior in 2022-23 but played in eight games before suffering a left ankle injury.
Starting Five: Peavy, Miller, Nelson, Anderson, Udeh
First Five off Bench: Coles, Cork, Tennyson, Mostafa, O'Bannon
You can find Matthew Postins on Twitter @PostinsPostcard