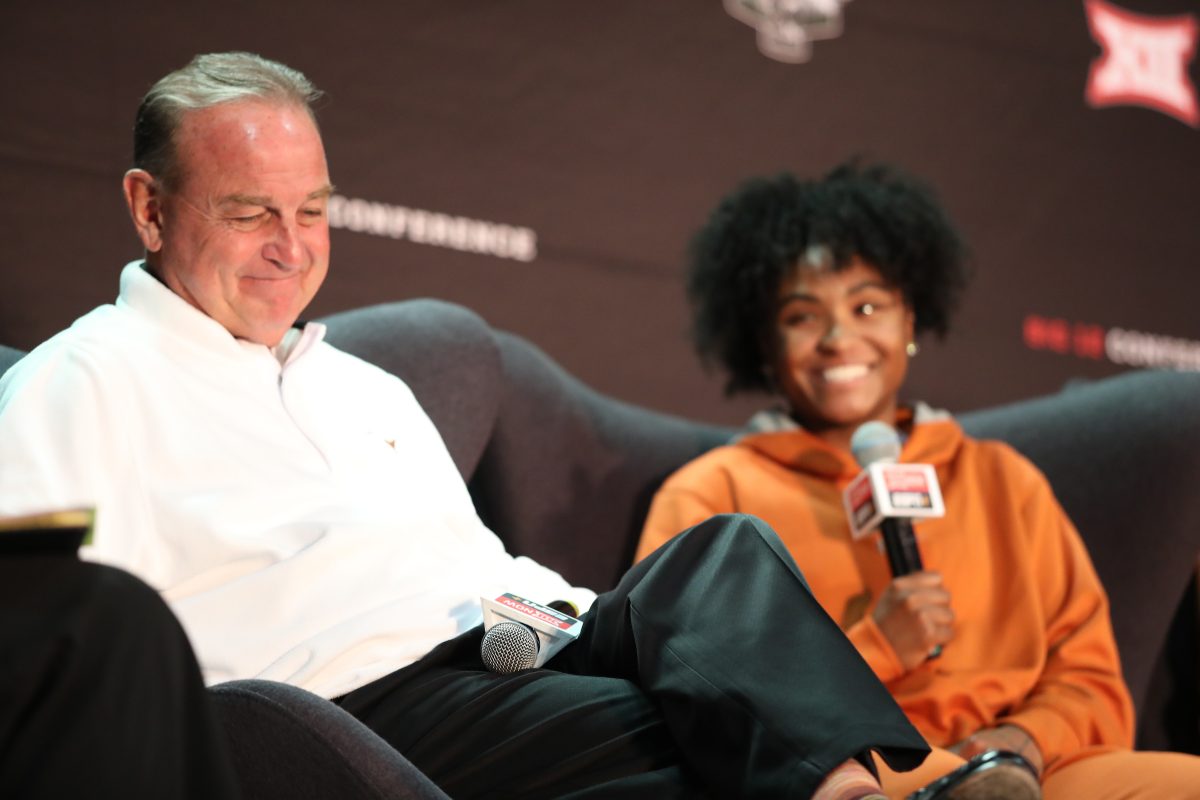 The Texas Longhorns are preparing for the 2023-24 women's basketball roster and below is a preview of every player on the roster entering November's opening game.
Below are the returning players, the transfers and the freshmen that will play a role in Texas' upcoming season.
Expected to Return
Jordana Codio
The 6-foot-1 guard was one of the big pieces of the Longhorns' Class of 2022. She did not play last season for Texas due to injury. She was a Top 100 recruit coming out of Montverde Academy.
Khadija Faye
The 6-foot-4 senior forward transferred in from Texas Tech before last season and played her way into a frontcourt role, as she played in 36 games and started in 27. She averaged 5.9 points and 5.1 rebounds per game. She was a Top 15 center coming out of high school.
DeYona Gaston
The 6-foot-2 senior emerged as the Longhorns' top frontcourt option after a breakthrough 2021-22 season. She averaged 12.1 points and 5.8 rebounds as she earned All-Big 12 First Team honors. She should be a starter again this season as he had four double-doubles a season ago and helped set the Texas single-season team record for blocked shots, adding 40 of her own.
Shaylee Gonzales
The 5-foot-10 guard transferred in from BYU before last season and declared in April that she would use her COVID waiver and play one more season at Texas. She led Texas in scoring with 12.7 points and filled in at point guard when injuries impacted the availability of Rori Harmon. She was named the Big 12 Newcomer of the Year and All-Big 12 Second Team. She also has 2,013 career points.
Sarah Graves
The 5-foot-9 sophomore guard was just put on scholarship after she played in one game last season as a true freshman.
Rori Harmon
The 5-foot-6 junior guard enters this season as the Big 12 Preseason Player of the Year, as selected by the league's coaches. She is one of the most complete guards in the country and was All-Big 12 last season, including Defensive Player of the Year honors. She averaged 11.2 points and 5.3 rebounds. She dished out a team-high 228 assists. She was also named AP and WBCA All-America honorable mention and Texas Basketball Coaches Association Player of the Year.
Shay Holle
The 6-foot guard is the team's glue player. Whenever Holle is on the floor, good things seem to happen. As a junior last season, she came in off the bench to take a starting role and helped solidify the Longhorns. Her season numbers don't look great — 5.9 points per game — but when she's on the floor for Texas, things just work. She was a Top 100 player coming out of high school.
Taylor Jones
The 6-foot-4 senior forward transferred in from Oregon State after missing most of the 2021-22 season due to injury and admittedly needed some time to ramp up. She finished with 9.5 points and 5.7 rebounds per game. She also led the teams with 62 blocked shots. He passed 1,000 points for her career and she should be in a better position to be more consistent this season.
Gisella Maul
A Class of 2023 signee, the 5-foot-11 guard tore the ACL in her knee after Cedar Park's state title run in 2021-22 and she enrolled in Texas early to take advantage of the program's medical team and rehab her injury. She was a Top 40 recruit in the class.
Aaliyah Moore
The 6-foot-1 junior forward started in nine games last season and averaged 11. 2 points before she tore her ACL and missed the remainder of her sophomore season. Getting her healthy is key. When she's on the floor she's a game-changer. But she's missed double-digit games in each of her first two seasons with Texas. She was a McDonald's All-American coming out of high school.
Amina Muhammad
The 6-foot-4 forward was a key member of the Longhorns' talented Class of 2022. She played in 36 games, played 18 minutes per game and averaged 3.9 points and 4.8 rebounds. She had the chance to make a jump in playing time and production this season. She was an All-Big 12 Freshman selection last season and was a Top 100 player coming out of DeSoto, Texas.
Ndjakalenga Mwenentanda
The 6-foot-2 sophomore guard was another member of the Class of 2022. She played in 31 games, started in three, averaged 12.2 minutes and scored 4.4 points per game. She was a Top 40 prospect coming out of high school.
Arrival Via Transfer
Tionna Herron
The 6-foot-4 freshman center is from DeSoto, Texas. She signed with Kentucky going into the 2022-23 season as a four-star prospect. But she needed open heart surgery and missed the season. She opted to transfer to Texas once she recovered. Helped DeSoto to back-to-back State Championships and a 35-2 record in 2022.
Class of 2023 Recruits
Madison Booker
The 6-foot-1 forward is a Germantown high School (Ridgeland, Miss.), product who was a Top 20 player in the nation when Texas signed her in the early period. She's already won two gold medals for USA Basketball. She was ranked No. 12 in the class by ESPN. She was a 2023 McDonald's All-American and 2023 Naismith High School All-American.
Abbie Boutilier
Boutilier already holds a distinction in Texas history. At 6-foot-9, she is the program's tallest player ever. She averaged 7.5 points, 4.5 rebounds and 1.6 blocks per game in the 2021-22 season at Flower Mound (Texas) High School. She seems like a prospective redshirt.
Starting Five: Harmon, Gonzales, Holle, Gaston, Faye
First Five off Bench: Booker, Moore, Mwenentanda, Muhammad, Jones
You can find Matthew Postins on Twitter @PostinsPostcard