Kansas Jayhawks
Joel Klatt Praises Lance Leipold: 'Lance Leipold Can Freakin' Coach'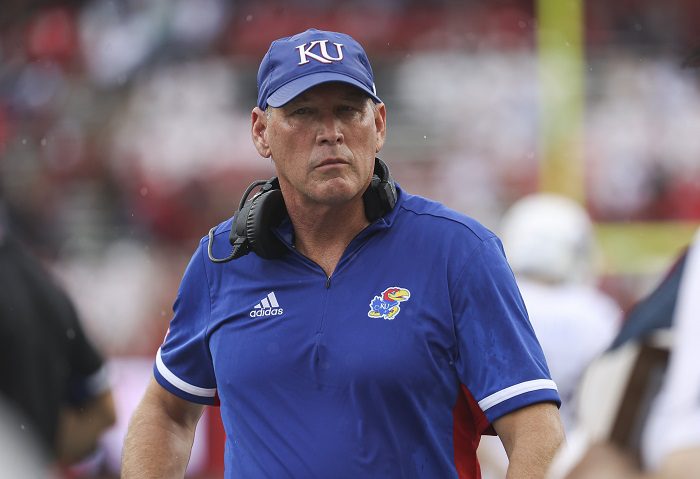 Lance Leipolod and the Kansas Jayhawks are fresh off a program-defining win over the Oklahoma Sooners in Week 9 which has many members of the sports world chiming in to praise Leipold and the job he's done in Lawrence.
The most recent addition to the list of personalities to send praise to Kansas is FOX Sports' Joel Klatt who raved about Leipold in his recent show saying, "First things first. And I know he would hate me saying this, which makes him a great coach, Lance Leipold can freakin' coach, man."
"This program has had no success, just none, since, what, basically the Todd Reesing/Mark Mangino days?" Klatt said. "This guy has built something that has staying power, that is quality. It's resilient. They're investing, by the way, in facilities and doing a big upgrade in the stadium. I had to say that first because Lance Leipold is a dude, man. He can coach football."
While Leipold's success seems to have caught the eye of Joel Klatt, his success in Lawrence appears to have caught some eyes across the entire landscape of college football. Leipold was recently listed as a potential candidate to succeed John Harbaugh at Michigan following the conclusion of the sign-stealing scandal and had the sixth-best odds of landing the job, according to BetOnline's oddsmakers.
Klatt addressed the possibility of Leipold leaving and mentioned, "I said this last year and I'll say it again: I hope he stays at Kansas. I want teams like Kansas or other places around the country, that have these great coaches. Like, stay there. It can be awesome there, right? Take a page out of Mike Gundy's book, take a page out of Kyle Whittingham's book, Kirk Ferentz's book."
Despite the buzz surrounding Leipold's name in head coaching vacancies, the Jayhawks have a huge matchup in Week 10 taking on the Iowa State Cyclones in Ames on Saturday, November 4th at 6:00 PM CT.