featured
Tuesday Takes: Let's Talk About The Big 12 Race, Tiebreakers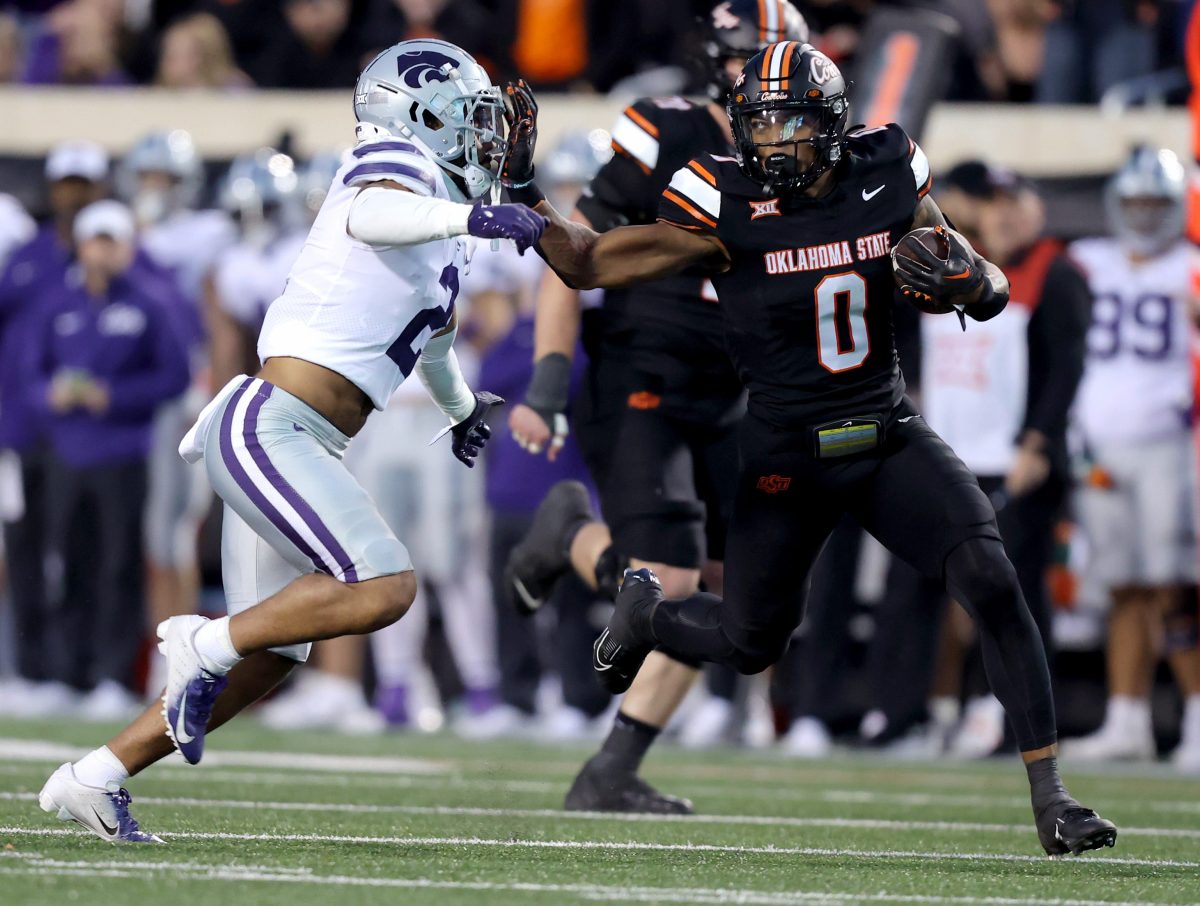 Tuesday is the final day of the week during the college football season in which it is acceptable to look back on the previous week's action and draw conclusions. When the clock hits midnight and Wednesday is officially here, it is your responsibility as a fan to start the countdown to Saturday and start getting prepared for what comes next.
But for the time being, we are going to finish up relishing, or loathing, what happened on the most recent Saturday of action, and that is just what we will do on Tuesday Takes.
This week, we have a special edition of Tuesday Takes, as we're going to tackle what I've learned about the Big 12 race and tiebreakers as we have a five-team race with just two weeks left.
Five-Team Race Heading into Week 12
We've got just two weeks left in the regular season and the Big 12 race is legitimately too close to call. There are legitimately more scenarios that could play out over the last two weeks of the season than I have time to put down on paper (16,000+ possible combinations), but just know that there are five teams with a legitimate chance to make it to Arlington.
I will say there is a chaotic scenario that could force a five-way tie for first place, but I won't divulge until that becomes a reality.
Texas is in the best position to make the Big 12 Championship next month, as a win from the Longhorns this weekend over Iowa State all but guarantees them a spot in the title game. If Texas were to win this weekend, and then drop their game against Texas Tech in Week 13, there are still several scenarios where the Longhorns find their way to Arlington. So, it's really simple for the Longhorns: win this weekend, or win out, and you're in.
Oklahoma benefitted from Oklahoma State and Kansas losses in Week 11 and has moved into a good position to make it to Arlington. The Sooners likely need a loss from Texas or Oklahoma State to have a clear path to the Big 12 Championship game, but could also benefit from Iowa State wins and Kansas losses, thanks to the chaotic tiebreakers.
Oklahoma State's loss to UCF muddies up the waters significantly, but they still have a way into the Big 12 Championship. On top of winning out, the Pokes would really benefit from a loss from either Kansas State or Oklahoma. With a loss from either of those teams, OSU would then be able to use their head-to-head win over both teams to advance to Arlington.
Kansas State is in quite a position here, as they would hold the tiebreaker over OU and OSU if all three teams finish 7-2 and Kansas is the first common opponent to break the tie. If Kansas falls to Cincinnati, that would move Iowa State up as the highest-ranked common opponent, meaning OU would move on. However, a Texas loss to Iowa State would put K-State and OU in, if they were both to win out (I know, crazy right?).
Iowa State is the wildcard for everything here, as the Cyclones would have to take out Texas and Kansas State to get to 7-2. Then, thanks to a three-way tie with OU and OSU that would come down to records versus Kansas and then head-to-head vs. OU would leave ISU out. However, winning out plus a loss from Oklahoma or Oklahoma State gets them to Arlington.
Who's Going to Arlington?
So, with all of that said, which two teams are the best positioned to make the conference title game?
Texas obviously has the best mathematical chance to make it, given they are the only team that controls their destiny. Their game against Iowa State this weekend is paramount to the Big 12 race though, as that game will significantly change the layout of the league going into Week 13.
The rest of the contenders, all of whom are tied for second place right now, are quite literally on the verge of being drawn out of a hat at this point. However, the team that seems the best situated to make it is still Oklahoma State.
With games against Houston and BYU remaining, they've got a great chance to make it the rest of the way without a loss. No, they don't control their destiny and will need some help, but as far as controlling what they can control, the Pokes have the most manageable schedule of the teams tied for second.
Kansas State could be the best positioned to advance, but tough rivalry games against Kansas and Iowa State in back-to-back weeks is a tough way to finish out the year. Winning those games would be massive, and would give them a great shot, but I'd bet on OSU winning out with their slate compared to what K-State's got ahead of them.
If you ask the folks in Vegas, the favorites heading into Week 12 are Texas (-160) and Oklahoma (+375), with Oklahoma State (+500), Kansas State (+1000), and Iowa State (+4000) rounding out the teams with a real shot.
What the Hell are These Tiebreakers?
If it comes down to a three-way tie for second place and Oklahoma State gets left out of the Big 12 Championship in lieu of one of the teams that they beat in the regular season, we're going to have a 2014 "One True Champion" situation on our hands.
While changing the rules midseason won't happen, Big 12 officials need to make some amendments to the tiebreakers in this conference. First and foremost, the lack of head-to-head matchups being a determining factor in a three-way tie where all teams haven't played each other is a lack of foresight. There's no world where Oklahoma State should be left out in that situation. However, thanks to the wording in the scenarios, they would be.
It's very simple. In the event of a three-way tie, if one team has a 2-0 record against the others, it should be enough to move them ahead. Sure, K-State and Oklahoma didn't get a chance to play one another to pick up a win, but at best they'd be 1-1 with their loss to OSU. It just doesn't make sense that this isn't already a rule.
Something that many fail to realize is that these kinds of scenarios are a byproduct of removing divisions from larger conferences. When a round-robin schedule isn't possible, divisions allow teams to have a more solid path to making the conference championship. If there were divisions in the Big 12 this season (which OU, OSU, and K-State would all share a division), Oklahoma State would still be in control of its destiny, thanks to their win over the Sooners and Wildcats.
This isn't going the last team that a team finds itself in an unfortunate situation thanks to poor tiebreakers, as other conferences are likely to see it sooner or later. However, making the necessary changes now will ensure that it doesn't happen in the future.