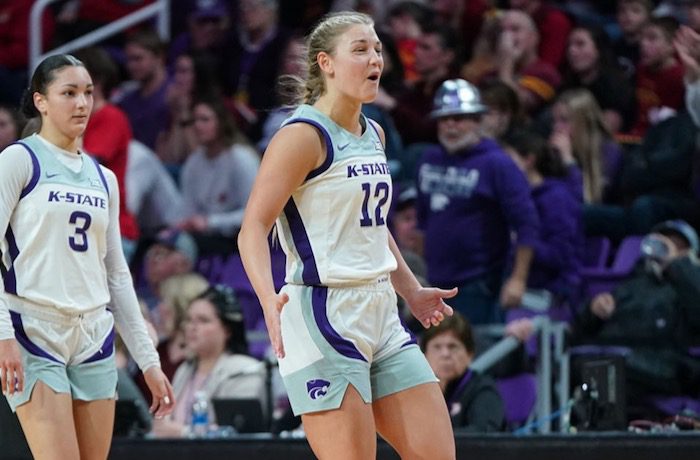 The Kansas State Wildcats beat the No. 2 Iowa Hawkeyes, 65-58, in a non-conference game in Iowa City, Iowa on Thursday.
The Wildcats (3-0) saw center Ayoka Lee register a double-double with 22 points and 12 rebounds. Transfer Zyanna Walker added 12 points.
The No. 2 Hawkeyes (3-1) suffered their first loss of the season, as Caitlin Clark — the reigning player of the year — scored 24 points. Molly Davis added 10 points.  
Here are three thoughts on the game.
Slowing Down Caitlin
Clark is the best individual player in the women's game. You can't stop her. But you have to find ways to slow her down. Kansas State found ways to do that on Tuesday.
One was Jaelyn Glenn, who drew the primary defensive assignment on Clark. It was Glenn who made a key steal on a pass to Clark late in the game to keep the Hawkeyes' star from getting a good shot.
Clark ended up with 24 points. But she shot 9-of-32 from the floor, along with an awful 2-for-16 from the 3-point line. So how do slow down one of the game's best shooters from distance?
Part of it is contesting shots. But there's an underrated part of what Kansas State did on Thursday. They made Clark move on every possession.
On defense you do it with stifling man-to-man defense with help on screens and switches when the matchup is to your liking. You do it by pushing her out of comfort zones and forcing her to give up the ball when she doesn't want. Glenn forced her into an uncomfortable 3-pointer late, just by defending her properly.
But, on offense, you do it with motion on the perimeter and sharp passing around the floor. You do it by moving Clark through screens defensively, whether Iowa is running a man or a zone set. And you do that whether Clark is defending the ball or not. And it's more important to do it when Clark doesn't have the ball.
Kansas State did all of that on Thursday. Clark played 37 minutes. The Wildcats made her work for every bit of it.
K-State's Offensive Balance
This was probably the first game where Lee looked like the Lee of two seasons ago. Her movement, both with and without the ball, was the best it has looked so far his season.
That's why, down the stretch, the Wildcats were able to go to her down low for key baskets, even though she was clearly tired. Because her fundamentals are so solid, when she moves the right way she does so efficiently and opponents have a hard time defending her.
But, what really emerged from this game was K-State's offensive balance in contrast to Iowa. Iowa had one other scorer in double figures. So did Kansas State.
But, after that, Kansas State had three other players score at least eight points — Taryn Sides (8), Serena Sundell (7) and Gabby Gregory (7).
It's part of the reason Kansas State outscored Iowa, 12-1, in the final 2:22. The Wildcats weren't running all of their offense through Lee. In fact, the Wildcats couldn't. They needed that balance on Thursday and they'll need it to be a contender in the Big 12.  
The Gregory Dilemma
When I wrote that subhead it was late in the third quarter, Gregory was struggling for the third straight game. She ended up with eight points, and she had a couple of big baskets down the stretch that helped Kansas State win. She also missed her three free throws, which could have made K-State's life a bit easier.
Last season, without Lee, Kansas State was wondering where their offense would come from. It ended up coming from Gregory, who transferred in from Oklahoma, where she spent three seasons. An injury cost her playing time in her third year, but before that she was a double-digit scorer and she reminded the Big 12 how good she is by averaging more than 20 points and earned All-Big 12 First Team honors.
With Lee back, I wondered how everything would re-integrate. Early, Gregory has struggled and seemed to be the odd player out.
After her fourth quarter, I wonder if Gregory is starting to turn a corner. As much as last season was learning how to play without Lee, this season is about learning to play with her again. It should be an easier adjustment, but it also takes time.
Gregory may be starting to flatten the curve.
iframe src="https://app.e2ma.net/app2/audience/signup/1986400/1964875/" width="510″ height="500″ frameborder="0″>
You can find Matthew Postins on Twitter @PostinsPostcard.