Baylor Bears
Big 12 Basketball Week 2: The Good, The Bad and The Ugly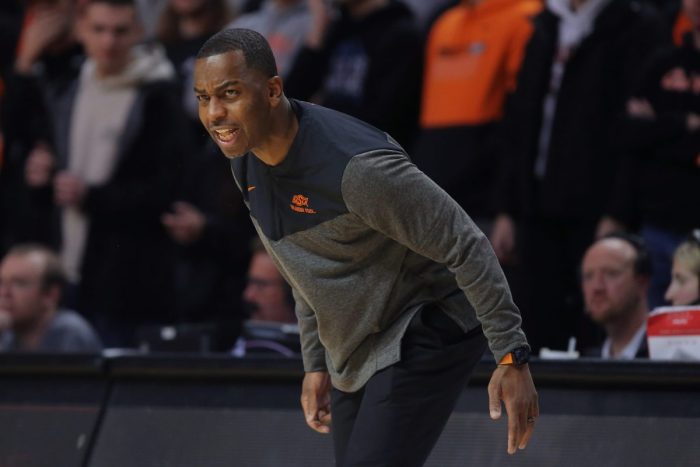 Week 2 is officially in the books as the Big 12 Conference continued both the men's and women's basketball seasons for 2023-24.
The action started went all week, with Big 12 teams wrapping up action on Sunday.
Here are the good, bad, and ugly from Week 2 in Big 12 men's and women's basketball.
The Good
Big 12 Women Picking up Top 25 Wins
It was a big week for the Big 12 women against Top 25 teams. First, No. 21 Baylor took care of Utah, which was ranked No. 4 in the country. Then, Kansas State went to No. 2 Iowa and handed the Hawkeyes their first loss of the season.
The Kansas State win was especially impressive as it was on the road. It was the first true road Top 25 win for a Big 12 women's team this season. Baylor's win was at home.
Add in Colorado's win over defending national champion LSU to open the season and the "New Big 12" has three Top 25 wins in two weeks. Add in Oklahoma's win over Ole Miss in the season's opening week and the league has four of them in 14 days.
Early on, the league is showing off its depth.
BYU's Steady Start
The BYU Cougars are off to a good start in their first Big 12 men's basketball season. They're 4-0 entering this week's trip to Las Vegas to face Arizona State on Thursday, followed by either NC State or Vanderbilt on Friday. Those are going to be great barometer games for the Cougars.
But they already have a Top 25 win, as they upended San Diego State in the season's first week, 74-65.
Naturally, the other three wins have been against mid- and low-majors. But the Cougars have five players scoring in double figures. Jaxson Robinson and Trevin Knell have hit more than 10 3-pointers and the team is shooting 37 percent from distance. BYU has also forced 59 turnovers and only committed 37.
The Cougars are doing all of this without their top recruit Marcus Adams Jr. (Kansas fans remember him), who is still waiting on a waiver to play this season.
Get him in this lineup and look out.
Meanwhile, the BYU women are also 4-0 and have a win over a Power 6 program, which they picked up over the weekend in Hawaii against Wake Forest. Also, bonus points for going to Montana State to open the season. More high-majors should play more true road games in non-conference.
The Bad
Iowa State's Injury
The Iowa State Cyclones released on Sunday that they would be without forward Hason Ward for the rest of non-conference play due to a foot injury.
Ward was only playing 17 minutes per game in his first three games, but he was a part of coach T.J. Otzelberger's starting lineup, so it has the potential to mess with his overall rotation. Otz started Robert Jones in Ward's spot in the Cyclones' game on Sunday and their first since Ward suffered the injury in practice.
That makes Jones' decision to return for another season critical for the Cyclones. He can step right in and give ISU what he gave it last year — rebounding and toughness.
Jones will get some runway to show if he can be a higher scorer than a season ago. He's averaging more than eight points per game, but the Cyclones haven't really played anyone yet. That's coming this week.
A Shutout Quarter
This was one of those things that wasn't bad for the Big 12 team involved, which was Texas Tech. But it was definitely bad for the Lady Raiders' opponent, Texas A&M-Commerce.
But as I was preparing for the weekend I came across this on Twitter. I'm not sure I've ever seen this before:
Your Lady Raiders tie the Big 12 record for fewest points allowed in a quarter!#WreckEm | #FOTM pic.twitter.com/sxAbPdrqrN

— Lady Raider Basketball (@LadyRaiderWBB) November 18, 2023
So based on that, it sounds like it has happened before. Also, Tech noted it was the first time in program history that the Lady Raiders shut out a team in a quarter.
The Lady Raiders won the game, 91-45.
One should keep in mind that TAMU-Commerce is making the transition from Division II to Division I and is in just its second year as a Division I program.
But, still — it's hard to shut out an opponent in basketball for 10 minutes.
It also tells you just how good a week it was for the Big 12 women. The entire league lost one game, and it was Kansas' loss to Penn State.
The Ugly
Mike Boynton's Job Security
I haven't met a single person that dislikes Oklahoma State coach Mike Boynton Jr. I knew him from his SFA days as an assistant coach there. I can't find a person in Naccogdoches, Texas, that doesn't think the world of the guy.
The same is true in Stillwater, Okla. But after this week, if Twitter is any indication, patience is wearing thin when it comes to the seventh-year coach.
OSU lost two-point games to St. Bonaventure and to Notre Dame in the Legends Classic in Brooklyn, N.Y. It was enough to get many OSU fans thinking that it was time to cut bait on Boynton, who has more NIT berths (two) than NCAA berths (one). The frustration was palpable.
I wrote earlier this season that Boynton was a coach to watch. The program is done with scholarship limits and the postseason ban. Boynton did a solid job recruiting in spite of all that, and this class of freshmen may be his best class overall.
It's way too early to pass judgment after a 1-3 start with so much basketball left. But it's telling that OSU fans are starting to give Boynton the treatment on social media this early. Of course, with this start he's giving them a reason.
What's Coming for Kansas
I usually write this Sunday evening, so as I write this the Kansas women are 2-1, with that only loss coming to Penn State.
This coming week the Kansas women are heading to paradise to play in the Cayman Islands Classic. There's sun, there's surf, there's Thanksgiving dinner on the islands.
There's also Virginia Tech and UConn waiting for them. Back-to-back.
Yes, for some reason, the Kansas women ended up drawing not one Top 10 team, but two Top 10 teams this coming week. It's a doozy of a week that will test everything Kansas wants to do on the floor.
I haven't seen Virginia Tech yet. But I watched UConn's game with Maryland (which was before the Kansas State-Iowa game). And even though Azzi Fudd was out with an injury, Paige Bueckers is playing like she's on a mission after missing all of last season.
This could be a rough week for the Jayhawks. I don't expect them to win either game. But, on a neutral site during a holiday weekend, anything can happen. Winning one would be a big boost for Kansas.
iframe src="https://app.e2ma.net/app2/audience/signup/1986400/1964875/" width="510″ height="500″ frameborder="0″>
You can find Matthew Postins on Twitter @PostinsPostcard.