featured
Tuesday Takes: A Photo Finish in Arlington, a Peek Forward at Big 12 Bowl Season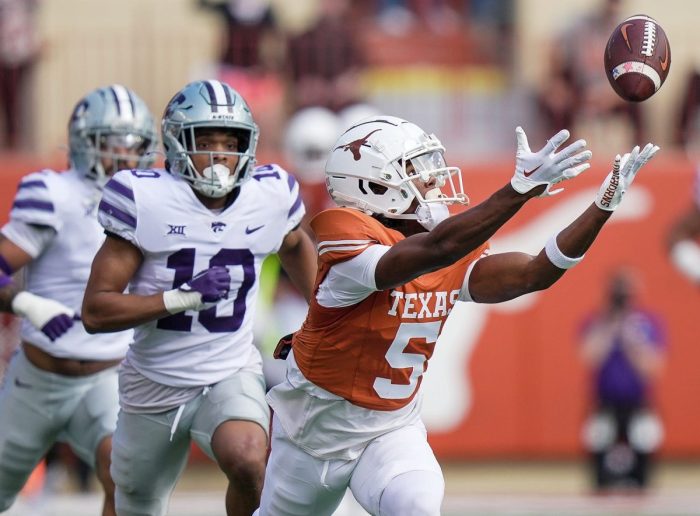 Tuesday is the final day of the week during the college football season in which it is acceptable to look back on the previous week's action and draw conclusions. When the clock hits midnight and Wednesday is officially here, it is your responsibility as a fan to start the countdown to Saturday and start getting prepared for what comes next.
But for the time being, we are going to finish up relishing, or loathing, what happened on the most recent Saturday of action, and that is just what we will do on Tuesday Takes.
This is the final week of the season, so let's take a look at what we know heading into Week 13.
And Then There Were Four (Kinda)
Heading into the final weekend of the season, there are four teams that have a viable shot at making the Big 12 Championship game, while a total of seven teams still have a chance if chaos were to break out.
Texas coming into the weekend at 10-1 gives them an inside track to the No. 1 seed and with a win over Texas Tech, they'll be just that. The Longhorns are the Big 12's only hope at a College Football Playoff appearance, and should they get past Tech and whoever they'd face in Arlington, they should be one of the four teams left standing.
Oklahoma State is the other team who has set themselves up well to make the conference title game. With a win over BYU on Saturday, the Pokes will be headed to Arlington for the second time in three seasons and will have a shot to win their first-ever Big 12 Championship Game.
Oklahoma has the second-best record in the Big 12 at 9-2, but with losses to Oklahoma State and Kansas, the Sooners need a loss from Oklahoma State or a loss from Texas and Kansas State to make the Big 12 Championship. Getting past TCU on Friday is obviously a necessity as well if they hope to sneak into Arlington, but they need a lot of help in the final weekend of the season.
K-State sits at 8-3 and 6-2 in Big 12 play and needs a ton of things to go right to make the Big 12 title game. The Wildcats could get in with losses from both Oklahoma and Oklahoma State, or a loss from Texas and wins from both OU and OSU. All of this is also dependent upon them picking up a win over Iowa State in Farmageddon as well.
Three teams sit at 5-3 coming into the final weekend, and all of them have a very slim (and I mean slim) chance of making the Big 12 Championship. West Virginia, Iowa State, and Texas Tech are all still mathematically in the equation but would need all three teams at 6-2 to drop a game this weekend to even begin the tiebreaker scenarios.
Let's Take a Peek at Bowl Season
With one weekend remaining in the regular season, it's natural to want to take a quick peek ahead at the potential matchups in Big 12 Bowl Season. It's something that I've spent some decent time studying after the events of Week 12, and here's what I've come up with.
With presumed records next to each team, here's what I see Big 12 Bowl Season looking like:
Texas (12-1, 8-1): Sugar Bowl (CFP Semifinal) vs. Georgia
Texas wins the Big 12 Championship and gets a CFP berth as the Longhorns get the last laugh after being the butt of many jokes in the Big 12 over the last decade.
Oklahoma (10-2, 7-2): Orange Bowl vs. Florida State
Despite a two-game skid in late October-early November, Oklahoma finishes as the only other Big 12 team to eclipse double-digit wins and earns a New Year's Six bid thanks to Texas' entrance into the CFP.
Oklahoma State (9-4, 7-2): Alamo Bowl vs. Arizona
After making the Big 12 Championship and losing to Texas, Oklahoma State picks up one of the best bowls that the Big 12 has to offer, and gets a preview of future conference foe, Arizona, as a consolation prize.
Kansas State (9-3, 7-2): Pop-Tarts Bowl vs. Notre Dame
K-State will head to Orlando (Fla.) for one of the most underrated matchups of the bowl season, a tilt with Sam Hartman and the Notre Dame Fighting Irish.
West Virginia (8-4, 6-3): Texas Bowl vs. Texas A&M
Neal Brown and West Virginia finish the year with eigth wins in the regular season and will play Texas A&M in Texas Bowl. This one will be tough for Jimbo Fisher to watch, as it will pit his former team against his future team (see what I did there?).
Kansas (8-4, 5-4): Liberty Bowl vs. South Carolina
For the second straight season, Kansas gets a shot at an SEC foe in the Liberty Bowl, but this time around its Spencer Rattler and the South Carolina Gamecocks, who get in after upsetting Clemson this week.
Iowa State (6-6, 5-4): Independence Bowl vs. Cal
After looking like it was doomed to a losing season this summer, Iowa State caps off the year with a bowl game in the south vs. the Cal Bears. Gotta like ISU's chances in that one.
Texas Tech (6-6, 5-4): First Responder Bowl vs. UTSA
Joey McGuire vs. Jeff Traylor is a coaching matchup I can get behind. Texas Tech vs. UTSA is a game destined to provide points and excitement between two schools that recruit the Lone Star State as well as almost anyone.
UCF (6-6, 3-6): Gasparilla Bowl vs. USF
Are UCF fans down for a bowl edition of the "War on I-4" rivalry against USF? The Knights are in position to land in a bowl game if they can take down Houston in Orlando this weekend. I like those odds.