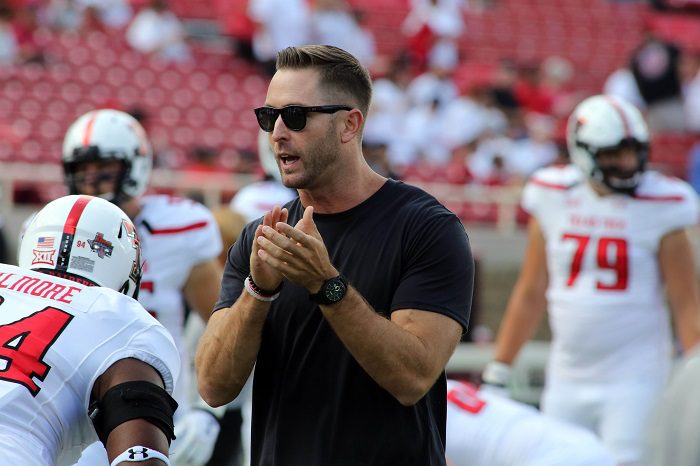 Texas Tech has filled its opening for offensive coordinator with Western Michigan OC Kevin Johns.
Please help us welcome Kevin Johns (@kjfbcoach) as our new offensive coordinator and inside receivers coach!

📰➡️: https://t.co/32OEVbInCM #WreckEm pic.twitter.com/fVrSR2DBSa

— Texas Tech Football (@TexasTechFB) January 30, 2018
Johns replaced Eric Morris, who left for the head coaching position at Incarnate Word. As the tweet notes, Johns is going to serve as inside receivers coach as well.
Johns spent the 2017 season as the Western Michigan offensive coordinator and prior to that he held the same role for the Indiana Hooisers from 2014 through 2016.
In his only season at Western Michigan, Johns put together a quality offense that ranked 25th nationally in scoring average with 33.9 points per game. The Broncos averaged 224.8 rushing yards per game on the ground, which ranked 21st in the country and second in the MAC.
This might give a little more insight into what Kliff Kingsbury is trying to do on offense, which is incorporate more of the running game, as he did this past season. In 2016, the Red Raiders only attempted 389 rushes (10th in the Big 12), nearly half as many as Baylor, which led the Big 12 with 628 carries. By comparison, the Red Raiders saw that number jump to 459 rushing attempts (6th in the Big 12).
But Johns is not afraid to pass the ball, as the Hooisers team he worked on for six seasons led the Big Ten in passing from 2012 to 2015, as he worked under former Oklahoma offensive coordinator Kevin Wilson.
Kevin Johns also has a good eye for wide receiver talent. In 2013,  Indiana became the first team in Big Ten history and the only team in the FBS with five 1,000-yard receivers playing at the same time, all of which were recruited by Johns.
Johns played quarterback at Dayton in the late 1990's, where he went 20-1 as a starter.