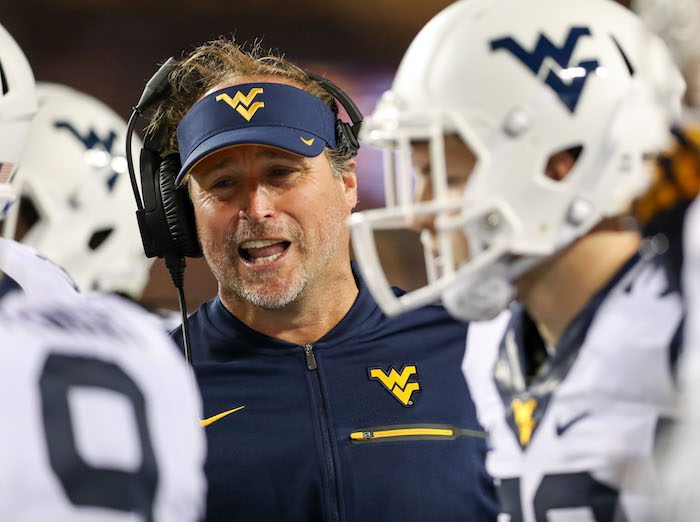 College basketball is heading down the home stretch, college baseball has started, but let's not forget (I know many of you aren't) that spring practice is already getting underway across the country. We will handle spring previews for every Big 12 football team and roll them out based on when their respective spring practices begin. The West Virginia Mountaineers are first up, as they open spring practice on Tuesday, February 27th.
Most exciting returnee: Will Grier
Last we saw of Grier, he was diving across the pylon and injuring his middle finger in one of the nastier injuries you'll see. But Grier was back to throwing in late January and we'll get our first look at his comfort level with that middle finger in his throwing hand. Due to all the key losses at quarterback in the Big 12, Grier is my top returning QB in the conference and his season will go a long way to determining the Mountaineers' success.
Most exciting newcomer: Dante Stills
Stills was WVU's top recruit in the Class of 2018 and has enrolled early. With last week's news that Adam Shuler is transferring, the need to help a defensive line that had its issues last season becomes even more pressing. Having Stills in camp for spring ball is huge and hopefully he has a quick learning curve. His help will be needed immediately.
Offensive storylines to watch
Wide receivers
This is going to be, arguably, the best wide receiver corps in the Big 12 in 2018. David Sills V and Gary Jennings lead the way, and to think that these guys could improve drastically over 2017 is a fun thought for WVU fans, but scary for the rest of the conference. As for the rest of the crew, Ricky Roger has left the program, but expect even more touches for Marcus Simms and Reggie Roberson Jr., who was one of WVU's top prospects in 2017, but was quiet this past season. The Mountaineers do not have any wide receivers who have enrolled early.
Offensive line
The unit struggled at times last season. Outside of Kyle Bosch, the rest of the line returns, which is a good thing for the unit to build continuity. Plus, two of WVU's four early high school enrollees are offensive linemen in Briason Mays and Blaine Scott. Scott and Mays were two of WVU's top 5 prospects in this year's class (according to 247Sports) and were top 40 players at their position (both guards). Adding depth at this position would be huge for the Mountaineers.
Running backs
So, does OC Jake Spavital remember what running back are? After rushing more than 570 times in 2016, WVU was down to 460 attempts this past fall. I never thought Justin Crawford was used as much, or as well, as he should have been, especially considering he was the top returning running back in the Big 12. Well there is still talent here with Martell Pettaway and Kennedy McKoy. Hopefully we get a glimpse into Spavital's approach in Year 2 in Morgantown and that includes more from his running backs.
Defensive storylines to watch
Defensive line
Adam Shuler is the latest to live, but thankfully Dante Stills is here. So as mentioned above, I can't wait to see what this true freshman, and highly-regarded prospect, brings to the table. This is also a good chance for some of the younger players to make their mark felt with a full year of training. Rising sophomore like Darius Stills, yes, brother of Dante, saw some action last season and could see an increased role. Lamonte McDougle was a true freshman who started several games last season at nose tackle and should benefit from a full offseason and spring practice. There's reason to believe this unit, which struggled last season as WVU allowed 204 rushing yards per game, should see improvement.
Secondary
This is the most important unit in Tony Gibson's 3-3-5 defense. Gone are three seniors and starters in cornerbacks Elijah Battle and Mike Daniels Jr., along with safety Kyzir White. Expect to get a solid look into the 2018 secondary with the likes of Dravon Askew-Henry, Hakeem Bailey, Sean Mahone, along with two JUCO transfers in CB Keith Washington and safety Joshua Norwood. But some new blood might not be the worst thing, as WVU's defense went from having the second-lowest scoring defense in the Big 12 (24.0) during its 10-win season in 2016, to giving up 31.5 points per game this past season, which ranked 7th in the conference. For the Mountaineers to reach their potential with a special quarterback and skill position players, the defense has to play better, which starts in the secondary for Tony Gibson.
Special teams
It's safe to say Dana Holgorsen didn't trust his kickers last season. The Mountaineers attempted the fewest field goals in the Big 12 in 2017 with just 15. They only made 11 of them, good for a 73.3% clip, ranking 8th in the Big 12. Mike Molina is gone to graduation (5/8 FG's last season), so the pressure is on rising sophomore Evan Staley, who was 6/7 on field goals last fall. Find that man a practice field, a snapper and a holder and make him kick until his toes are blistered. At some point the field goal unit will either pay off mightily, or mightily cost the Mountaineers next fall.