Big 12 Sports Articles
Big 12 Mailbag: Texas' Offensive Issues, Oklahoma State's Quarterback Situation and More!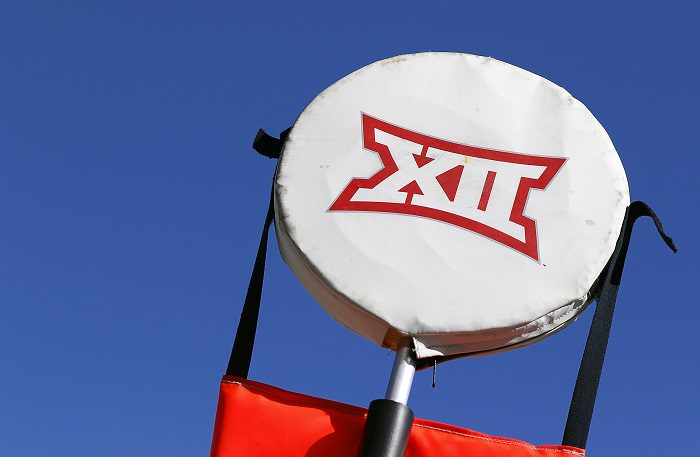 Spring football is officially over across Big 12 country and if you're like me, you need a football fix and quick. This mailbag is for all you football junkies out there who root for a Big 12 school who not only have questions about your team, but other teams in the conference as well. So, join me, grab a cold brew and relax as I answer all your Big 12 questions in the mailbag. For those interested, I will send out a tweet (@Derekduke25) every Monday at noon until last call (No, not 2 AM) at 8 PM CT for you to send in your questions to be answered every Tuesday right here at Heartland College Sports. This past weekend I went to the Opening in Dallas and saw over 500 football prospects display their talents on the field. While I had fun, I think I managed to get first degree burns from the sun. I now know what Doug from the first Hangover movie felt like when he was left in the hot Vegas sun on the roof of Caesars Palace for two days. For this mailbag I will need one cold beer to drink and one to put on the sunburn. Before I begin, I want to thank each one of you who submitted a question this week and for those reading, I am glad you could join me. Let's get this party started!
@LaranDeason asks: Can Texas win the Big 12 with the current offensive staff? Who will be the top 3 defensive players in the Big 12 at the end of the 2018 season?
Two great questions here. Starting with Texas, I had them ranked as my number two team in Big 12 as of right now (You can see my full list in last week's mailbag). I know people want to hold up their pitchforks when it comes to Texas OC Tim Beck and I get it, it was downright awful at times. The Texas offensive line didn't help the play calling either because if you can't block up front, everything goes to crap no matter how good the call coming in is. Anyways, the reason I have hope for the offensive staff is new OL coach Herb Hand who came in from Auburn. He will be the "Co-OC" this season so we won't really know how much he will be splitting play calls. What I do know is that wherever Herb has been, he has been successful. Just look at his track record if you don't believe me. That's the hope for Texas fans.
As for part two, I am going to make it short and simple. My top three (In no order) are TCU DE Ben Banogu. KU DT Daniel Wise and WVU LB David Long. Ben Banogu is a monster and Daniel Wise was fourth in the Big 12 last season in sacks as a DT!! Lastly, David Long just does everything for that Mountaineer defense and he is so damn fun to watch.
@TristyMc asks: Should the recent lack of NFL interest in the Big 12 be a concern for conference productivity?
Duke: There are two different views to look at this at. If I am a NFL scout, the numbers are a bit concerning. The Big 12 was dead last in the power 5 with 20 total draft picks. But wait, guess what? I AM NOT A NFL SCOUT!!! This number has ZERO effect on how the Big 12 stacks up against other conferences on the football field, you know, the thing that matters! Money wise, the conference is fine, but we are talking about productivity here. So, let's look at some fun stats here. The Big Ten has had 114 draft picks since the 2016 draft and HAS NOT SCORED A SINGLE POINT in the CFB Playoff in three seasons. In fact, the Big Ten hasn't scored a single point in the playoff since January of 2015. As for the Pac-12, they have had 98 draft picks since 2016 and has only managed to score a whopping seven points in the CFB Playoff since 2015. Also, the Pax-12 went 1-8 during bowl season this past year. Don't forget the mighty SEC. While the SEC does lead all the conferences in total draft picks, what are they doing during the fall? Only 2 different SEC teams have made the playoff (Alabama and Georgia) and the conference has had a losing record during the previous two bowl seasons. Most SEC teams that beat their chest about conference draft picks are riding Bama's coat tail and haven't done anything themselves to brag about. If draft picks equaled championships, wouldn't LSU and Florida be in contention every single year? Or even Texas A&M and South Carolina? What have those schools done in the last 4 years? Last stat to give you, in the last 2 years the Big 12 has a 5-4 record over the mighty SEC on the field, not the draft podium.
@Cullen_B12C asks: Is Taylor Cornelius going to be the starting QB this season for OSU? Do the Cowboys have a higher ceiling with of the QBs not on campus or Cornelius? How many times are you coming to Stillwater this season?
Duke: 1. I don't think Taylor Cornelius will be the starting QB this season. I think it will be Dru Brown and depending on the importance of a possible redshirt for Spencer Sanders, you could see Sanders take over later in the year. 2. I think the Cowboys have a slightly higher ceiling with the two QBs who aren't on campus. I mentioned this last week a bit, this is a rebuilding year for Gundy. If anyone thinks the Cowboys are going to win 9 or 10 games this year, then you're crazy. I see this season a lot like the 2014 season except OSU has a stud back in Justice Hill who will see a TON of carries this year. I truly believe a bowl game would be a positive year for the Pokes. My ceiling for them? 7 games. I just don't see the wins like some people do. So much production is gone, and Oklahoma State will reload, just not at the pace of an Alabama. 3. Unfortunately, you won't see HCS in Stillwater. Anytime we see the Cowboys, it must be on the road. Sadly, we don't have access to OSU simply because not that we don't want to, they won't let us. Hell, it took Pistols Firing (Biggest OSU Blog on the web) quite some time before they even had access to the program. So, like much of our readers, we must couch watch when the Cowboys play at home.
@ThatGuy_Seabass asks: What is Texas doing to improve the O-Line play and depth? (Was a huge problem last year). Who will be the play callers on both sides of the ball?
Duke: Unless the injury bug hits this group again, Texas will be better up front. How much better? That remains to be seen. Keep in mind, Texas has more bodies available than last season and will be in a tad better shape depth wise. As far as improvement, Rice OT Grad Transfer Calvin Anderson should fill in the void left by Connor Williams at LT. Another guy to keep an eye on is OG Mikey Grandy to possibly step in as well. The rest of the group returns pretty much everyone from a year ago. However, if one or two starters go down, things can get rocky. Tom Herman doesn't appear to be too confident in some of those guys in the second group. As far as play calling goes, Tim Beck and newly acquired OL coach Herb Hand will share the responsibility on offense while defensive guru Todd Orlando will call the defense which should be very good this season.
@WhatStartsHere asks: Best game featuring a Big 12 team each week?
Duke: Week 1: Ole Miss vs Texas Tech (In Houston) Week 2: Iowa State at Iowa (Cy-Hawk Baby!) Week 3: Ohio State vs TCU (AT&T Stadium) Week 4: Kansas State at WVU. Week 5: Iowa State at TCU. Week 6: Texas vs OU (Cotton Bowl) Week 7: Oklahoma State at Kansas State Week 8: Oklahoma at TCU Week 9: Kansas State at Oklahoma Week 10: TCU at WVU Week 11: Iowa State at Texas Week 12: OU at WVU Week 13: Texas Tech vs Baylor (AT&T Stadium). Obviously, all this could change depending on records later in the season, but these are my top games every week in the Big 13 as of right now.  Whew, I may need another beer. Cheers!