Big 12 News
Oklahoma Sooners RB Rodney Anderson Done for Season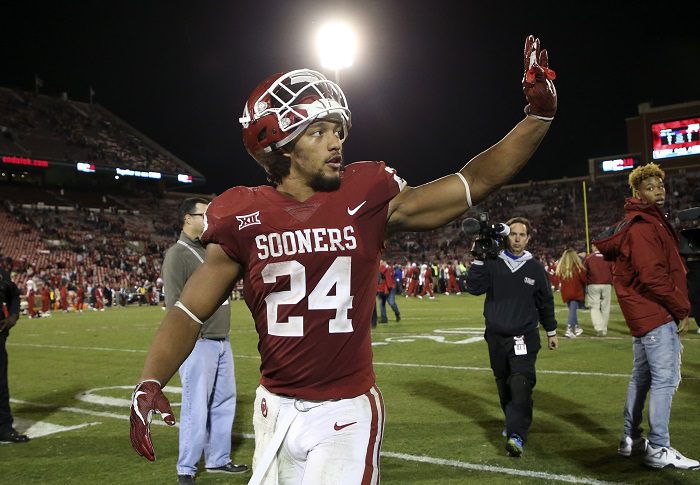 Despite rolling over UCLA 49-21 on Saturday, OU suffered a massive loss to its backfield when the worst was confirmed on Sunday evening. Running back Rodney Anderson is done for the remainder of the 2018 season after he suffered a knee injury in the second quarter against UCLA.
Anderson dealt with injuries early in his OU career but finally blossomed last season when he played in 14 games and rushed for 1,161 yards and 13 touchdowns, both team highs. He also had 17 catches for 281 yards and five scores.
In a press release from the Sooners on Sunday head coach Lincoln Riley said, "We're heartbroken for him. He's overcome so much in his career, and if anybody can do it again it's Rodney. He's played a lot of great football and has a lot more ahead of him. He's just a tremendous person and player and we'll miss him on the field. But we know he'll be with us every step of the way as a team captain, and that other players will step up in his place."
In 2015, Anderson broke his leg against Tennessee and then prior to the 2016 season suffered a fractured vertebra.
Anderson was a preseason All-Big 12 selection and had five carries for 100 yards with two touchdowns against FAU and 19 rushing yards and another touchdown against UCLA before leaving the game.
Thankfully for the Sooners they are deep in the backfield with Trey Serman, Marcelias Sutton and T.J. Pledger hopefully prepared to pick up some of the slack left by Anderson.
**Sign up here for our HCS weekly e-mails for a chance to win FREE Heartland College Sports and Big 12 team gear!!**