Big 12 News
Michigan Fans Clamoring for Matt Campbell on Social Media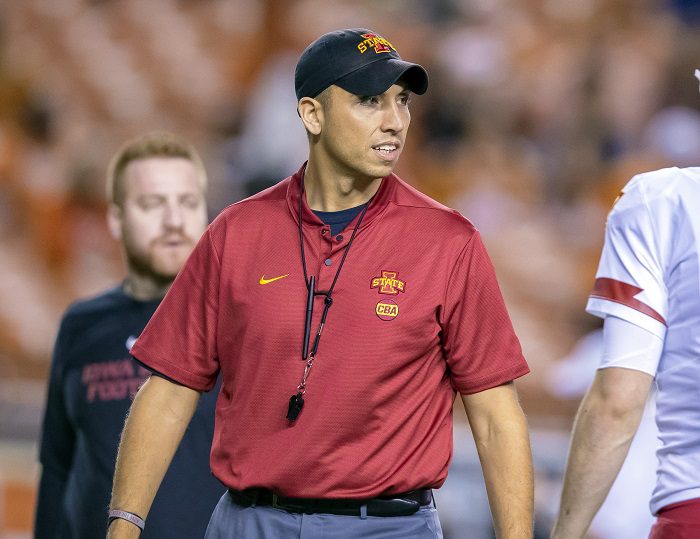 Saturday was a really good day for Matt Campbell and a really bad day for Jim Harbaugh. The two found each other in the cross hairs of tweet storms by Michigan football fans on Saturday. The 11th ranked Wolverines were crushed by the 13th ranked Wisconsin Badgers 35-14. Meantime, Campbell's Iowa State Cyclones rolled over Louisiana-Monroe 72-20.
Michigan fans are seeing another season with plenty of promise slip away rapidly. Many thought this was a Wolverines team capable of winning a Big Ten title and reaching the College Football Playoff. Michigan was picked to win the Big Ten East in the Preseason Poll.
But it's been a rough couple weeks as Michigan barely survived beating Army 24-21 and then lost on Saturday.
So Michigan fans who are sick of the overhyped Jim Harbaugh teams are already looking for their next head coach and for many they've set their sights on Iowa State's Matt Campbell.
Michigan Head Coach Matt Campbell

— Ross needs a job (@Crafty_Consumer) September 21, 2019
Matt Campbell would be a hell of a hire!

— MiamiBuckeye (@MiamiBuckeye) September 21, 2019
My guess for the next head coach at Michigan: Matt Campbell (Iowa State), Josh Huepel (UCF) or Mark Stoops (Kentucky).

— Nick Wagner (@nick_wagner20) September 21, 2019
Make them say no:
Sean Payton
Urban Meyer
Lincoln Riley

realistic:
Mike Leach
Kellen Moore
Matt Campbell

What other names am I missing?

— sad michigan fan (@MGoBlueB) September 21, 2019
Let's start the Matt Campbell train

— Mark Huyser (@huyser4) September 21, 2019
At this point anything is better than the trash we saw today. Go after someone who's young with an offensive mind like Matt Campbell.

— Cameron S Marshall (@CS_Marshall_) September 21, 2019
So, there you have it. And that's just a small sample. Michigan fans are already trying to drum this stuff up. For the record, I don't see it. Campbell signed another extension last offseason, plus he's an Ohio kid. You think he wants to go help that team up north? Even Kirk Herbstreit thinks Campbell is in Ames for the foreseeable future.
But hey, let Michigan fans keep dreaming and Iowa State can keep winning and building its program under one of the best young head coaches in college football.
**We now have FREE Big 12 Forums here at Heartland College Sports. Go sign up here and join our conversation! **