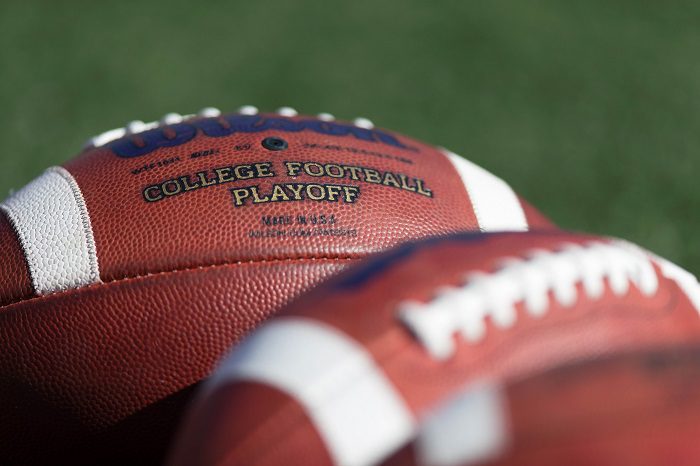 Within the last couple of months, College Football Playoff expansion has once again been a hot topic. In late April, the College Football Playoff management committee was presented with "some 63 possibilities for change," with options including from six to 16 teams. Within the last week, Big 12 commissioner Bob Bowlsby has made comments that the committee is considering expansion, but that nothing has been finalized. Late last night, Pete Thamel of Yahoo Sports wrote that multiple sources have told him that a 12-team playoff model is leading the way and is the most likely course moving forward.
I believe playoff expansion is inevitable to at least eight teams and maybe eventually 16 teams. There have been a lot of formats suggested, some that I agree would work and some that I do not think would work. I recently received a playoff scenario from a friend of mine, Mark Mendenhall, (I told him I'd give him credit) that I think is at least intriguing and one that I haven't seen laid out before. Since playoff expansion is in the news again, I figured it would be a good opportunity to put this out there for discussion.
Eight-Team Playoff
Standard eight-team playoff. One auto-bid for each of the power five conferences, one auto-bid for the best of the group of five, and two others. A lot of people have already recommended this format, but this scenario differs in auto-bids to the bowls, still making the major bowl games relevant.
The Big 12 champion gets an auto-bid to the Cotton Bowl. The Big 10 and Pac 12 champions get an auto-bid to the Rose Bowl. The ACC champion gets an auto-bid to the Orange Bowl. The SEC champion gets an auto-bid to the Sugar Bowl. Determine the two "wild cards" and the best group of five team and seed the teams to create the bowl match-ups. As a visual, here is what this eight-team scenario would have looked like for 2020. (The College Football Playoff final regular-season rankings are in parenthesis)
New Years Day Games Sugar Bowl – Alabama (1) vs. Cincinnati (8) Rose Bowl – Ohio State (3) vs. Oregon (25) Cotton Bowl – Oklahoma (6) vs. Notre Dame (4) Orange Bowl – Clemson (2) vs. Texas A&M (5) The Semifinals would be played on the first Saturday at least a week after New Years Day:
Fiesta Bowl – Rose Bowl winner vs. Cotton Bowl Winner Peach Bowl – Sugar Bowl winner vs. Orange Bowl Winner
The championship game would be played two weeks later on a Saturday:
Fiesta Bowl winner vs. Peach Bowl winner
This scenario protects the bowl games, giving each bowl a premier match-up every year. It also gives each of the Power 5 conferences an auto-qualifier and still keeps the regular season and conference championship games important. Also, it only adds one game to the two teams that make the semi-finals and the championship game than they would have played in a four-team playoff.
I think it's a viable idea, but I see some flaws with it.
Pros
1) One auto-qualifier for every power 5 conference. Win your conference championship game and you're in the playoff.
2) One auto-qualifier for the highest-rated group of five conference team. In 2020, that was Cincinnati, who happened to finish ranked number eight in the final college football playoff poll.
3) Conference ties to bowl games/first-round playoff games. This is an added plus for both the schools and the fans. If you know the Big 12 champion automatically plays in the Cotton Bowl in the first round of the playoffs every year, it makes planning that much easier.
4) First-round playoff games played on New Years Day. I miss New Years Day bowl games meaning something. Having four playoff games on New Years Day would make it a big deal again. It would be difficult to have exclusivity for four games back-to-back on that day, but it could be done. I say let's make New Year's Day college football important and relevant again.
5) The semi-finals and championship game played on a Saturday. An NCAA national championship football game played on the same Saturday night in January every year could become a new "national holiday," right behind the Super Bowl. I've always hated the championship game played on a Monday night.
Cons
1) The Rose Bowl with a guaranteed Pac 12 vs Big 10 match-up every year. What if the Pac 12 champion and the Big 10 champion are ranked as the number one and two teams going into the playoff? Is it fair to have them face each other in the first round?
2) I'm not a fan of the Peach Bowl as a semi-final game, but I also don't know which bowl game I would swap it with.
3) Will any of these bowl games agree to this? I think they might insist on a semi-final and championship game rotation, which would defeat the whole purpose of this layout.
4) It is unlikely the first-round games will ever be seeded the way a traditional playoff would be, with one playing eight, two playing seven, etc. However, a way around this would be reseeding after the first-round games so that we would be more likely to get a championship game involving the two best teams.
5) Only two at-large or "wildcard" teams. In 2020, this scenario would leave out both Florida and Iowa State and instead include Oregon, which was barely ranked in the top 25, and Cincinnati, which was ranked behind both Florida and Iowa State. On the other hand, the answer to Florida and Iowa State would be "win your conference and you're in."
What say you? What do you like or not like about this format?
Powered by RedCircle