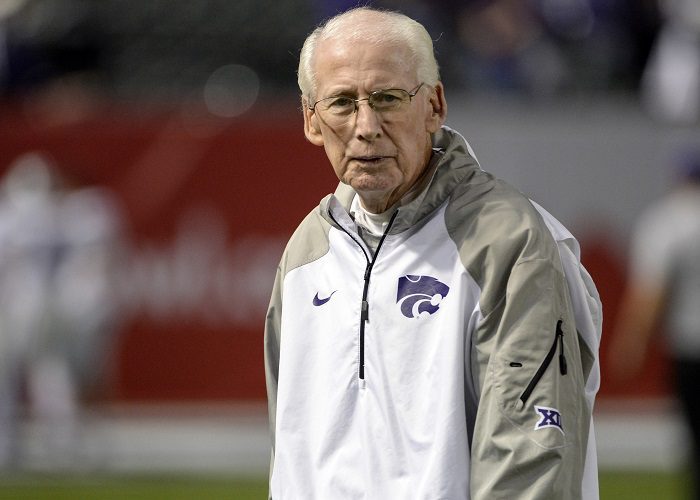 Kansas State is playing Stanford in the college football Kickoff Classic in Dallas, Texas on September 4, 2021. This is an important game for both teams and it reminds me of some similar "kickoff" games that K-State has played in the past. I thought it would be fun to take a look back at some of the biggest regular-season non-conference victories that Kansas State has had in the past. I narrowed it down to the top five. Enjoy!
5) Kansas State 10 USC 6, September 8, 2001, Los Angeles, CA
K-State signed to play a two-game series with USC when Paul Hackett was the head coach of the Trojans. Hackett was fired after the 2000 season and Pete Carroll was hired to replace him. The 2001 game was the second game Carroll coached at USC. K-State was ranked number 12 in the country at the time and quarterback Ell Roberson made his first career start. Carson Palmer was USC's starting quarterback.
I remember this game being rather boring and K-State running the ball a lot. I looked up the box score and my memory proved pretty accurate in this case as K-State rushed the ball 57 times and only passed it 16 times. K-State running back Josh Scobey rushed for 165 yards on 27 carries and Roberson added 119 yards on 21 carries. Roberson was 7/16 passing for 26 yards.
4) Kansas State 27 Iowa 7, August 26, 2000, Arrowhead Stadium, Kansas City, MO
In 2000, the "Eddie Robinson Classic" was one of the college football "kickoff" games. Kansas State and Iowa played at Arrowhead Stadium in the first game that season for both teams. If you talk to any K-State fans or Iowa fans that attended, they'll most likely remember how hot it was that day. It was one of the hottest football games I've ever attended, that's for sure.
Ladell Betts was Iowa's running back at the time and he rushed for 50 yards on 10 carries. Jonathan Beasley was K-State's quarterback and he had 250 yards passing with a touchdown and two interceptions.
K-State won the Big 12 North in 2000, losing to Oklahoma in the Big 12 championship game. They went on to beat Tennessee in the Cotton Bowl.
3) Kansas State 42 California 28, August 23, 2003, Arrowhead Stadium, Kansas City, MO
K-State kicked off the 2003 season against Cal in the "BCA Classic." This game, just like the Iowa game three years prior, was held at Arrowhead Stadium. Ell Roberson passed for 205 yards and three touchdowns and added 145 yards and a touchdown running the ball. Darren Sproles had 175 yards rushing and a touchdown.
California quarterback Aaron Rodgers replaced Reggie Robertson in the third quarter and threw for 121 yards and a touchdown before leaving the game with an injury. I always find it interesting to look back at some of the great quarterbacks that K-State has played against over the years. Donovan McNabb, Drew Brees, Patrick Mahomes, and Aaron Rodgers to name a few. The Wildcats gave up 440 yards to Cal but scored on its first five possessions to get the victory.
K-State went on to win the Big 12 conference in 2003.
2) Kansas State 28 Miami 24, September 24, 2011, Miami, FL
It took a goal-line stand for K-State to come out on top against Miami in 2011. With K-State leading 28-24, a pass interference call in the end zone against K-State gave Miami the ball first and goal from the two-yard line with 1:48 left. Miami threw an incomplete pass on first down, rushed for a yard on second down, and rushed for no gain on third down. On fourth down, Miami quarterback Jacory Harris scrambled out of the pocket and ran towards the end zone, and was tackled by Tre Walker in what was initially called a touchdown. Upon further review, the video replay showed that Harris' knee was down short of the goal line. The call was reversed and K-State ended up with the victory.
Collin Klein had 133 yards passing and two touchdowns and added 93 yards rushing. John Hubert rushed for 166 yards and a touchdown.
This victory propelled K-State to a 10-2 record in 2011, a number 11 national ranking, and a trip to the Cotton Bowl to play Arkansas.
1) Kansas State 27 USC 20, September 21, 2002, Manhattan, KS
The return game with USC in Manhattan was a much bigger deal than the game was in 2001. USC came in ranked number 11 in the country and K-State was ranked 25th. The victory remains K-State's only home win against a ranked non-conference opponent.
Marc Dunn started the game at quarterback for the Wildcats, but the offense was stagnant. Ell Roberson replaced Dunn starting the second quarter and the K-State offense finally got moving. K-State eventually built a 27-6 lead and held off a late USC rally for the final 27-20 score.
Roberson finished the game with 134 yards passing and a touchdown and 70 yards rushing and a touchdown. Darren Sproles added 78 rushing yards for the Wildcats. K-State went on to finish the 2002 season with a 10-2 record and a victory against Arizona State in the Holiday Bowl.
*If you like what you've read from Joe Mathieu, find more on his personal K-State site: https://www.kstatejoe.com/*