Big 12 News
Report: Jamie Pollard Is Not the Favorite for Nebraska AD Job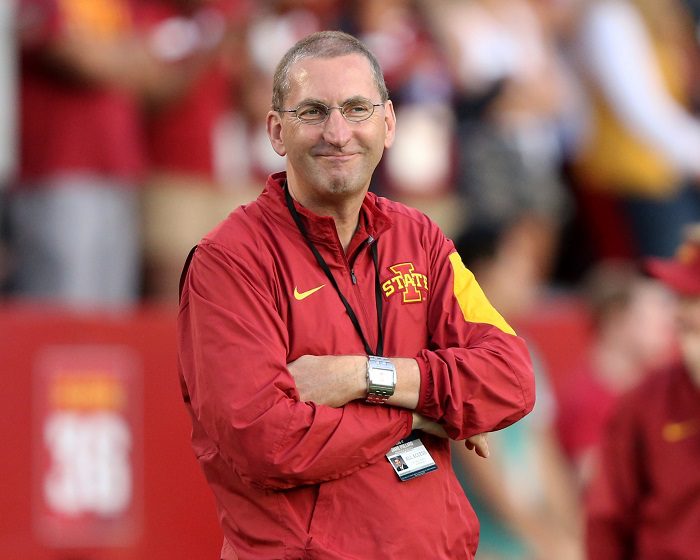 You might be wondering why we would be covering the Nebraska Cornhuskers athletic director job. "Pete, Nebraska hasn't been in the Big 12 Conference in a decade!" OK, that is true. But when the job opened up following the departure of Bill Moos last week, there was a lot of speculation that Iowa State AD Jamie Pollard could be on the Nebraska short list.
But the good news is that does not appear to be the case, at least according to the latest from CBS Sports' Dennis Dodd, who is reporting that former Cornhusker All-American Ed Stewart "has emerged as a favorite."
Stewart currently serves as the executive associate commissioner for football for the Big 12 and played for Nebraska from 1991 to 1994. He has spent 15 years in administration with the Big 12.
It's unclear exactly on Nebraska's hiring timeline, but for now Garrett Klassy has been named the interim AD. Nebraska has not posted a winning record in football since 2016.
The speculation on Pollard came from media outlets, including 247Sports, who wrote last week about Pollard, "Let's face it, many don't know the name of a ton of athletic department administrators. But there are your power players that just naturally come up like Gene Smith at Ohio State. Pollard at Iowa State has become one of the known names – certainly regionally. If you want a hire where all the pundits rush to trip over themselves to gush about it, this would count as such. Not that it should be about that. But anyone with an AD opening is intrigued by him. Not only has Cyclones football turned a corner while he's been there, but he's been ambitious on facility projects himself and would give Nebraska a formidable name at the Big Ten table. Granted, I'd want Fred Hoiberg's full opinion (since he worked for Pollard) before even knocking. After last year's back-and-forth between the Huskers and the league, Nebraska having someone with the weight Pollard has in the AD industry would be great to bring to the conversation. One reason I think this one is probably a no go: He just signed a contract in April with ISU that goes through 2026, so he might be quite comfortable to continue in that post where he is making $757,000 a year, according to the AP. But NU could drive the figure up and has some facilities both in place and in the words that would make the Huskers at least an intriguing option to hear out if your phone rang. (Moos was in line to make $1.2 million next year)."
Thankfully, Pollard is not getting the attention for the job some feared, or even better, he quickly informed Nebraska he has no interest. Either outcome is a win-win for Cyclone Nation.
Plus, we all need Jamie Pollard in Iowa so he can keep tweaking the Des Moines Register.