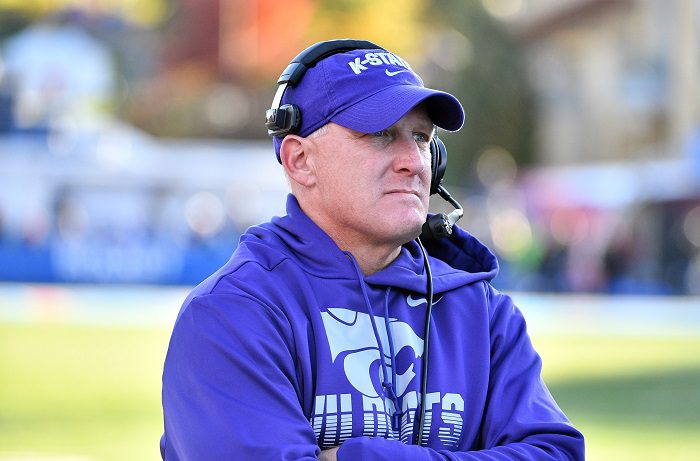 Have you ever placed a bet in Vegas just for the fun of it? In 2017 I was at a Sportsbook in Las Vegas and on the board behind the counter they had the college football odds to win a national championship. K-State was listed at 60 to 1. It was worth 10 bucks to me to buy a ticket. And with Bill Snyder as your coach there's always a chance, right? Wrong!
This year the significant betting number to Kansas State football fans is 5.5. What is 5.5? It's the over/under that Vegas put on Kansas State football wins in 2021. When the over/under came out, it caused lots of hubbub among K-State fans. Five and a half seemed low to a lot of people. "Bet the over," many said. "We are getting disrespected again," others said. I thought the number was about right, and after diving deeper into the schedule my initial thought was confirmed.
The non-conference portion of the schedule is not as easy as it looks. Stanford will be a big test, Southern Illinois is one of the best teams in FCS football, and Nevada is coming off a bowl victory in 2020 and is one of the favorites to win the Mountain West. Getting through these three games undefeated will be tough.
The conference schedule starts with a road trip to Stillwater, followed by home games against Big 12 favorites, Oklahoma and Iowa State, back-to-back. The schedule lightens up a little bit after that but is still challenging.
Below I'll break down the schedule game by game and give my "way too early" prediction on each one.
September 4th vs. Stanford, Arlington, Texas
K-State opens against Stanford in a neutral site game at AT&T Stadium in Arlington, Texas. Stanford is a one and a half to two-point favorite after K-State opened as a two-point favorite. The money must have been flowing in for Stanford for the line to move like that.
Stanford will be breaking in a new quarterback this season, which may give K-State a slight edge. When I looked at Stanford's schedule, I read that they are the only team in the country that will play 12 Power 5 opponents this season. While it's an interesting tidbit, it probably won't matter much since this game is the first of the season for both teams.
This game could go either way and I have no strong feeling about it. Since K-State has the experience at the quarterback position, I give them the slight edge.
Prediction: Cats win a close one.
September 11 vs. Southern Illinois
Southern Illinois made the FCS playoffs this spring and lost in the quarterfinals to top seed South Dakota State. They are ranked 9th in Athlon's FCS preseason poll and have their quarterback and top play-makers returning. This one may not be easy.
Prediction: Cats win, but it will be closer than we all think.
September 18 vs. Nevada
Nevada is one of the favorites in the Mountain West. They have a lot of experience returning and had eight players selected to the Phil Steele Mountain West pre-season first team. Quarterback Carson Strong returns and is the reigning Mountain West offensive player of the year.
This game scares me a bit. When I initially looked at the schedule I chalked it up as a victory, but as I looked at Nevada's returning players, I can see this being a close game and possible Nevada victory. Home field advantage should help K-State.
Prediction: Cats win a close one.
September 25 at Oklahoma State
The Kansas State/Oklahoma State games are normally pretty close and this year probably won't be any different. I give Oklahoma State the edge in this one since they're at home and are picked as one of the contenders to win the conference.
Prediction: Loss
October 2 vs. Oklahoma
Can Klieman and company get it done for the third time in a row against Oklahoma? I'm not getting my hopes up. Not only is Oklahoma the Big 12 favorite, but a legitimate national championship contender as well. K-State playing at home will help, but it's not probable that the Cats get a third win in a row against the Sooners.
Prediction: Loss
October 16 vs. Iowa State
Two weeks to prep for Iowa State, who beat K-State 45-0 last season. Unfortunately, Iowa State also gets two weeks of prep for this one. The gap between the programs is widening, not narrowing. Iowa State is likely to contend for the Big 12 championship this season and I don't like the Cats' chances.
Prediction: Loss
October 23 at Texas Tech
This is the most winnable conference game on the schedule outside of Kansas. K-State may be coming off of three straight losses before going on the road to Lubbock. Morale may be low, so this game scares me a little bit. I'll predict a win right now, but things could change depending on how the season progresses.
Prediction: Win
October 30 vs. TCU
This is another tough home game with TCU coming to town. TCU has put together a couple of top 25 recruiting classes lately and has more talent across the board than K-State has, but the games between the programs have been close of late. I expect a close victory for the Cats in this one.
Prediction: Win
November 6 at Kansas
This is the only "bet the mortgage" game on K-State's schedule.
Prediction: Win
November 13 vs. West Virginia
West Virginia obliterated K-State last season 37-10, but K-State will hopefully have Skylar Thompson this year and try to exact some revenge. I'm guessing the game will be closer this season, but I can't pull the trigger on picking K-State.
Prediction: Loss
November 20 vs. Baylor
K-State came very close to beating Baylor in Waco last season. Since the game is in Manhattan, I'm picking K-State to get the victory. Baylor quarterback Charlie Brewer transferred out, and Baylor will be breaking in a new quarterback (or two), so K-State should have the advantage at that position which should be enough of an edge to get the victory.
Prediction: Win
November 26 at Texas
Texas' 69-31 victory over K-State in Manhattan last season is ingrained in my memory. At this point, there's no way I can pick K-State to win this game. I reserve the right to change my opinion, but as of now, I'm marking it as a loss.
Prediction: Loss
Season Prediction
7-5. Victories against Stanford, Southern Illinois, Nevada, Texas Tech, TCU, Kansas, and Baylor. Losses against Oklahoma State, Oklahoma, Iowa State, West Virginia, and Texas
Best Case: 9-3. There are only three games on the schedule that I can't make a good argument for the Cats winning. Oklahoma, Iowa State, and Texas. The rest are all winnable as long as Skylar Thompson stays healthy.
Worst Case: 3-9. Kansas is the only game I feel comfortable marking with pen in the win column. Southern Illinois and Nevada should be wins and the Texas Tech and Baylor games should be wins as well. I think the only way the Cats finish 3-9 is if they have injuries at key positions since depth may be an issue. Even with injuries, they should have enough to get three wins at the very least.
The bet: Bet the over, but don't bet the mortgage. If you win, thank me. If you lose, you don't know me.