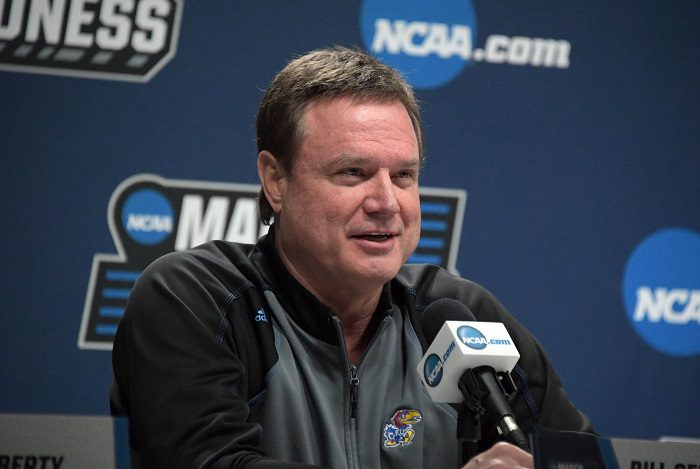 Leading up to the opening of the 2021-22 Big 12 Men's basketball season Heartland College Sports will analyze each of the Big 12 men's basketball rosters. Today it's the Kansas Jayhawks.
2020-21 Season-Ending Roster (bold denotes returning for 2021-22): G Marcus Garrett (6-foot-5), G Tyon Grant-Foster (6-7), G Christian Braun (6-6), Dajuan Harris Jr. (6-1), G Latrell Jossell (5-11), F Jalen Wilson (6-8), G Chris Teahan (6-4), G/F Tristan Enaruna (6-8), G Michael Jankovich (6-5), G Bryce Thompson (6-5), G Ochai Agbaji (6-5), F David McCormack (6-10), F Gethro Muscadin (6-10), F Mitch Lightfoot (6-8).
Left for pro basketball: Garrett.
Left due to eligibility: None.
Left program to transfer: Grant-Foster (DePaul), Jossell (Stephen F. Austin), Enaruna (Iowa State), Thompson (Oklahoma State), Muscadin (New Mexico)
Joined program via transfer: G Jalen Coleman-Lands (Iowa State), F Cam Martin (Missouri Southern), G Remy Martin (Arizona State), Yesufu (Drake).
READ MORE: Mark Vital Shows off Chiefs Jersey Before Sunday Night Football: Look
READ MORE: Big 12 2021-22 Men's Basketball Hires Graded by School
Class of 2021 Recruits: F Zach Clemence (6-foot-9), Sunrise Christian (Wichita, Kansas); F KJ Adams (6-7), Westlake (Austin, Texas); G Bobby Pettiford (6-1), South Granville Of Business and Global Communications (Creedmore, North Carolina); G Kyle Cuffe Jr. (6-2), Blair Academy (Blairstown, New Jersey).
Others: G Charlie McCarthy (6-2), Shadow Hills HS (Rancho Mirage, California); F Dillon Wilhite (6-9), Cathedral Catholic HS (San Diego, California).
Potential starting lineup: Agbaji, Martin, Braun, Wilson, McCormack.
Why?: The Jayhawks have one of the most stable returning starting lineups in the Big 12. Agbaji, McCormack and Wilson were the Jayhawks' top three scorers last year, combining to score about 39 points per game. Agbaji and Wilson have their NBA scouting report card and know what they have to improve on. McCormack didn't declare, but his improvement should be evident come November. Braun was last year's fifth-leading scorer and averaged nearly 10 points per game. He's a quality rebounder coming off the perimeter and was a plus defender by the end of last season. Martin led the Pac-12 with 19.1 points per game last season, including 21.5 ppg in conference play. He was a three-time All-Pac-12 selection. So Kansas has five starters capable of scoring at least 10-12 points per game any given night.
The bench: Coleman-Lands, Lightfoot, Harris Jr., Yesufu, Martin.
Why? Coleman-Lands was Iowa State's second-leading scorer last year and he's going into his seventh year (yes, SEVENTH year) of college basketball. Lightfoot has proven he can do anything for the Jayhawks. Harris Jr. came on at the end of last season, playing some quality minutes in the NCAA Tournament. Yesufu averaged more than 12 points per game for the Drake Bulldogs last year, but here he'll come off the bench to start. Martin was the Division II Player of the Year last season, and while he'll certainly need time to adjust, Kansas didn't bring him here to sit him for a year (mainly because he doesn't have a year to sit). For the first time in years, the Jayhawks look like they have a deep bench.
The wild card: Adams. If there is one true freshman that could carve out some time right away, it would be Adams, who has similar height and athleticism to Wilson. So there's potential for him to do some of the same things the returning starter can do. With their depth, though, the Jayhawks could also afford to redshirt the Top 70 recruit.
By Big 12 Play?: The starting lineup won't change much barring injury. This is a stable group that already has good chemistry, and Martin gives them another pure scorer to add to the mix. Expect Coleman-Lands, Harris and Yesufu to get the most minutes coming off the bench for the guards, while Martin and Lightfoot will get minutes at forward. How much time the others get will depend on their progress during non-conference.
Previous Roster Analysis: Baylor | Iowa State |
You can find Matthew Postins on Twitter @PostinsPostcard.
**Want to win a $20 gift card? Go sign up here and join our conversation! The best poster each week wins a gift card to your favorite establishment!**