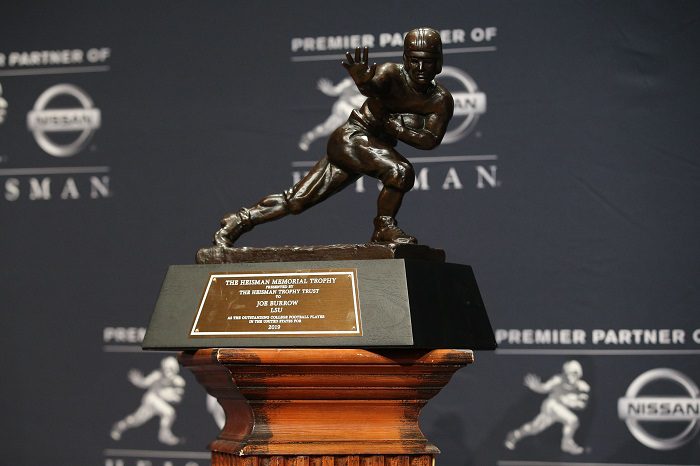 Alabama quarterback Bryce Young won the Heisman Trophy on Saturday night. I didn't watch the presentation and, to be honest, I haven't watched it in years. The last one I watched was in 2012 when K-State quarterback Collin Klein was a finalist. Typically, the award goes to the best quarterback on the best team or the best running back on the best team. It's a generalization, sure, but in looking at the history of Heisman Trophy winners, it's not necessarily inaccurate. Of the 86 times the Heisman has been awarded, quarterbacks or running backs have won 79 times. A defensive player has only one three times, and receivers have won four times. The last time a defensive player won the award was in 1997 when Charles Woodson won.
K-State has had five players in program history receive votes for the Heisman Trophy. Three of them finished in the top five. I thought it would be fun to look back at these five players and rank them.

5.) 1994 – Chad May, QB (11th)
According to the K-State football media guide, Chad May finished in 11th place in the 1994 Heisman Trophy voting. However, I can find no record of how many votes he received. The only archive I found online lists the top ten finishers and their number of votes. Since May finished 11th, he is not listed. I guess I'll take their word for it!

May was a program changer when he came to Manhattan in 1993. The Wildcats were 5-6 in 1992 and needed a quarterback in the worst way. May transferred to K-State from Cal State Fullerton before the 1992 season and had to sit out due to transfer rules. After being named the starting quarterback prior to the 1993 season, May threw for a then-school record 2,682 yards in 1993, leading the Wildcats to a 9-2-1 record and their first-ever bowl game victory. The 52-17 victory over Wyoming in the Copper Bowl was the first of 11 straight bowl games for K-State. The highlight of May's career was throwing for 489 yards against Nebraska in Lincoln in 1993, a school record that still stands to this day.

4.) 1970 – Lynn Dickey, QB (10th)
Quarterback Lynn Dickey finished 10th in the 1970 Heisman voting. He received six first-place votes, six second-place votes, 19 third-place votes, and 49 total votes. Jim Plunkett won the award with 2,229 votes.

Dickey ranks third on the all-time passing yards list at K-State behind Josh Freeman and Skylar Thompson.

3.) 2003 – Darren Sproles, RB, (5th)
Running back Darren Sproles finished fifth in the 2003 Heisman voting. He received 15 first-place votes, 30 second-place votes, 29 third-place votes, and 134 total votes. Jason White won the award with 1,481 votes.

Sproles is the all-time leading rusher in K-State history and had a great NFL career. I'm surprised he didn't get more votes than he did. Kudos to the 15 voters that placed him number one on their ballot. Jason White? Come on!

2.) 1998 – Michael Bishop, QB, (2nd)

Quarterback Michael Bishop finished second in the 1998 Heisman voting. He received 41 first-place votes, 250 second-place votes, 169 third-place votes, and 792 total votes. Ricky Williams won the award with 2,355 votes.

Bishop is not only the best quarterback in K-State history, but he was one of the most exciting and electrifying quarterbacks in college football history. Ricky Williams was spectacular in 1998, rushing for 2,124 yards, averaging a little over 193 yards a game. Those were great numbers considering K-State held him to 43 yards on 25 carries earlier in the season in Manhattan. But I'm not bitter!
1.) 2012 – Collin Klein, QB (3rd)
Quarterback Collin Klein finished third in the 2012 Heisman voting. He received 60 first-place votes, 197 second-place votes, 320 third-place votes, and 894 total votes. Johnny Manziel won the award with 2,029 votes.

Klein is one of the most beloved K-State football players of all time. He led the 2012 squad to a number one ranking before a loss to Baylor derailed the Wildcats' national championship hopes. He gets the nod over Bishop because he received more overall votes than Bishop and more first, second, and third-place votes than Bishop.

Does K-State have a Heisman candidate on their current roster? I'd say anyone who gets six sacks in a game (really eight sacks) as Felix Aniduke-Uzomah did may be a candidate in the future, but defensive players aren't likely to win the award. Could Deuce Vaughn become a contender? He has shown that he can put up some great rushing and receiving numbers and is an exhilarating player that can fill up a highlight reel that would cause a lot of voters to take notice. Unfortunately, he's currently the best running back on an above-average team, and to win the Heisman you have to be the best running back on the best team. I'd love to see Chris Klieman get the Wildcats in a position to have a Heisman contender in the next year or two. How great would that be?