Oklahoma Sooners
Lincoln Riley's Transfer Portal Hypocrisy on Full Display on National Signing Day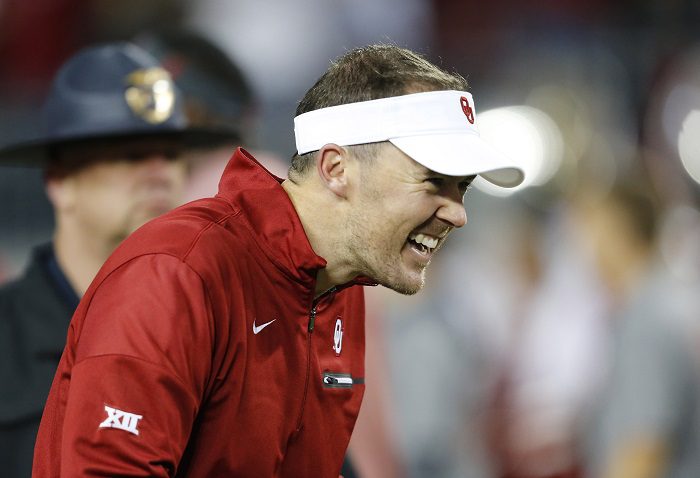 Well, Lincoln Riley has caused something to happen that I never could've imagined possible: I agreed with something that was posted by a Twitter account that covers Texas athletics.
Earlier today, Riley was interviewed by ESPN and was asked about his opinion on the transfer portal and its effect on college football. He was bold enough to claim that it needs some "guardrails" because right now it's difficult to build a roster. Listen for yourself.
Really, Lincoln? You just poached the top player in the country, a five-star wide receiver, a four-star cornerback, and an entire defensive staff from the university that made you a millionaire and one of the top coaches in America. Do you even hear yourself when you speak or are those gold-plated Air Pods that you're wearing noise-canceling?
The hypocrisy that Riley displays in this interview further exemplifies his lack of integrity when it comes to career moves. Sure, you can take all the parts of a team that you like with you to your next gig, but should you?
You don't see five-star players on Clemson's roster following Brent Venables to Oklahoma. Why? Because he has integrity. He gives a damn about the university that made him the highest-paid coordinator in the country. Venables wouldn't spit in the face of a legend that handed him the keys to one of the most prestigious programs in the country and force him out of retirement to clean up a mess that he didn't make.
Lincoln Riley has shown his true colors over the past two months, and he sure as hell had me and pretty much everyone else fooled for five years. The aw-shucks, humble, West Texas act was Oscar worthy, in hindsight.
Now, it makes sense that he would want to be in LA, and I say more power to him. He belongs there, right alongside the Kardashians, the Real Housewives, and the rest of the fakers scattered across SoCal. Sure, he's good for television ratings, but he's not someone I would call a "role model" for other aspiring college coaches.