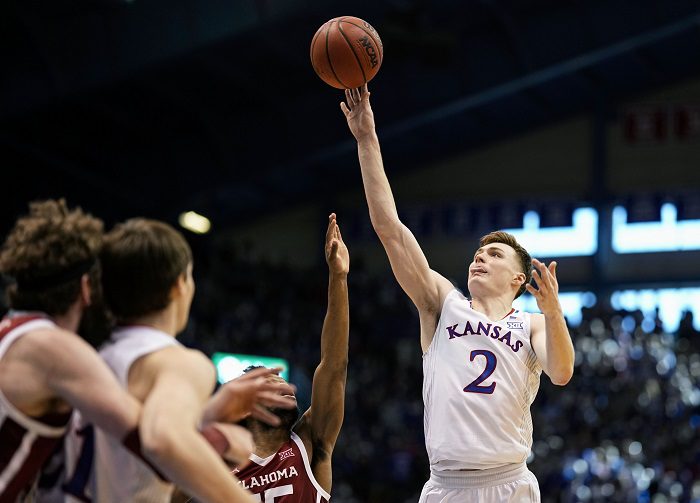 Kansas sits atop the Big 12 Conference standings, and with five games remaining on its schedule, it doesn't appear the Jayhawks will be knocked off their perch.
No. 5 KU currently holds a one-and-a-half game lead over No. 10 Baylor and No. 9 Texas Tech, and the Hawks are in an excellent position to win their 20th regular-season title and first in two years.
The Jayhawks (12-2 in the Big 12) have two of their last four contests at Allen Fieldhouse — TCU (5-7) on March 3, and No. 20 Texas (8-6) on March 5. KU travels to Baylor (10-4) on Saturday and TCU on March 1.
The Longhorns beat KU by three (79-76) in Austin, and the Jayhawks pounded Baylor 83-59 in Lawrence. The Bears appear to be the only team with a chance to beat Kansas. After losing to Oklahoma State on January 15, the Bears have won four straight in Waco.
Texas did pull off the upset at home, but KU hasn't lost a conference tilt in Lawrence all season. The Longhorns (then No. 20 in the polls) took a 77-76 lead on Timmy Allen's jumper with 21 seconds remaining in the first KU-UT meeting. A personal foul by the Hawks Dejuan Harris Jr. sent Marcus Carr to the free-throw line. Carr made both shots for a 79-76 lead with six seconds left. KU's Jalen Wilson drew a foul with two seconds remaining, but he missed both buckets, and the No. 8 Jayhawks were upset.
No. 10 Kansas held No. 8 Baylor to 30 percent from the field in its big win over the Bears in Lawrence.
The Horned Frogs, losers of their last three games, aren't much of a threat to pull an upset. Kansas looked dominant in their win over K-State last night, winning 102-83, bringing Kansas State's losing streak in Lawrence to 16 straight games, a streak that dates all the way back to 2006. If they look like that against the Horned Frogs it could get ugly.
KU is likely to trip up against only Baylor down the stretch. The Jayhawks could go 5-0. Nevertheless, Kansas will take its 20th regular-season crown.