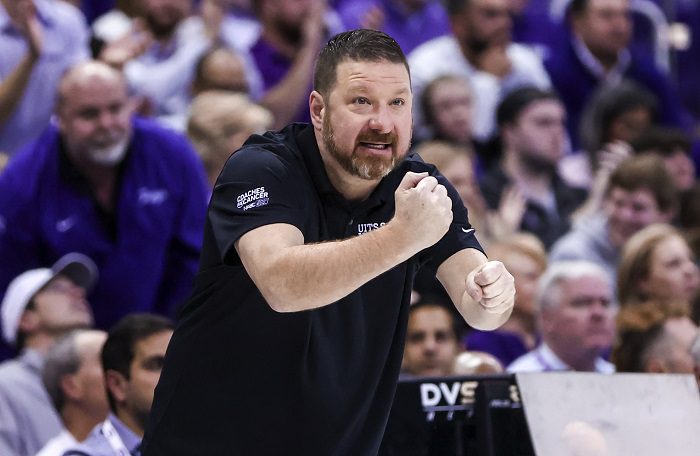 Here is everything you need to know about the Texas Longhorns and the Virginia Tech Hokies in our Texas vs. Virginia Tech NCAA Tournament men's basketball preview.
NCAA Tournament
East Region – First Round
No. 6 Texas (21-11) vs. No. 11 Virginia Tech (23-12) 3:30 p.m. CT, Friday, TBS, Fiserv Forum, Milwaukee, Wisconsin
How They Got Here:
Texas earned an at-large bid to the NCAA Tournament. Virginia Tech won the ACC Tournament and the conference's automatic bid.
Winner gets: A second-round game against the winner of the Purdue-Yale game.
Projected starting lineups
Texas: G Marcus Carr, G Andrew Jones, G Courtney Ramey, F Christian Bishop, F Timmy Allen.
Virginia Tech: G Hunter Cattoor, F Keve Aluma, G Storm Murphy, F Justyn Mutts, G Naheim Alleyne.
Player to watch
Texas G Courtney Ramey: The Texas guard came back to be a part of something special this season. Well, he's put together another fine season, averaging 9.5 points and 3.5 rebounds per game. He's also emerged as the Longhorns' top defensive enforcer on the perimeter, and he's drawn tough assignments like Kansas guard Ochai Agbaji. But, lately, Ramey has taken an uptick in offensive performance. He's averaged 16.5 points and eight rebounds while hitting 6-of-12 from 3-point range in his last two games.
Virginia Tech F Keve Aluma: He is averaging 15.8 points and 6.5 rebounds per game. The 6-foot-9 redshirt senior spent two years at Wofford before transferring to the Hokies and sitting out a year with the Hokies. As a second team All-ACC selection, Aluma recorded eight double-doubles and had nine games with 20 or more points scored this season. He was just selected to the NABC Division I All-District team and he put up some of the best numbers of his career in the ACC Tournament — 19 points and 6.5 rebounds per game.
Key storylines
Texas: The Longhorns are making their 36th trip to the NCAA Tournament, and the program has been remarkably consistent, as they're one of eight schools to reach the tournament in 20 of the last 23 tournaments. But March is why the Longhorns lured coach Chris Beard back to his alma mater. He's 10-4 in his four NCAA Tournament appearances as a head coach, leading Texas Tech to the 2019 national title game. He's never lost in the first round. But the Longhorns lost in the Big 12 quarterfinals to TCU and he questioned his team's effort in the post-game press conference. How will Texas respond after that?
Virginia Tech: The Hokies are on a four-game winning streak and upset Duke in the final of the ACC Tournament, a win that the Hokies needed to get into the event for the second straight season. It was also the first time the Hokies won the ACC Tournament. The Hokies were a No. 10 seed last year, so they're in the Tournament for the second straight year under head coach Mike Young. Virginia Tech is making its 13th appearance in the NCAA Tournament and is 8-12 in the 'Big Dance.' Hunter Cattoor and Keve Aluma were named to the ACC Tournament First Team, while Stormy Murphy and Darius Maddox were named to the Second Team.
Fun Fact
Texas and Virginia Tech have never met in men's basketball.
Prediction
Virginia Tech 67, Texas 64. Texas has the better defense (but not by much), but the Hokies have the momentum after four straight wins. Texas' offense has been too inconsistent this season to be counted on.
You can find Matthew Postins on Twitter @PostinsPostcard.