Baylor Bears
'The Alliance' was Always a Joke and the Big Ten Just Confirmed it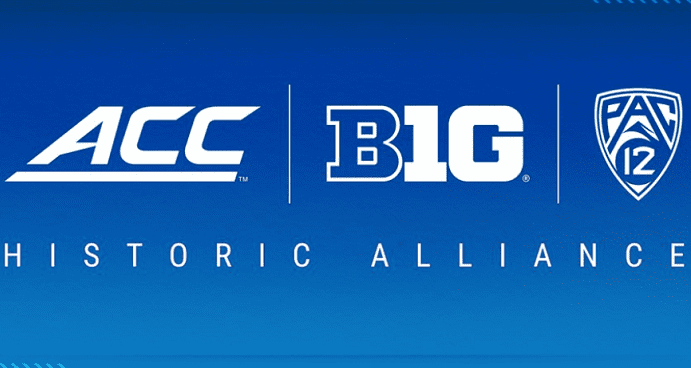 Remember the historic "Alliance" between the Big Ten, Pac-12 and ACC?
It was so cute. The three conferences came together last August following the news that Oklahoma and Texas would be leaving the Big 12 for the SEC.
In the press release, the conferences cited their 41 world-class institutions together on a collaborative approach surrounding the future evolution of college athletics and scheduling.
However, in the wake of the shocking news this week that USC and UCLA would be leaving the Pac-12 for the Big Ten, it confirms what we always knew about "The Alliance": It was a joke.
The Alliance's Hypocrisy
The group of conferences noted that they, "will be guided in all cases by a commitment to, and prioritization of, supporting student-athlete well-being, academic and athletic opportunities, experiences and diverse educational programming. The three conferences are grounded in their support of broad-based athletic programs, the collegiate model and opportunities for student-athletes as part of the educational missions of the institutions."
Sure, UCLA and USC are great academic schools. No one will deny that. But explain to me how their sports programs traveling 3,000 miles to play Rutgers prioritizes, "student-athlete well-being, academic and athletic opportunities, experiences and diverse educational programming."
Oh, and that whole thing about their support for the "collegiate model". Can you say, "LOL"?
College football continues its trend towards being more in line with professional sports. It's a movement we've all seen coming in the era of the transfer portal and Name, Image and Likeness opportunities.
Like it or not, it's the reality of the environment of big-time college athletics.
But it's also clear what happened here: The Alliance never meant anything.
There was no agreement on paper. Heck, the parties involved admitted as much. Here's what Pac-12 commissioner George Kliavkoff said at the time of the announcement.
There is No Loyalty in College Football
If there's one thing every university should realize about college athletics, there is no loyalty. It's sad, but it's a reality.
I know many of us long for the days of college sports being uber-regional. There was the Big 6, then the Big 8, then the Big 12. You could drive to just about every road game for a weekend. You got to know the opposing fan bases as well as your own. For better or for worse, those days are over.
And maybe the nostalgia gets the best of us, sometimes. The sport was never as clean and pure as many of us imagined it was. No one got along as well as we hoped they would. Money and power were always the two biggest motivating factors. But now, it's all out in the open.
It's every man (school) for himself (itself). Anyone pretending otherwise isn't being honest. I believe the 12 future Big 12 schools are all very happy with each other and their current situation. They should be.
But am I naïve enough to believe that Oklahoma State wouldn't bolt for an invite to the SEC or Big Ten? How about if Iowa State received a Big Ten call? Kansas? Same thing. You get the point.
It's cliché, but we truly are living in the most Wild West era of college sports history.
And my only piece of advice: Look out for Number 1.