Baylor Bears
Dave Aranda: Apparent Blake Shapen Was 'Better Passer' in Baylor QB Race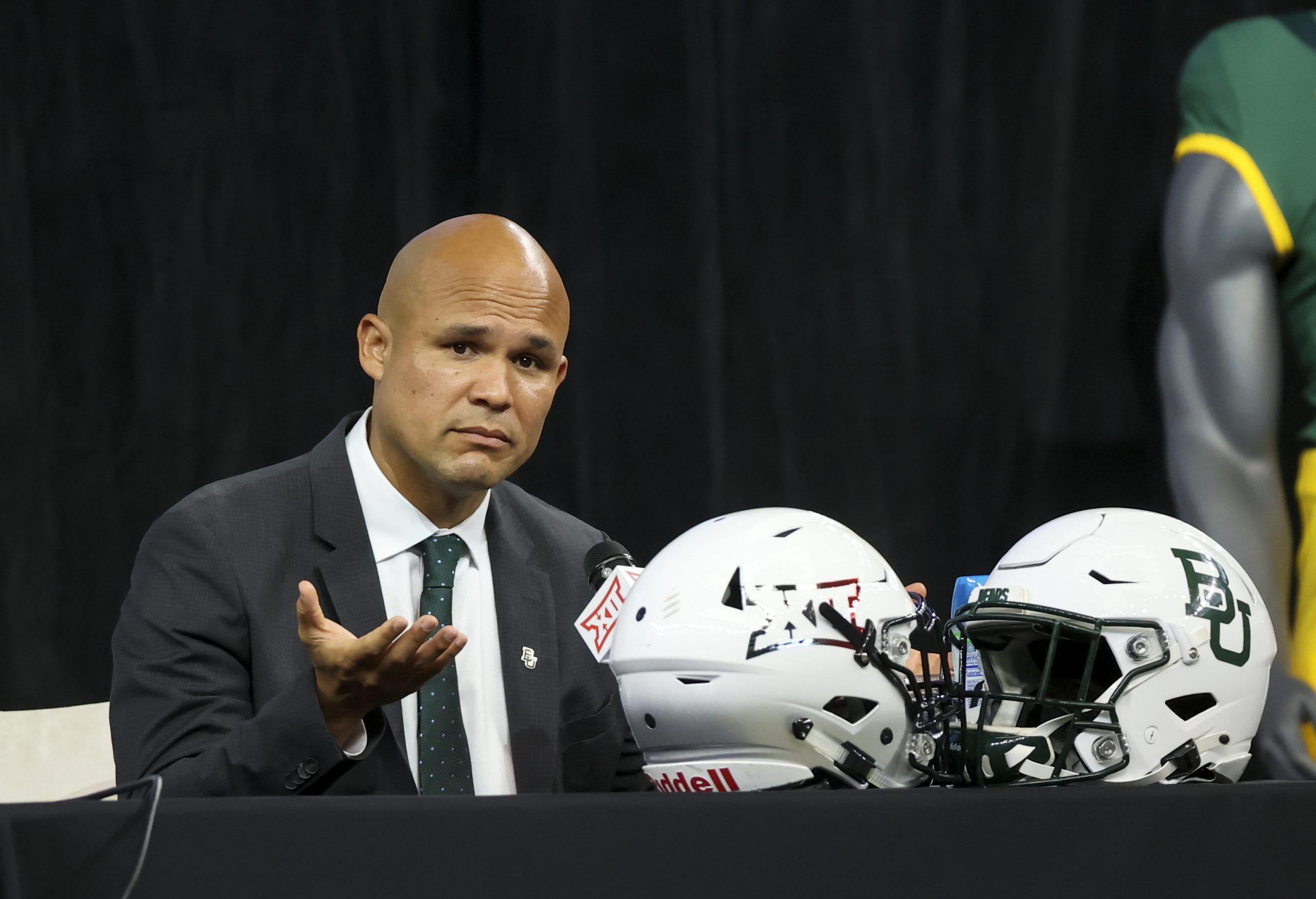 Baylor head coach Dave Aranda talked Wednesday about the decision points that led to making Blake Shapen the starting quarterback over Gerry Bohanon.
Aranda was the first coach to speak at Big 12 Media Days in Arlington. During spring workouts, Aranda said he and his offensive staff had a decision to make.
They could stick with Bohannon, who helped position Baylor for the Big 12 Championship before his injury in November. Or, they could move on to Shapen, who led the Bears to that Big 12 Championship game win over Oklahoma State.
Aranda said he relied on his offensive staff to be transparent and open about the competition, with both himself and with the two quarterbacks. Aranda also said the Bears' spring game was a factor in the process, too.
But, in the end, Shapen won for a simple reason.
"It became apparent with the spring game that Blake was our better passer," Aranda said.
Shapen threw for just 596 yards and five touchdowns last season. Bohannon, who had waited a few years for his turn to be the starter, threw for 2,205 yards and 18 touchdowns, along with rushing for 323 yards and nine touchdowns. He played his way into being a fan favorite at Baylor.
Now, Bohanon is preparing to try and win the starting job at South Florida, where he transferred after learning Shapen got the job.
Aranda said determining the starter after spring workouts was intentional. So was telling Bohanon early to give him a chance to transfer, if that's what he decided to do. Aranda said given Bohanon's time with the Bears, the fair thing was to make the move early.
He also talked about the difficulty of making that decision, telling reporters that the process was a bit contrary to how he usually makes decisions.
"I think I look at people before players, and in this one we had to look at who could be the better player for us," Aranda said. "With Gerry, there is no me without him, no last year without him. You walk into my house and I have photos of my kids posing with Gerry. It's a crazy thing. It was difficult to do."
Baylor is coming off a 2021 in which it went 12-2 overall and 7-2 in Big 12 action. The Bears won the Big 12 Championship Game for the first time and defeated Oklahoma State, 21-16, for its second Big 12 Conference title. The Bears then beat Ole Miss in the Sugar Bowl, 21-7. The Bears had the second-best scoring defense in the Big 12 (18.3 points per game) under head coach Dave Aranda and defensive coordinator Ron Roberts.
The Bears return 11 starters overall, but many of Baylor's top returnees are on defense, including linebacker Dillon Doyle, who has now played 23 games for Baylor, and massive nose tackle Siaki Ika, who once played for Aranda's defense at LSU. The Bears must replace some top talent on defense, though, including safety Jalen Pitre and linebacker Terrel Bernard, both of which were All-Big 12 last season.
The Bears open the season on Sept. 3 at home against Albany, followed by a road trip against future Big 12 foe BYU.
You can find Matthew Postins on Twitter @PostinsPostcard.