Big 12 News
National Champion Wrestler A.J. Ferrari Dismissed By Oklahoma State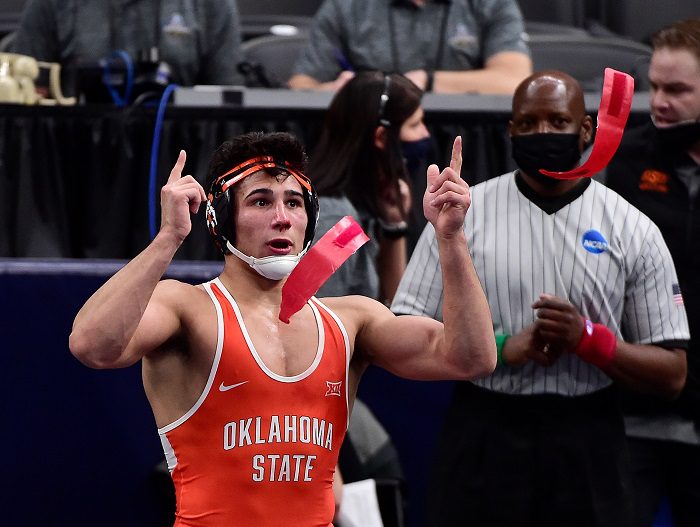 After two seasons at Oklahoma State, AJ Ferrari has been released from the wrestling team according to a report from the O'Colly.
Ferrari had won the 197-pound title as a true freshman in 2021, but was didn't compete for much of last season after undergoing surgery due to injuries suffered during a car accident. 
The final straw for Ferrari may have come after a Stillwater woman filed a protective order against him on July 5. Official records have not been released from the report. The investigation is still ongoing.
Before the injuries, Ferrari was 10-0 and ranked #1 in the country. His career record through a year and a half sits at 30-1. Coming out of high school, Ferrari was the #10 overall recruit.
Ferrari was regularly outspoken on social media and had what many considered a brash style. Interestingly, AJ has two younger brothers, Anthony and Angelo. Anthony was scheduled to be a freshman at Oklahoma State this upcoming season and Angelo is the #2 overall recruit in the class of 2024. Angelo is reportedly interested in Oklahoma State as well as Oklahoma, Arizona State, North Carolina, Minnesota, and Rutgers as programs he's considering.
When Ferrari got into his accident, he was driving home from attending a youth wrestling practice in Cushing, Oklahoma when he reportedly collided with a vehicle when he attempted to pass another. Cowboy football offensive coordinator, Kasey Dunn, rescued Ferrari from his burning vehicle.
He was life-flighted to OU Medical Center in Oklahoma City and treated for his injuries. Amazingly, Ferrari did not sustain any major injures in the accident.