Big 12 News
Big Ten Commissioner Raves About New Big 12 Commissioner Brett Yormark: 'A Marketing Wizard'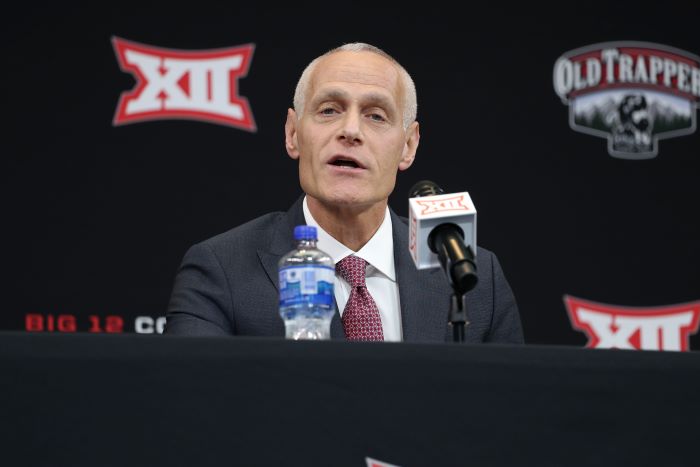 Big Ten Media Days kicked off on Tuesday at Lucas Oil Stadium in Indianapolis, Indiana on Tuesday as we are officially just a month removed from college football season.
As has been the case at all the conference media days this year, conference realignment and the future of the College Football Playoff were topics of discussion with Big Ten coaches and conference commissioner Kevin Warren.
During a question concerning CFP expansion, Commissioner Warren seemed confident that a resolution would be reached with some "new faces in the room."
"We need to take a holistic view," Warren said of CFP Expansion at Big Ten Media Days. "We need to make sure we protect some of the critical bowl relationships. As we work through all of those, whether it's automatic qualifiers, whatever the case may be, I'm confident as we get these new individuals in the room, get these new issues on the table, that we'll be able to reach some resolution. And again, make sure we ask ourselves the right questions at the right time for our student-athlete."
One of those "new faces" is Big 12 Commissioner Brett Yormark, whom Warren describes as a "marketing wizard" and "very innovative."
Yormark was very clear in Big 12 Media Days earlier this month that he intended to add value to the Big 12 and wanted to make the conference's brand " a little younger, hipper, and cooler." He also made a comment that the Big 12 was "open for business" with regards to expansion, which will continue to be a topic heading into the 2022 football season.
With the endorsement of another conference commissioner, it appears that things are going very well for the first time commissioner in Big 12 country.