featured
What Ever Happened To Texas Football?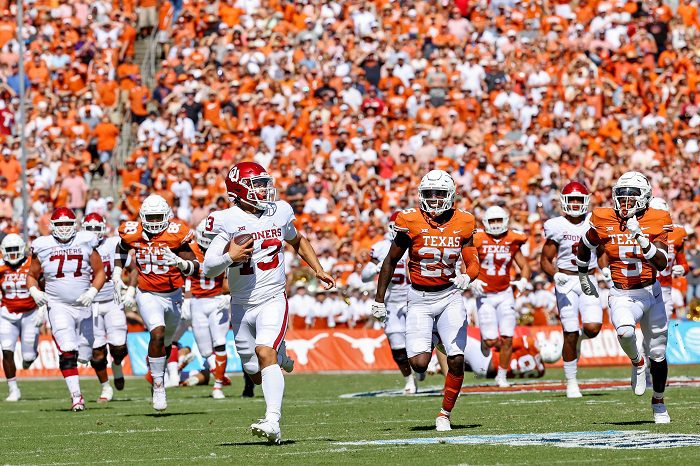 While I may be Red Raider now, I did grow up by Austin during Texas football's hayday, with a burnt orange room, and two #12 Texas jerseys.
I still have vague memories of Vince Young in two Rose Bowls, and vivid memories of Colt McCoy beating OU 45-35 in 2008, Blake Gideon dropping that interception, and Crabtree making them pay the next play. One second being (rightfully) put back on the clock, and Hunter Lawrence sending them back to Pasadena, for a date with Alabama. Colt McCoy going down injured, a shovel pass being returned for a touchdown before the half. Garrett Gilbert being thrust into the spotlight and nearly leading them back before getting blindsided and fumbling, right before Alabama sealed it.
But what's more vivid for Longhorn fans, is the dozen seasons that followed. Sure they played in a defacto Big 12 title game vs Baylor in 2013, but that team really wasn't that good, and it showed. They did reach another title game in 2018, they lost that before showing life in a Sugar Bowl win over Georgia. But while the Texas of the 2000s found unique ways to win and excite, the Texas of present have found unique ways to lose, and disappoint. 
Start of the Downfall (2010)
While Garrett Gilbert had a statistically bad game against Alabama, that really wasn't the reality of his performance. As a true freshman thrust into the spotlight he played fairly well, and there was a lot of optimism with him at the helm for 2010. They started with an underwhelming win vs Rice, then Wyoming. A rematch with Texas Tech was next, and once again they weren't overly convincing but escaped with the win. A 34-12 home loss to UCLA would follow, then a 28-20 loss to OU. But a road win at #5 Nebraska, looked like it could be their turning point, it wasn't. They rattled off four straight losses after, first Iowa State, then Baylor, Kansas State, and finally Oklahoma State, to leave them at 4-6. A win vs Florida Atlantic would save their bowl hopes, but the season would end with a painful loss to Texas A&M, and they'd miss a bowl game for the first time since 1997. But the next bowless season wouldn't be that far away.
Middling (2011-2013)
The next 3 years Texas would make three bowl games but still fell short of expectations. In 2011 they would start 4-0 and reach No. 11 in the polls before being hammered 55-17 by OU. A loss to Oklahoma State would follow, before they won a couple, and then lost a couple more. A 48-24 thrashing in Waco would conclude another disappointing season at 7-5, before a Holiday Bowl win over Cal. The sole bright spot was Justin Tucker's kick to send the Aggies to the SEC with a loss, and secure bragging rights in that regard for a decade, but they wouldn't get much more to brag to the Aggies about.
In 2012 they also started 4-0 before a loss to West Virginia and another thrashing from the Sooners, this time 63-21. Two more losses would follow before they beat Oregon State in the Alamo Bowl, which Texas fans would soon become very familiar with. It seemed like the Mack Brown era may need to come to an end, while this wasn't 2010 bad, this is a program that should be playing for titles, not Alamo Bowls. Soon enough it did, well the Mack Brown era, not the national championships part.
In 2013 the team had an even rougher start, as Taysom Hill ran all over the Longhorns in a knee brace for BYU, before they'd fall to Ole Miss at home the next week, and drop to 1-2. But Mack Brown seemingly turned it around, winning six straight including a win over Oklahoma for the first time since 2009. They even had a chance to win the Big 12 when Oklahoma State came to town, but this team truly wasn't very good, and couldn't compete with good teams. They lost 34-13, before beating Texas Tech. Oklahoma State had the first crack at the Big 12 title on the last day but were upset by Oklahoma, leaving the Texas @ Baylor game as the defacto Big 12 title game. Again, this Texas team wasn't very good, and it showed as they were thoroughly beaten 30-10 in Waco. The Mack Brown era would come to a close in the Alamo Bowl (again), where this team was again thrashed by Oregon.
New Era of Failure With Charlie Strong (2014-2016)
While Mack Brown had plenty of success at Texas, and just one losing season, the same can't be said about Charlie Strong, who would collect three straight losing seasons before being shipped off. The one similarity is that Charlie Strong would also start the 2014 season with a shellacking at the hands of BYU and Taysom Hill. A mental mistake on the coin toss would prove costly as they fell to UCLA right after that, to drop to 1-2. A loss to Baylor, and another to OU would send the Horns to 2-4, before they would be shut out by Kansas State, and fall to 3-5. Three straight wins would send them to a bowl game at 6-6, but they'd be picked apart by Arkansas. The offense stalled, they entered the fourth quarter with negative passing yards, and the only impressive thing anyone orange did all night was the band making the American flag during the halftime show.
2015 got worse, they were beaten thoroughly in South Bend by Notre Dame, missed an extra point to lose to Cal, fell to 1-2 before conference play. A win over Oklahoma would provide a bright spot but the team sputtered, a thanksgiving loss to Texas Tech, would seal another bowless season for Texas. At 3-5 in conference they did impressively beat #12 Baylor on the road to provide some optimism for the next season.
That optimism and birth of "Texas is Back" would only intensify with a double overtime win over Notre Dame. But Texas was not back. They'd lose to Cal, Oklahoma State and Oklahoma again, in three consecutive weeks. While they did beat a top 10 Baylor in the middle of the season, three straight losses, including one Kansas to finish the season would spell the end of the Charlie Strong era in Austin, with a combined record of 16-21.
"We're Backkkkk"…To Mediocrity
Then in 2017 came in former Houston head coach Tom Herman, with new QB Sam Ehlinger, and with it optimism. But that faded with an opening loss to Maryland, before taking USC to OT in the Coliseum, would bring back some of the hope. But that hope was picked apart in conference play, as they'd lose to Oklahoma (again), Oklahoma State (again), and TCU (again). In the final game of the season, they had a chance to flip the script from 2015, and keep Texas Tech out of a Bowl Game. They wouldn't. With a 3rd and 2 to ice the game, Ehlinger was picked off by walk-on Justus Parker, and returned deep to Texas territory. One Cameron Batson TD catch later, and the Horns were 6-6. Leaving the stadium I remember a dad kept saying to his kid, "one win, we did all that for one more win."
2018 Texas looked to actually be back though, while of course they did lose to Maryland (again), they rebounded four straight wins including over, ranked USC and TCU. Then it got even better off the foot of Cameron Dicker they took down #7 Oklahoma 48-45. While they would drop back to back games to Oklahoma State and West Virginia, they bounced back with three straight wins, and booked a place in their first actual Big 12 title game, and first time finishing top two in 9 years. Now Texas fans shouldn't expect to have to wait that long between appearances, but they looked like they had a legitimate chance. It was a hard fought game but ultimately they'd lose 39-27 to arch-rival Oklahoma, extending their Big 12 title drought. But the Big 12 title berth did earn them a controversial trip to the Sugar Bowl, after all did a 4 loss non-conference champ belong in a New Year's Six bowl? Well Texas answered that question with an emphatic "YES", beating #4 Georgia 28-21. Then of course Sam Ehlinger famously said "WE'RE BACKKKK."
They weren't, but this year they'd take longer to show it. Texas started 2019 decent, they fought valiantly in a 45-38 loss to future National Champions LSU, and again lost by seven to #7 Oklahoma. But they were 4-2, hadn't lost any games they shouldn't have and hadn't been blown out. National Title contenders back? No. But Conference Title contenders back? Sure looked like it. Then it didn't. They lost to TCU (again), then blew their Big 12 hopes with a loss to Iowa State. While they weren't technically eliminated they would need Kansas to upset Baylor in the final week, well they didn't even get that far. Baylor beat them 24-10, sending Texas from believing they were back, to them being 3 games back from a Big 12 Title berth. They would close out the season with big wins over Texas Tech, and Utah in the Alamo Bowl (again), to finish 8-5.
While 2020 did bring covid, it also brought the end of the Tom Herman era at Texas, it started well, they pulled off a stunning comeback against Texas Tech, but they then dropped back to back games to TCU (again), and Oklahoma (again). Before beating Baylor, (bad Baylor that is they like to sort of flip a switch between national title contenders, and national bottom feeders, pretty impressively), and then shocking everyone and beating #6 Oklahoma State. Their Big 12 title hopes were very much in play, all that stood in front of them, and a Big 12 title berth was Iowa State. About that, they lost 23-20, and Iowa State would advance to the Big 12 Title game against Oklahoma. But it'd be familiar territory for Longhorn fans though, they at least picked up a trip to San Antonio, as they'd beat Colorado in the Alamo Bowl (again).
Where's Texas Now?
Following locker room, and bus drama, and a six game losing streak Texas rounded out a promising 2021, at 5-7, and bowless. Not even a trip to the Alamo Bowl this time. Texas of 2004-2009 was a game most Big 12 schools expected to lose. They were a force, they were the flagship school of the state that's the King of High School Football. Now they're the school every Big 12 team thinks they can beat, even Kansas, heck Kansas thinks they can beat them the most. They went from juggernauts to playing OU tough, but being their little brother right now. They can't beat TCU, Baylor, Oklahoma State, even Iowa State is starting to beat them. The only two teams they've been able to beat in the Big 12 of late are Kansas State, and Texas Tech, but even those teams don't fear them.
Texas is a fallen giant, a common misconception is that their fans are too harsh, they fire coaches too quickly, I disagree. The fans should want better than this, they should be sick of it by now, Mack had a great run, but his time had come. Charlie Strong, you can't go 16-21 with that talent and not get run out of town, they probably should've done it after year 2. The only firing I'd argue was premature, was Tom Herman. Texas fans will argue he peaked, and it's somewhat valid, but I'd chalk that one up more to behind the scenes issues.
Is Sark the guy to turn Texas around? If you ask me, probably not. But maybe he is, and he'll get NIL backing that should help, his offense can be lethal at times, they dropped 70 on Texas Tech last year, and he has seemingly started to turn the culture around. Only time will tell if Sark is the guy, surely Texas will be back soon, but I can't help to think back to 2010 when ESPN did a segment on who will be back first Texas, Michigan, or Notre Dame. At the time I thought it was ridiculous, Texas was just having one down year, well 12 years on, and the other two have made the playoffs, Texas hasn't been close. They'll be favored in 11 games according to ESPN FPI, and projected to win 9 total, I see losses to Alabama, Oklahoma, and Oklahoma State, with tough tests against Baylor, TCU, Kansas State and Texas Tech that I'm skeptical about as well. They certainly have the talent and potential to put it together, and they haven't been afraid of tough non conference schedules. But the jury remains very much out on if Sark is the man to turn Texas around.
*One compliment to Texas is I really like how they have NIL deals focused on the offensive line, I think that's going to help them greatly when they do join the SEC*`