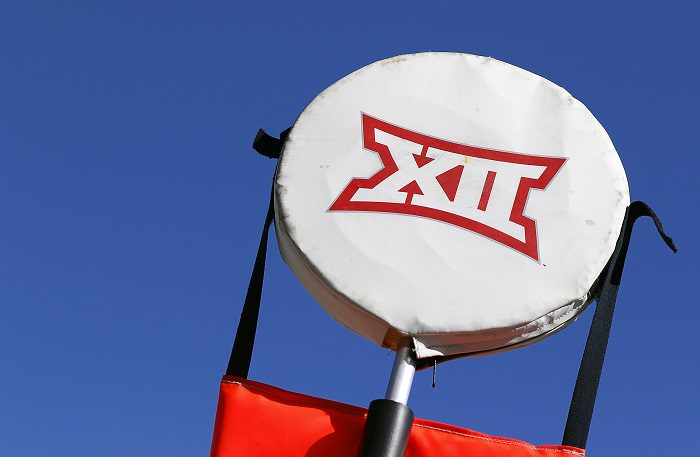 The Big 12 has been among the most unpredictable conferences in America this season, and that has really shown up on the boards in Vegas through six weeks of football.
Coming into Week 7, underdogs in Big 12 play are 7-6 straight up. There are five ranked teams in the conference, and Oklahoma isn't one of them. In fact, the Sooners are winless in Big 12 play (0-3), while the 19th-ranked Kansas Jayhawks are on the verge of bowl eligibility at 5-1.
Despite this crazy season, the Heartland College Sports staff has weathered the weekly storm to stay ahead in its locks of the week. Through six weeks, their combined record is 14-8, with Pete and Bryan both sitting at 5-1. Let's see if they can keep things going here in Week 7.
PETE MUNDO (RECORD: 5-1)
This feels like a trap game for Texas with Oklahoma State on deck, which will start a stretch of four-straight games against ranked teams. Meantime, Iowa State has owned this series as of late, winning the last three games, including last season's 30-7 victory. Matt Campbell gets his guys up for the Longhorns. Iowa State's defense has been outstanding this year, and while the offense is concerning, I think they'll get something going against UT, at least enough to cover this huge spread.
LOCK: Iowa State (+16.5)
BRYAN CLINTON (RECORD: 5-1)
This line simply doesn't make sense if you've watched anything over the last few weeks of both Oklahoma and Kansas. While the Jayhawks will likely be without their star quarterback Jalon Daniels, their backup Jason Bean has started 16 games in his career and has shown the ability to make plays with his arm and his feet. While Oklahoma will likely have Dillon Gabriel in this game, he doesn't play defense and that is where the Sooners' struggles start. I'm taking Kansas (+10) in this game, and while I do think that Oklahoma should win the game, it won't be anywhere near double digits.
LOCK: Kansas (+10)
DEREK DUKE (RECORD: 2-2)
I don't know what it is about Thursday games, but they seem to find a way to catch my eye when it comes to gambling. Maybe it's because the weekend is near or whatever, but this Baylor/West Virginia game is very intriguing. West Virginia is on a downward spiral right now and I don't think they will be able to climb out of the rut they are currently in.
Meanwhile, Baylor's last game was a loss to Oklahoma State, and they will come to Morgantown hungry. Blake Shapen is a great quarterback, and Dave Aranda's defense will get back on track. I know Baylor has yet to win in Morgantown but that changes this year as they will win by at least seven points on Thursday night.
LOCK: Baylor (-3)
MATTHEW POSTINS (RECORD: 2-4)
My weekly disclaimer — I am not the guy you want to take betting advice from. You're going to get far better advice from our site owner, Pete Mundo (who, as it turns out, is pretty good at this). That said, I'm assuming this means Texas is favored by 16? I don't think Texas will beat Iowa State by that much. The Cyclones have a quality defense and can do enough offensively to keep this game within two touchdowns.
LOCK: Iowa State (+16.5)