TCU Horned Frogs
TCU's College Football Playoff Committee Disrespect is Nothing New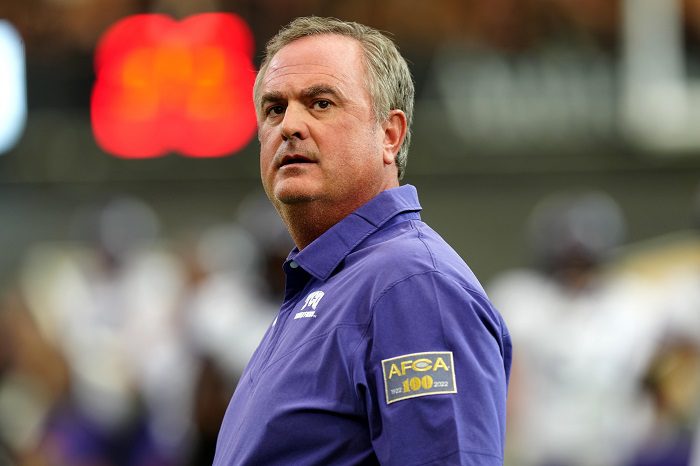 Was anyone surprised by the fact that the TCU Horned Frogs were not among the Top Four teams in the first College Football Playoff rankings?
You were? Really? Come here. I've got some ocean front property for you in Arizona, as the song goes.
I wasn't surprised. Not in the slightest. Not with six remaining undefeated teams. Not with two of them in the SEC, two more of them in the Big Ten and the fifth — Clemson — having been to the CFP several times.
TCU is the party crasher, and the CFP has left the Horned Frogs on the other side of that velvet rope at the end of the party at least once already.
But that's the good news. Five games remain. Four regular-season games. One Big 12 Championship game. Win them all, TCU, and there's no way the committee can keep you out without looking so utterly disingenuous it'll remove any thin veil of bias against non-blue blood programs.
This isn't about the Big 12. This is about TCU not being Oklahoma or Texas. Programs that aren't traditional college football stalwarts don't get to survive a loss in the current format. It's not fair, but it's the truth. TCU is the only Big 12 team left that controls its own destiny.
Even their coach, Sonny Dykes, knows it.
Narrative Begins
The narrative has already started. It came up on Saturday during the West Virginia game, as ESPN's game analyst had already determined that TCU's schedule wasn't as strong as other potential playoff candidates. As the day went on, each ESPN announcer was asked to provide their Top Four and First Two Out. TCU was either No. 6 or not even listed. One-loss teams were getting move love than the Horned Frogs who — by the way — beat four ranked teams in a row before facing West Virginia.
But there's hope, the analyst said. The Horned Frogs just wrapped up the most daunting part of their schedule. What's left? Texas Tech, Texas, Baylor and Iowa State. Later, he talked about how incredibly competitive the league is this year. But … but this last stretch is gonna be cake, right?
Wrong.
In the era of the four-team playoff, the easiest and hardest way in is to win every game. It's the easiest because the committee has never turned away an undefeated Power 5 team. Why? Because they know that finishing a 13-game season in college football undefeated is incredibly hard. That's universal, from the SEC to the Sun Belt. It deserves respect. It should command it.
But it's so difficult. Every conference is competitive. Heck, Cincinnati had two straight undefeated seasons in 2020 and 2021 before the committee finally deemed them worthy of a berth, making the Bearcats the first Group of 5 team to crash the party.
It's November, which means that any undefeated team should be a candidate for the CFP. If you've gotten this far and you haven't lost, you must be doing something right. If you win out and finish 13-0, the committee has no reason to keep that team out.
The Good News for TCU
The better news for TCU is that the ranks will shrink. Remember those two undefeated SEC teams I mentioned? That's Georgia and Tennessee. They meet this weekend. Remember those two undefeated Big Ten teams I mentioned? That's Michigan and Ohio State. They still have to meet in Columbus on Thanksgiving weekend, assuming neither has lost between now and then.
Clemson has Notre Dame, Louisville, Miami (FL) and South Carolina remaining. None of those teams have a better overall record than any of TCU's last four opponents.
If TCU and three of those other teams are undefeated at season's end, the committee's job should be all about seeding. If you win them all, things take care of themselves.
History Tells A Different Story
TCU could falter, of course. In fact, the Big 12 hasn't had an undefeated champion since Texas in 2005. Those Longhorns won the national championship in the BCS era. That analyst was right about one thing. The Big 12 is incredibly competitive this year.
I don't think it's fair to consign TCU to the scrap heap if it loses one game. The playoff system was supposed to provide a bit of leeway. One loss isn't supposed to kill your chances.
But it did for the Horned Frogs in 2014, and eight years later that still sticks in their craw. Ranked No. 3 going into the final weekend, TCU finished 11-1 and in a tie for the Big 12 title with Baylor, the only team it lost to. When the final rankings came out that Sunday, another one-loss team, Ohio State, leap-frogged TCU into the rankings at No. 4. That committee likely felt validated by the fact that Ohio State won that title.
Having one loss is no guarantee of a playoff berth, especially if chaos ensues and each of these undefeated teams loses a game.
The Horned Frogs have the easiest and the hardest path to a CFP berth. Win them all and you're in.
It may not be totally fair, but it's the truth.
You can find Matthew Postins on Twitter @PostinsPostcard