Big 12 News
After Upsetting Oklahoma, Neal Brown Won't Commit to Garrett Greene at Quarterback vs. K-State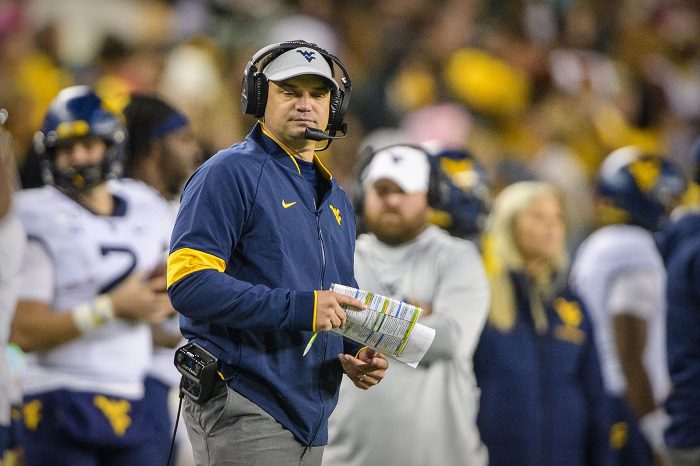 After West Virginia upset Oklahoma on Saturday afternoon, the Mountaineers still have a chance to reach a bowl game if they can win their final two games against Kansas State and Oklahoma State.
But if you thought quarterback Garrett Greene earned the right to start next week against Kansas State, not so fast. Head coach Neal Brown said after the win he would not commit to naming a starting quarterback for next week's game at home against the Wildcats.
In fact, Brown went as far as to say he may not publicly announce anything about the quarterback position prior to kick off next week.
Is this just gamesmanship or is Neal Brown really of the belief that Greene did not do enough to earn the start next week?
My gut tells me it's the latter.
J.T. Daniels may've started the game on Saturday against OU, but it was Garrett Greene that won the game for the Mountaineers. Greene went 12-22 for 138 yards and one touchdown through the air, but the difference really came with what he did on the ground. Greene took 14 carries and turned them into 119 yards and two touchdowns.
Before he got replaced by Greene, Daniels was 7 of 12 for 65 yards, zero touchdowns and one interception, while getting sacked twice. Greene's legs provided a spark that West Virginia desperately needed and that J.T. Daniels simply can't provide.
Neal Brown may be coaching for his job these next two weeks, and if he is looking to remain in Morgantown for the foreseeable future, riding the hot hand in Greene seems like the obvious play. But we will all have to wait until next week to find out.