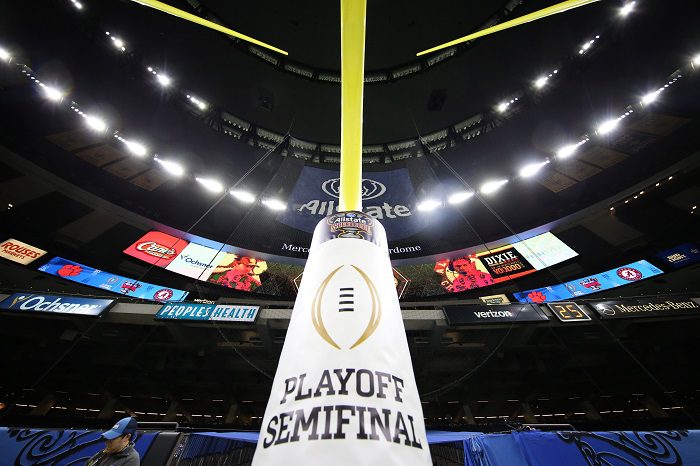 The month of November brings many things in the world of college sports. College football, the start of college basketball begins and then of course we get the College Football Playoff rankings every Tuesday night.
There have been plenty of head scratching moments from the playoff committee on a weekly basis so I thought it would be fun to share my three thoughts on this week's playoff rankings.
1. TCU is One Win Away
For the fourth straight week, the TCU Horned Frogs are ranked inside the top four. They are coming off big 62-14 win over Iowa State last weekend and actually moved up a spot thanks to the Ohio State/Michigan game. While this changes who they may play down the road, they still need to take care of business on Saturday. TCU is 12-0 and they are actually the first Big 12 team to start 12-0 since Texas did it back in 2009. That Texas team went on to win the Big 12 and play in the national championship game. However, that was before the playoff was installed. If the Horned Frogs can win a Big 12 title, then they will get their chance to get to a title game. Kansas State is a good football team, and it is going to be one heck of a battle in Jerry World for the conference crown.
2. Kansas State Cracks the Top Ten
As the Wildcats keep stacking wins, they just keep soaring up these rankings. Just a few weeks ago, Kansas State fell all the way down to number twenty after their loss to Texas at home. Here we are three weeks later, and they have now found themselves in the top ten. This team has looked completely different under Will Howard, and they are playing some of their best football late in the season which makes them dangerous. I know TCU is undefeated, but they better watch out because this Kansas State team is for real. It wouldn't shock me one bit if Kansas State walked out of Jerry World as the Big 12 champions. Also, with their top ten ranking I believe they will be a lock to play in a New Years six bowl game no matter if they win or lose which would be big for Chris Klieman and his staff.
3. Can Texas Finish in the Top 15?
It's been a few years since the Texas Longhorns finished the season ranked inside the top 15. In fact, they only have one top 15 finish in the College Football Playoff era which came back in 2018 when they beat Georgia in the Sugar Bowl. On Tuesday night, the Longhorns checked in at number twenty which is interesting. A loss in their bowl game could push them completely out of the top 25 but a win could launch them in the top 15 if they get a little help along the way. I know their 8-4 record doesn't seem like much, but they have made some good progress considering this team was 5-7 a year ago.