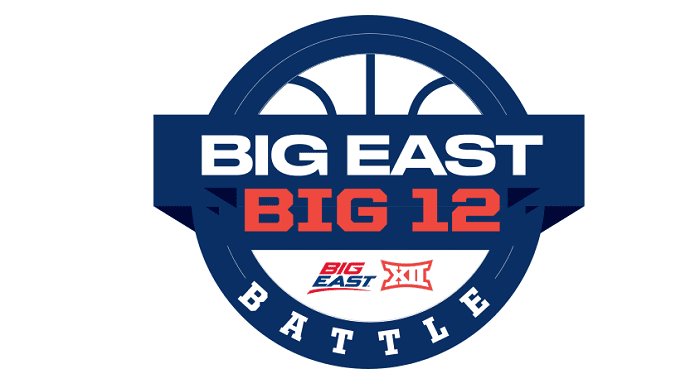 The Big 12-BIG EAST Battle is this week. Each of the 10 Big 12 teams will face off with a Big East team at a campus venue in an effort to get another good non-conference opponent for each conference.
The Big 12 treats it like a de facto non-conference game, much as it considers the Big 12-SEC Challenge in January (which is going away after this season — thanks ESPN). The Big 12 plays just 18 league games while other Power leagues play 20. The BIG EAST and SEC games help the league's already stout NCAA NET ratings.
What it DOESN'T help is the league's pocketbook. But, it can. And if new Big 12 commissioner Brett Yormark really is interested in creating standalone, revenue-generating events that can help boost the profile of the league, well there's no reason the Big 12-BIG EAST Battle can't become …
The Big 12-BIG EAST Classic. Or at least that's what I would call it.
Right now, five games are at Big 12 venues and five games are at BIG EAST venues. My suggestion would be to turn it into a yearly Multi-Team Event, or MTE, that does the following:
One, or two, Classic formats that include four Big 12 teams and four BIG EAST teams at the same site;
Allows each team to get two or three games against teams from another Power 6 conference;
Allows the two leagues to utilize historic campus sites or carry these games into markets where they want a footprint;
Have total control over the tournament experience, unlike some other MTE events (such as the women's portion of the Las Vegas Invitational last weekend. Read my column about what I think Yormark and the Big 12 can do about that, too).
Think about it. With one standalone classic, you could invite four Big 12 teams — let's say Kansas, Iowa State, Oklahoma State and Texas Tech — and four BIG EAST teams — let's say Villanova, Georgetown, Butler and Saint John's. They could play two or three cross-league games over two or three days. The venues could be mind-boggling for basketball fans. Think about having an event like this at the legendary Palestra in Philadelphia or Hinkle Fieldhouse in Indianapolis? Or, Allen Fieldhouse in Lawrence or Hilton Coliseum in Ames, Iowa?
Or, neutral sites abound in both conferences. Yormark wants to take his league to new markets. Well, he's got an in with the Barclays Center in Brooklyn. Surely Madison Square Garden in New York City would want another event. You could rotate it in Kansas City, Dallas and Des Moines. You could add the new markets in the Big 12 — Houston, Cincinnati, Salt Lake City or Orlando. You could even go full-on destination tournament, and I'm not talking the Caribbean either. Yormark wants to go international, too. London, perhaps? Toronto?
Yormark wants to think big. You can't get much bigger in non-conference basketball than sending your best to face someone else's best at a neutral site or historic house of basketball and turn it into a multi-day event. You can have Tripleheaders or quadruple-headers every day. The Classic format allows the two leagues to avoid playing their league mates before conference action. Yormark can sell all the VIP and experience packages he wants. For that matter, so can BIG EAST Commissioner Val Ackerman. Oh, and around the concourse, let's get some Big 12 and BIG EAST legends signing autographs for a nominal fee?
If you want to get really ambitious, have two at the same time — one east coast and one west coast. Plus, with the right location, you can have a concurrent women's classic with the same experience. Or, have a standalone women's classic in a different location on a different weekend. That way fans can do both.
Yormark has talked about ways to expand the league's footprint, enhance its reputation and increase its revenue. A Big 12-BIG EAST Classic would do all of that. Plus, it would give him and Ackerman far more control of what the tournament would look like — and where it would be broadcast — than some of these other MTE's.
This is the sort of thinking that I think Yormark wants to bring to the table. It will be interesting to see if he works to bring something like this into being in the coming months or years.
I think it's a brilliant idea. Then again, it's mine, so I'm biased.
You can find Matthew Postins on Twitter @PostinsPostcard