Trending Now
Big Ten Commissioner Kevin Warren Named as Chicago Bears President, CEO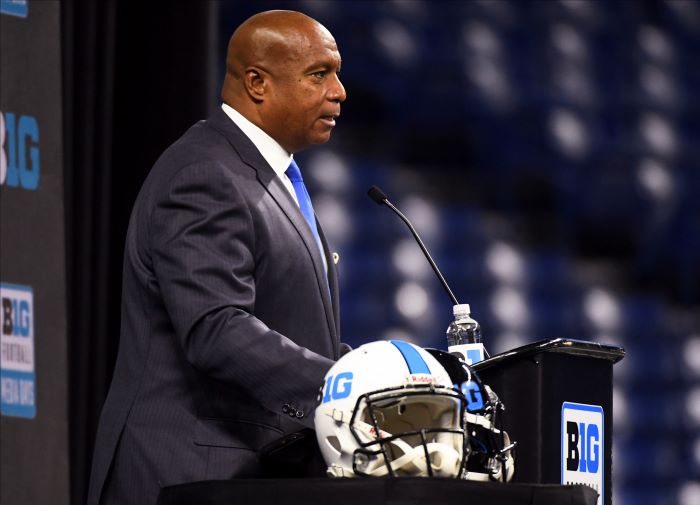 Big Ten commissioner Kevin Warren has been named the new president and CEO of the Chicago Bears franchise, ending his time in college athletics after spending three years at his current position.
During his time as Big Ten commissioner, Warren led the conference to make the blockbuster addition of USC and UCLA this past summer, throwing college athletics into its second realignment frenzy in as many years.
"Kevin is a man of integrity, respect and excellence, all of which are critical core values of the Chicago Bears, and we welcome his perspective and diverse thought to lead this storied organization," Bears chairman George H. McCaskey said in a statement. "He is a proven leader who has many times stepped outside of his comfort zone to challenge status quo for unconventional growth and prosperity. In this role, Warren will serve in the primary leadership position of the franchise to help bring the next Super Bowl championship trophy home to Bears fans."
Warren was named the Big Ten commissioner in June of 2019 but, according to ESPN's Pete Thamel, was recently was not given a contract extension by the conference. Now, he is headed back to the NFL, where he has previously spent time with the Rams, Lions, and Vikings organizations. From 2005-14, Warren served as the Vikings' executive vice president of legal affairs and chief administrative officer before he was promoted to Minnesota's chief operating officer in 2015. Now, Warren will head up the operation for one of Minnesota's biggest rivals in Chicago.
"I am honored and recognize the responsibility bestowed upon me to lead the Chicago Bears during this exciting and pivotal time for the franchise," Warren said in a statement. "I look forward to building on the rich tradition that started with George Halas and connecting with the unique and vibrant fanbase in Chicago. I join the Chicago Bears with gratitude and drive to carry out and build upon the legacy and spirit of this founding franchise and my predecessors. This is a franchise that is respected in all of professional sports, and I am humbled to be selected as the next President & CEO of the Chicago Bears. I sincerely thank Virginia McCaskey, George McCaskey, the McCaskey family, Ted Phillips and the search team, for the responsibility and trust placed in me to lead the Chicago Bears and deliver championships to Chicago."
As for the Big Ten, the search for Warren's replacement will be an interesting story to follow as their selection will be one of the faces of college athletics moving forward.