Baylor Bears
AP Top 25 Women: Texas Returns, Oklahoma Rises, Baylor, Kansas Fall Out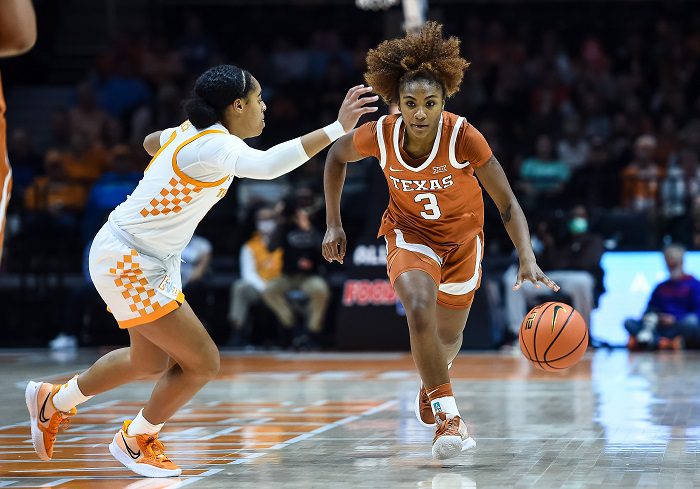 Three Big 12 teams are among the nation's best as the AP Top 25 Women's Basketball poll, released on Monday after Week 10 of the season.
Here are our three thoughts on the poll from a Big 12 perspective.
Texas is … Back
The Texas Longhorns are back in the AP Top 25 for the first time in nearly two months after winning 10 of its last 11 games and beating ranked Kansas and Iowa State back-to-back last week. The Longhorns most certainly earned their way back into the poll.
Texas is really starting to fire now, and it's led by an unlikely source by the standards of national observers — forward DeYona Gaston.
She was one of two players that coach Vic Shaefer turned to last season when the chemistry was faltering (the other was guard Shay Holle). Well, with the injury to Aaliyah Moore (she's out for the season with a torn ACL), Gaston has once again emerged as a force inside.
She has 17 points against Iowa State, and it was her third double-digit performance in the last five games. But there's a consistency to her game that wasn't there last year, and it doesn't show in the box score.
But, being No. 25 is a precarious spot. One loss can drop you out. Texas has a chance to help — or hurt its credentials — the next three games. Texas is on the road at Texas Tech on Wednesday, followed by games against Baylor and ranked Oklahoma. Run that gauntlet 3-0 and Texas may be in the poll to stay.
The Dropouts
Baylor and Kansas dropped out of the poll this week. Baylor fell in back-to-back games to unranked Oklahoma State and West Virginia, but the Bears are still receiving votes. In fact, the Bears received more votes than any other team not ranked — 51.
Kansas, meanwhile, lost to Texas and Oklahoma, is on a three-game losing streak in Big 12 play (triggered by a loss to Baylor) and received just three votes this week. Kansas is still a NCAA Tournament team. But it's going to need to find a way to rebuild credibility in the poll.
Oklahoma's At the Top (of the Big 12)
The Sooners are ranked No. 14 this week, moving up four spots and the result of a three-game winning streak since losing to Baylor at home. Two of those wins were against ranked teams — Iowa State and Kansas.
To me, Oklahoma has the deepest team in the league right now. Coach Jennie Baranczyk can use up to 10 players and not lose much in terms of quality of play. Liz Scott is really starting to produce at forward, and that takes a bit of the rebounding heat off of Madi Williams. Guard Ana Llanusa is making up for lost time due to injuries, and the national 3-point record is in the reach of guard Taylor Robertson.
Oklahoma has a road trip to TCU on Wednesday. Then, it's home for a Bedlam showdown with Oklahoma State, made all the more intriguing by the Cowgirls' back-to-back wins over Texas and Baylor.
This Week's AP Top 25 Poll
No. 1 South Carolina, No. 2 Ohio State, No. 3 LSU, No. 4 Stanford, No. 5 UConn, No. 6 Indiana, No. 7 Notre Dame, No. 8 Utah, No. 9 UCLA, No. 10 Iowa, No. 11 Maryland, No. 12 Virginia Tech, No. 13 Duke, No. 14 Michigan, No. 15 Oklahoma, No. 16 Gonzaga, No. 17 North Carolina, No. 18 Iowa State, No. 19 Arizona, No. 20 NC State, No. 21 Illinois, No. 22 Villanova, No. 23 Oregon, No. 24 Colorado, No. 15 Texas. Big 12 Teams Receiving Votes: Baylor, 51; Kansas, 3.
You can find Matthew Postins on Twitter @PostinsPostcard.