Big 12 News
Raegan Pebley To Step Aside as TCU Women's Basketball Coach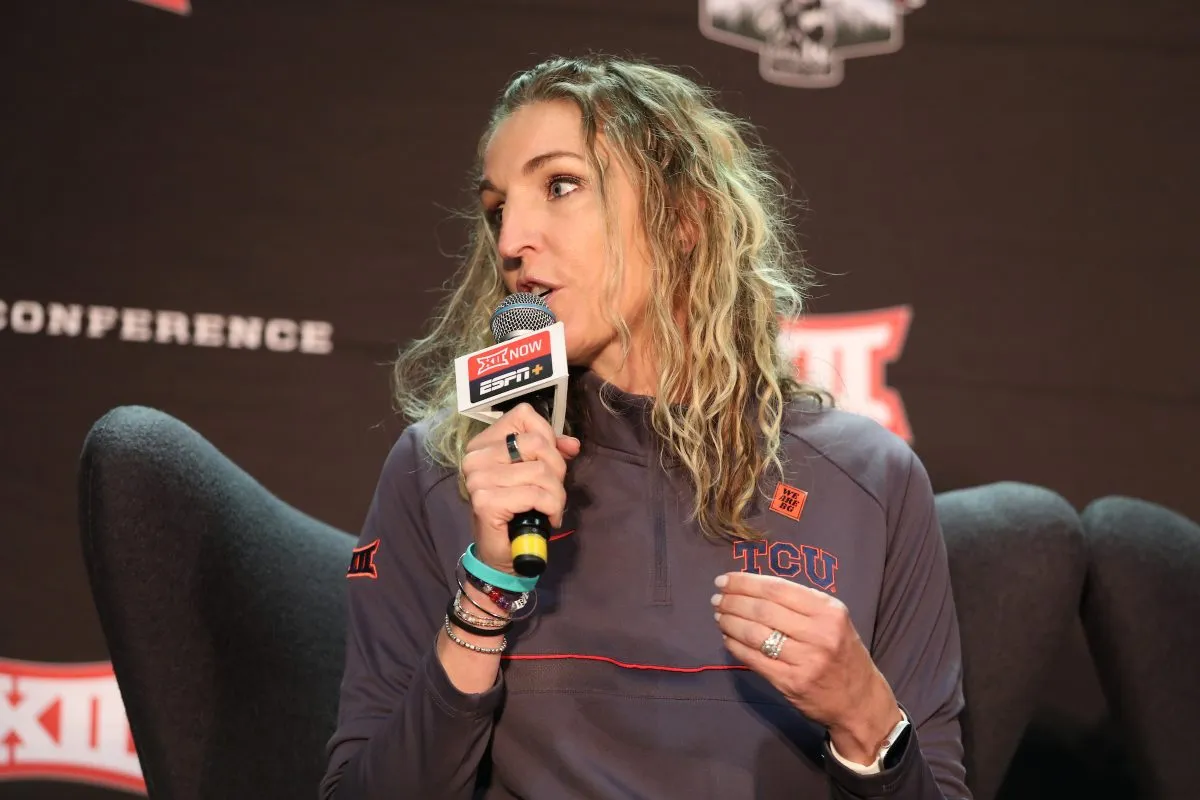 TCU women's basketball coach Raegan Pebley will be leaving the job at season's end and informed her team of the news on Monday.
The Fort Worth Star-Telegram reported the news.
The decision ends the head coach's near-nine-year tenure with the Horned Frogs. She will coach the remainder of the season.
The decision ends a downturn in Pebley's success with the Horned Frogs, which peaked in 2019-20 when TCU finished second in Big 12 regular-season action with a 13-5 record (22-7 overall). But, COVID-19 ended the season before the NCAA Tournament could be played.
That turned out to be the Horned Frogs' best chance to reach an NCAA Tournament, something they never did under Pebley.
Since then, the Horned Frogs have won just 23 games and finished in last place in the Big 12 each of the last two seasons. The Horned Frogs are 7-20, 1-15 in the Big 12 and will be the No. 10 seed in the Big 12 Tournament next week.
Pebley took over at TCU in 2014, replacing Jeff Mittie, who is now the head coach at Kansas State. She authored back-to-back 18-win seasons and took the Horned Frogs to the Women's NIT in back-to-back seasons, with a run to the third round in 2015-16.
She also took TCU to the WNIT two more times in 2017-18 and 2018-19, with both of those runs ending in the semifinals. That was the start of a three-season run in which TCU won 69 games.
Before taking over at TCU, Pebley spent two years at Fresno State, where the Bulldogs won the Mountain West Conference tournament both seasons and reached the NCAA Tournament. Pebley won 46 games in two seasons.
Her time at FSU was preceded by nine seasons at Utah State, where she re-booted the women's program in her first head-coaching job. While she went 110-155, she led the Aggies to the WNIT in each of her final two seasons, and her final season — 2011-12 — saw her take them to 21 victories.
Pebley played her college basketball at Colorado and parlayed that into a short career in the WNBA. She was an assistant coach at George Mason and Colorado State before taking over at Utah State.
You can find Matthew Postins on Twitter @PostinsPostcard