Big 12 News
Mike Boynton on Javon Small: 'Most Impactful Player I've Brought in Since Cade'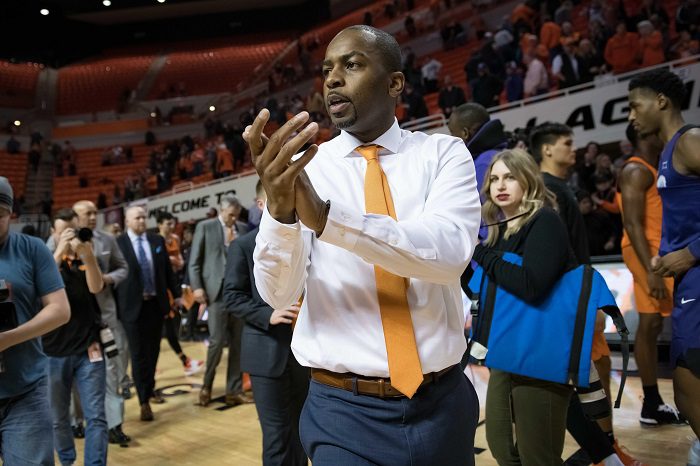 The Oklahoma State Cowboys narrowly missed out on the 2023 NCAA basketball Tournament last season and despite a disappointing finish to the 2023 campaign, Oklahoma State head coach Mike Boynton was on the hunt this offseason to make sure that won't happen again.
One of Boynton's key offseason additions was the commitment of East Carolina transfer guard Javon Small, who Boynton raved about on the Feels Like 45 Podcast Tuesday morning mentioning that he believes Small is the, "Most impactful player I've brought into this program since Cade."
Small joined the Cowboys in the transfer portal this offseason after being a do-it-all type player for the Pirates last season where he averaged 15.8 points, 4.8 rebounds, and 5.6 assists per game. The Arizona native was listed as a three-star prospect by the 247Sports index coming out of high school and joined the Pirates as the 33rd-ranked combo guard in the class of 2021, and the 18th-ranked player in the state of Arizona.
After spending two seasons at East Carolina, Small elected to enter his name in the transfer portal heading into his junior season and found a new home in Stillwater. While he may not have been graded as a highly touted prospect heading into his freshman season, the productivity he showcased in his sophomore season earned him a four-star ranking from 247Sports as a transfer, solidifying himself as one of the top available guards in the portal.
With head coach Mike Boynton comparing Javon Small to Cade Cunningham, who eventually went on to become the top pick in the 2021 NBA Draft, Oklahoma State basketball fans should have a lot to look forward to in the upcoming season if Small can make the leap, and help lead the Cowboys to the NCAA Tournament.