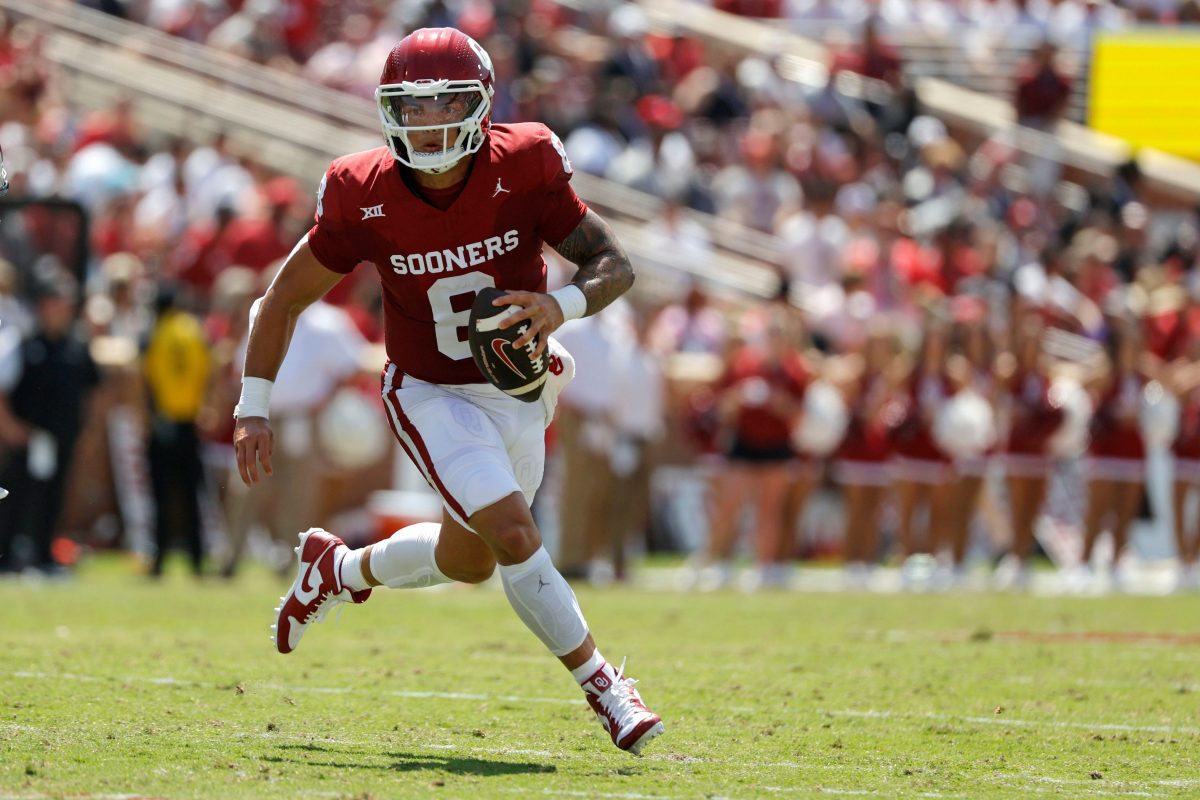 Here is everything you need to know ahead of the matchup between the Oklahoma Sooners and the SMU Mustangs.
GAME INFO
Saturday, September 2; 5:00 p.m. CT; Oklahoma Memorial Stadium; Norman, Oklahoma
TV: ESPN+
Radio: Sooners Sports Network (Toby Rowland, Teddy Lehman, Gabe Ikard)
Records: Oklahoma (1-0); SMU (1-0)
Rankings: Oklahoma No. 18 (AP); SMU NR
Series History: Oklahoma leads, 5-1-1
Last Meeting: Oklahoma 24, SMU 10 (1995)
Line: Oklahoma (-16.5)
Fun Fact: Despite being less than 200 miles apart, Oklahoma and SMU haven't played in 28 years and have only played a total of seven times in their history. Also, if this game were played in 2024, it would be an SEC vs. ACC battle, instead of a Big 12 vs. AAC clash.
KEY PLAYERS
OKLAHOMA SOONERS
QB DILLON GABRIEL
There was all kinds of noise about Oklahoma QB Dillon Gabriel this offseason, as he failed to live up to the standard of quarterback play that Sooner Nation has grown used to over the last several years. However, the version of Gabriel that we saw on Saturday was something that OU fans might grow fond of quickly. After completing 19 of 22 attempts for 308 yards and three total touchdowns in one half of play, Gabriel looked like a man in complete control of an offense. If he builds on that against what should be a much stiffer test this week, it's a very promising sign for the Sooners going forward.
NB JUSTIN HARRINGTON
Last season, Oklahoma's defense never quite found its footing as their personnel just couldn't do what Brent Venables wanted. However, based on what we saw against Arkansas State, that won't be an issue in 2023. Justin Harrington, who plays the key "Cheetah" position in Venables' scheme, looked like the best athlete on the field when he was out there, and it wasn't all that close at times. With just two tackles, Harrington didn't turn in much of a stat sheet, but it was clear when rewatching the game that he could be special. With the physicality of a linebacker and the speed of a corner, Harrington is a freaky athlete who will be busy against SMU's Air Raid scheme.
SMU MUSTANGS
QB PRESTON STONE
The Preston Stone era is finally underway at SMU as Mustang fans have waited patiently for Stone to succeed Tanner Mordecai. In his first game as a starter, Stone completed 23-37 attempts for 248 yards and three scores, including a 67-yard bomb to TCU transfer Jordan Hudson to get things going. Stone has a plethora of weapons to distribute to, and running back LJ Johnson (128 yards, 1 TD, 9.1 ypc) provides a good balance in the running game.
DT KORI ROBERSON
Oklahoma fans will likely recognize Kori Roberson's name, as the former Sooner immediately became a contributor for SMU in their first game of the season. In the first quarter, Roberson hurried the quarterback on a pass rush attempt, batted a pass, and intercepted it before proceeding to return it 16 yards for a pick-six. Roberson also added a 0.5 sack on the day and will be a player to watch in his return to Norman.
KEY STORYLINES
OKLAHOMA SOONERS
Was last week's 73-0 blowout of Arkansas State an accurate representation of Oklahoma, or a Red Wolves team that is worse than expected in 2023? While it might not seem it on paper, Oklahoma's Week 2 opponent will be a much better measuring stick, as SMU is viewed as one of the favorites to win the American this season. If the Sooners dominate the Mustangs on Saturday night, and the defense holds Rhett Lashlee's Air Raid scheme in check, it might be time to start taking OU's defense seriously. If the struggle, it could mean there's still work to do for Venables and Co.
SMU MUSTANGS
SMU is a team that could absolutely challenge Oklahoma, especially offensively. Rhett Lashlee has picked up where Sonny Dykes left off, keeping the Mustangs as one of the top offenses in Group of Five football. A trio of SMU offensive stars in Stone, Hudson, and Johnson gives Lashlee three former four-star prospects to build his offense around, and that proved successful in Week 1. Expect SMU to attack the Sooners secondary and test to see whether the improvements are real, or if last week's success was more a reflection of Arkansas State's dismal play. I expect this game to be much more competitive, and that's because I believe SMU is a 10-win team in 2023.
PREDICTION: Oklahoma 51, SMU 24
With OU coming into this game as less than a three-touchdown favorite, Vegas either still has reservations with the Sooners, or they think SMU is truly one of the better G5 teams in the country. With Houston, Cincinnati, and UCF now in the Big 12, the American is up for grabs and SMU is one of the favorites to take over in '23, along with UTSA. After what I saw from the sidelines in Norman though, I'm not sure the Mustangs can hang with this version of the Sooners. Oklahoma was fast, physical, and decisive, which are three areas they really struggled in 2022. While there will still be questions of their legitimacy from the national media, I expect OU to win and cover here, and for the hype surrounding the Sooners to ramp up ever so slightly.