Big 12 News
K-State AD 'Kind of Dumbfounded' On Big 12 Settlement With OU and Texas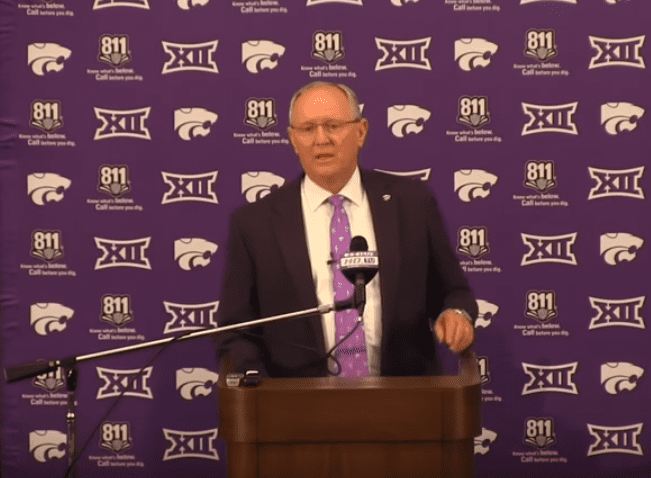 While it seems that Oklahoma, Texas, and Big 12 Commissioner Brett Yormark were very happy with the outcome of the settlement that allowed the Sooners and Longhorns to leave the Big 12 a year early, it might not have sat as well with the remaining members.
A report from USA Today revealed that $80M of OU and Texas' $100M buyout is based on money the schools will not get in 2024-25, the year after the move. The remainder of that will come from cutting full revenue shares for 2023-24 that Texas, Oklahoma, and the rest of the Big 12's members will be taking to finance payments promised to the four schools that joined the conference this summer.
Additionally, the report also states that ESPN will front "transition" payments to Oklahoma and Texas to help them bridge the gap in their move from the Big 12 to the SEC.
The settlement, and its terms, seem to have left a bad taste in the mouths of some Big 12 athletic directors.
"Kind of dumbfounded," Kansas State athletics director Gene Taylor said of some of the AD's feelings toward the settlement. "We fought back as hard as we could," but he said the conference's lawyers advised them, Yormark, and the schools' presidents and chancellors that the bylaws were "not as rock-solid as everybody thought and we could be tied up on lawsuits forever."
In 2024, the Big 12 will be nearly unrecognizable from its original membership, as only Baylor, Iowa State, Kansas, Kansas State, Oklahoma State, and Texas Tech will be the only founding members that will have been around since 1996. West Virginia and TCU were additions after the 2011-12 wave of conference realignment. Meanwhile, BYU, Cincinnati, Houston, and UCF will be in their second year, Arizona, Arizona State, and Utah will be joining for the first year, and Colorado will be coming back to the conference after a 13-year hiatus.
While it is crazy, the conference has found a way to make it through all of this without falling apart, despite being the target in every wave. Now, the future of the conference is truly as bright as it has ever been, standing 16 members strong.
"In the eyes of the public, there's been no better time to be a part of the Big 12," Yormark said. "Our footprint will encompass 10 states, four time zones, and 90 million people. The narrative around the Big 12 has changed."