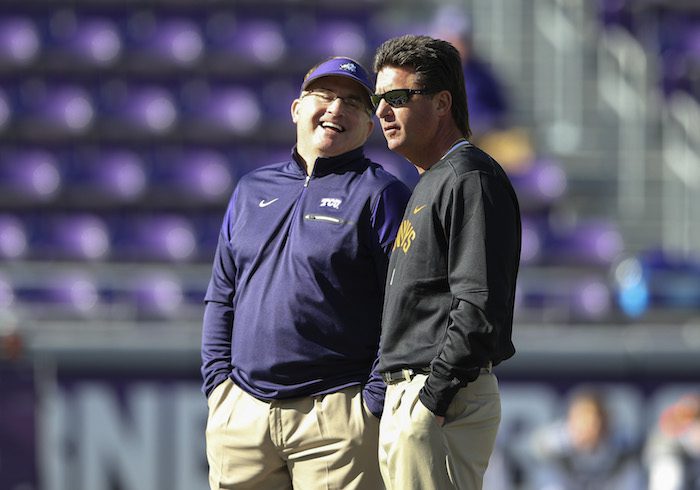 After two so-so weeks in the Big 12, Week 3 is an absolute juggernaut for the conference. It's the kind of Saturday where you sit down at 11 a.m. and won't need to get up until about 2 a.m. on Sunday morning.
The Big 12 plays nine games this weekend with seven of those games against Power 5 teams. It all starts on Friday night when Kansas travels to take on Boston College and wraps up with Texas Tech at Arizona at 9:30 Saturday night.
Here is the full slate:
Kansas at Boston College (Friday)
Kansas State at Mississippi State
West Virginia vs. NC State
Oklahoma State at Tulsa
Iowa State vs. Iowa
TCU at Purdue
Texas vs. Rice
Oklahoma at UCLA
Texas Tech at Arizona
For the Big 12, it hasn't had a marquee conference win yet. Sure, Texas hung with LSU, which is worth something, but the best conference win is probably Oklahoma State over Oregon State, although you could argue Oklahoma against Houston. Regardless, the Big 12 needs to pick up a couple of good wins this weekend to prove itself as the third-best Power 5 Conference in the country.
Most folks, myself included, albeit painfully, would give the SEC the nod in the top spot of Power 5 programs, and I would even concede the Big Ten at No. 2. But I've long believed the Big 12 is a step ahead of the ACC (carried by Clemson) and the Pac-12 (carried by ______). However for that to be the case, the conference needs to prove itself in these non-conference September games. Oh, and going 10-0 in Week 1, which included seven FCS opponents, doesn't really count as having a "great non-conference."
Can Kansas State pull off a win over Mississippi State? How about Cy-Hawk? Can Matt Campbell get the Iowa monkey off his back? Or will Texas Tech prove it's a team we've been overlooking by taking advantage of a mediocre Arizona team?
Also, as the College Football Playoff discussion gets going later next month, having the Big 12 win some key non-conference games bodes well for whoever ends up near the top of the Big 12 standings.
That's what makes this week so important. It will help determine where the Big 12 stands in the hierarchy of Power 5 conferences in the eyes of the committee.
Many fans point to successful bowl seasons for the Big 12 in recent years, where the conference has won some big games (i.e. Texas over Georgia), but the defense of the opposing fan bases is the same every year: "Our team did not care about the bowl game for reasons, X, Y or Z."
Guess what? In September, that excuse does not work. So whether it's West Virginia trying to get back on track vs. NC State or Oklahoma hoping to steamroll UCLA, every Big 12 fan should be rooting for any team outside of their own this weekend. Big wins will benefit the entire conference when we get deep into the season and could be one of the ultimate deciding factors if a Big 12 team happens to be on the fence come Selection Sunday in early December.
Powered by RedCircle
**We now have FREE Big 12 Forums here at Heartland College Sports. Go sign up here and join our conversation! **