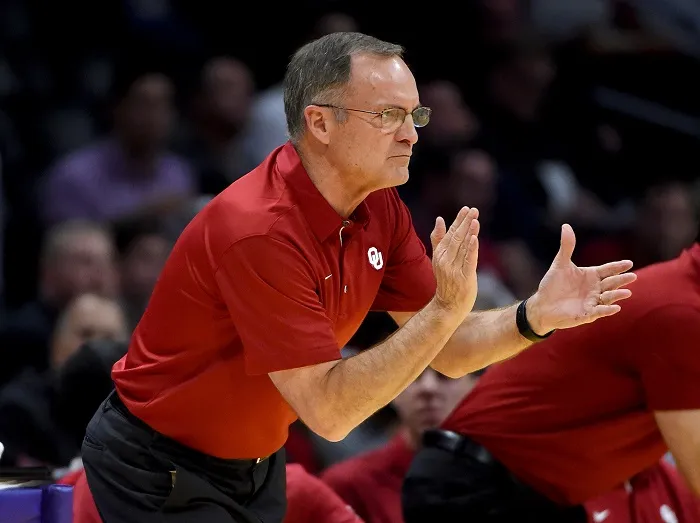 Leading up to the opening of the 2019-20 Big 12 Men's basketball season Heartland College Sports will analyze each of the Big 12 men's basketball teams. Today it's the Oklahoma Sooners. 
2018-19 Record: 20-14 (7-11 Big 12)
Postseason
NCAA: def. Ole Miss, 95-72 (first round); lost to Virginia, 63-51 (second round)
Top returning 2018-19 Leaders: F Kristian Doolittle (11.3 ppg, 7.1 rpg), F Brady Manek (12.2 ppg, 5.9 rpg), G Jamal Bieniemy (4.9 ppg, 2.4 rpg, team-leading 119 assists)
2018-19 seniors/lettermen lost: G Aaron Calixte (6.6 ppg, 1.8 rpg, 70 assists), F Patrick Geha (1.0 ppg), G Christian James (14.6 ppg, 6.2 rpg, 63 assists), G Ty Lazenby (no stats), C Jamuni McNeace (4.7 ppg, 3.5 rpg), G Rashard Odomes (6.9 ppg, 2.5 rpg), G Miles Reynolds (6.7 ppg, 2.4 rpg), G Luke Stephenson (no stats).
Recruits signed: G De'Vion Harmon, 6-foot-1, Guyer High School (Denton, Texas); C Victor Iwuakor, 6-8, Sulphur Springs HS (Sulphur Spring, Texas), F Jalen Hill, 6-7, Clark HS (Las Vegas, Nev.); C Corbin Merritt, 6-9, Daytona State College (Daytona Beach, Fla.); G Alondes Williams, 6-5, 220, Triton College (Milwaukee, Wis.); F Anyang Garang, 6-foot-8, NBA Global Academy (Adelaide, Australia); C Rick Issanza, 7-foot-1, Bella Vista Prep (Kinshasha, Congo/Scottsdale, Ariz.). 247Sports.com ranked the Sooners' recruiting class in its Top 25 and there's good reason for the optimism. Harmon was a Top 100 recruit among high schoolers, while Williams and Merritt come from the Juco ranks where they were among the Top 40 in the nation. Harmon is the crown jewel, but several have the chance to contribute for a program that lost a ton of players from last season. Garang and Issanza are probably in line to be redshirted this season, and the Sooners could stand to stockpile the height.
Transfers eligible for 2019-20 season: G Austin Reaves, 6-foot-5, Newark, Ark. (Wichita State). Reaves averaged 8.1 points and 3.1 rebounds during his sophomore season at Wichita State. He's an exceptional 3-point shooter, with a 45.1 percentage from distance.
Transfers expected to sit out in 2019-20: None.
Looking ahead to 2018-19: Transition and hope. Those are the watchwords in Soonerland right now. Eight players left the program, and James, Odomes and McNeace were important pieces. Calixte and Reynolds were grad transfers and Kruger knew they would only be there a year. But they were necessary to get through last season and to get to this talented recruiting class Kruger has assembled. The turnover means there is opportunity for at some of these incoming players to make a contribution. Doolittle, Manek and Bieniemy are the building blocks now. Doolittle finally emerged as the consistent, dominant post the Sooners have been waiting for, and if he stays on that track he will be one of the best at his position in the Big 12. Manek has been remarkably consistent since his freshman season, but Kruger said at Big 12 Media Day that he wants Manek to drive more to the basket, and he's hit the weight room to get stronger. Bieniemy changed the complexion of OU's offense once he moved into the starting lineup and Kruger now has a capable ball-handler to build the backcourt around. At Big 12 Media Day Kruger made it sound like Harmon has a real chance to start from the opener, and that could give the backcourt further skill. The frontcourt is thin, but Kruger believes that Kur Kuath, who missed just about all of last season due to injury, is ready to contribute. Watch the two Juco transfers, Williams and Merritt. Both have assets that can make the Sooners better early. Kruger wants a nine- or 10-player rotation. It will take him time to figure out if he has the horses to accomplish it.
Media Day quote: "Found out early on that the versatility is going to be a strength. I think the depth will be a strength. A lot of guys interchangeable parts, chance to play bigger or smaller depending on the opponent or the play of our guys. Probably the two things there, versatility, flexibility in terms of moving people around, taking advantage of some mismatches. And depth, being able to play nine or ten people hopefully on a pretty consistent basis.." — Oklahoma head coach Lon Kruger on what surprised him this offseason.
#BoomerSooner HC Lon Kruger takes about the progress of freshman De'Vion Harmon this off-season during #Big12MBB Media Day @Heartland_CS @GHS_Wildcats pic.twitter.com/Yk0d9tlEIu

— Matthew Postins (@PostinsPostcard) October 23, 2019
**We now have FREE Big 12 Forums here at Heartland College Sports. Go sign up here and join our conversation! **