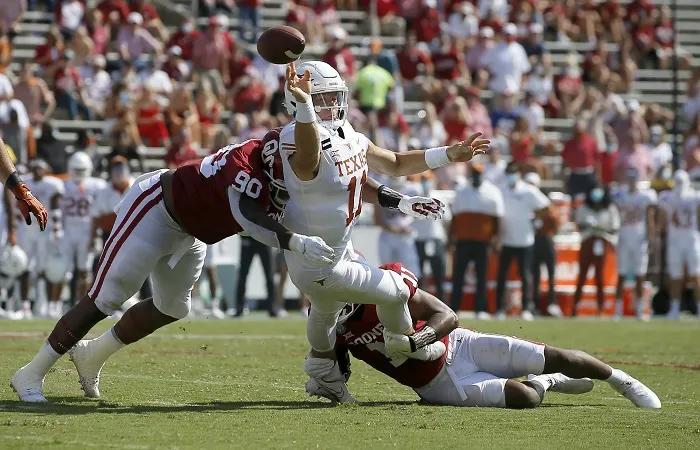 I hear it all the time, "Who has the best conference in college football?" SEC? Big 10? ACC? What about the Pac-12? Very rarely are you going to hear the words "Big 12" coming out of someone's mouth in that conversation. Whether you do it or not, there are plenty of folks out there who love to bash the Big 12 conference (cough, Paul Finebaum, cough). It was another shocking weekend in the Big 12 and there was plenty of jam-packed action throughout Saturday. 
The Good
Oklahoma (Beat Texas 53-45 in 4 OT)
This game had it all. Dumb Penalties, mistakes, mental errors but what a game. Despite all the sloppiness, it was beautiful in an ugly way and the Sooners found a way to win. Spencer Rattler did not have his best game with a couple early turnovers and was even benched, but in the second half, he played very well. Meanwhile the ground game got going with TJ Pledger who appears to have established himself in that backfield. Of course, I cannot forget about tight end Austin Stogner who also had a great game. 
Defensively, the Sooners played better and sacked Sam Ehlinger six times on the day. I felt like they dominated the Texas offensive line and then just got gassed late. And despite the Sooners blowing a fourth quarter lead, this defense made the play to win the game as Tre Brown came up with the big interception. Yes, the blown leads are a bit problematic, but Oklahoma grew up a little bit on Saturday and kept their Big 12 title hopes alive.
Iowa State (Beat Texas Tech 31-15)
This game was more of a blowout than the score indicates. Iowa State only gave up one offensive touchdown that came late in the fourth quarter. The other came from a blocked field goal. The offense was spectacular as Brock Purdy threw for over 300 yards and two scores and the run game was rolling as Breece Hall ran for 135 yards and two touchdowns. Overall, the Cyclones offense racked up 516 yards on the day. 
Meanwhile, the defense was even better. They held Tech to go 0/10 on third down and the Red Raiders had just 95 yards of offense after three quarters. I have said it before, and I will say it again. Iowa State looks like the best team in the Big 12 right now. Oh, and by the way, Matt Campbell is now 5-0 against Texas Tech and is 12-1 in the month of BROCKTOBER since 2017.
Kansas State (Beat TCU 21-14)
Even without starting quarterback Skylar Thompson, the Wildcats got the job done. Backup quarterback Will Howard did not have to throw the football much as he and Duece Vaughn led the rushing attack for Kansas State. Between the run game and the solid defense (that had an AJ Parker pick six), this team is not easy to beat. The defense needs to tighten up against the run and I would like to see the passing game a little more, but they ended up getting the big win. I do not have a whole lot of takeaways from this game, but I do have something to say about Kansas State. NOBODY is talking about this team and they are just one of three teams in the Big 12 who are undefeated in conference play. Do not sleep on this team. 
The Bad
TCU (Lost to Kansas State 21-14)
I will be honest with you, I thought TCU would win this game by double digits after a solid showing against Texas a week ago and the fact that Skylar Thompson was out for Kansas State. Let's get one thing straight here. The defense was not the issue in this game. In fact, the defense only gave up 14 points as the other 7 came from a pick six. However, the offense was a disaster. Max Duggan had a horrible game going 19/31 for 154 yards but a lot of that was because he seemed to be running for his life. And when Matthew Downing came in, he threw a pick six to give Kansas State a two-touchdown lead. Sure, Duggan came back in and led a late touchdown drive and even got a chance to try and tie the game with a minute left, but TCU never had control of this game. I still believe Max Duggan is the guy for TCU but the lack of help in his receiving core is concerning. Maybe this team is another year away from being a serious contender in the Big 12.
The Ugly
Texas (Lost to Oklahoma 53-45 in 4 OT)
I mentioned earlier that this game was one beautiful mess that had a little of everything in it. Unfortunately, there had to be a loser in this game and Texas was it. Let me start by saying the defense still has major issues under Chris Ash. The defensive line got their butt kicked just about all game long as the Sooners rushed for 208 yards on the day. The secondary was not great either as they had some lapses but perhaps most of the concern remains at linebacker where Texas has zero depth. I am not saying Chris Ash should be fired after four games, but this defense is not going in the right direction.
And speaking of not going in the right direction is this Texas offense. No, I am not talking about quarterback Sam Ehlinger people. For some reason, everyone thinks Sam is the problem. Sure, he missed some throws in this game but if not for his legs, Texas would have never had a chance to win this game. Sam put the offense on his back as he rushed for 112 yards and 4 touchdowns. Meanwhile, his offensive line was pathetic, and his wide outs struggled to get any type of separation from defenders. On several occasions, when Sam got outside the pocket, you could see his wide outs just standing there and watching.
Do not even get me started on the mental lapses that this team has. From false starts to defensive players flexing on opposing players after they just gave up a first down, it is mind boggling how this team lacks any discipline. And that is a straight up reflection of head coach Tom Herman who has maybe the hottest seat in the entire country right now. The talent is not the issue at Texas. The coaching is. This is not a football team. It is a group of individuals. 
Texas Tech (Lost to Iowa State 31-15)
I am almost at a loss of words here. I guess I will start with the defense here. I understand what little defense they played, kept them from getting blown out by 50 plus but there are still issues here at Tech that has been a problem for a while. The defense gave up over 500 yards again and there is lack of toughness on this defense. I like Rico Jeffers and Krishon Merriweather at linebacker but outside of that I am not too impressed. The defensive line is not good, and the secondary may even be worse, and I have no idea how someone can sit here and say that this defense is a lot better than what it was under Kliff Kingsury.
As for the offense, I just do not get it. Alan Bowman played almost the entire game and did next to nothing. I understand he was questionable for Saturday's game but if he is hurt, play someone else. I do not understand how the staff watched Alan Bowman play for that long before bringing in backup quarterback Henry Colombi.  I have said it before, but Tech has weapons at receiver. But due to subpar quarterback play and a lack of a run game, it is going to be tough to win games. It also looks like SaRodorick Thompson has taken a back seat to Xavier White in the run game and maybe it is time for Alan Bowman to take a back seat to Henry Colombi as well. I am starting to wonder if firing Kliff Kingsbury and replacing him with Matt Wells was a good move at this point. 
**Want to win a $25 gift card?  Go sign up here and join our conversation! The best poster each week wins a gift card to your favorite establishment!**