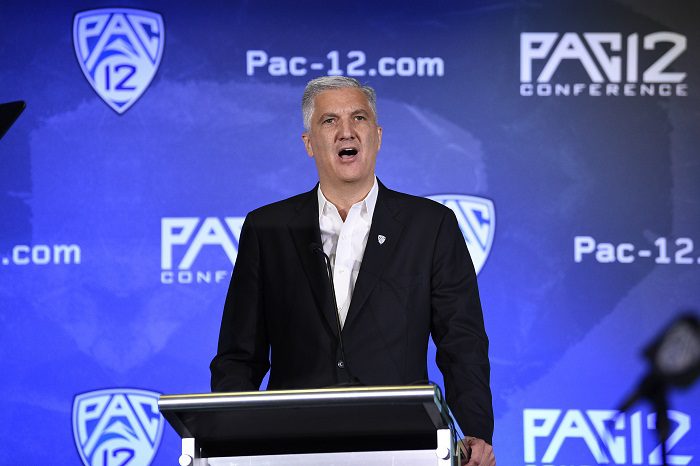 The Big 12 Conference has a big game with massive implications Saturday.
Okay, yes. There is Bedlam. Yes, Baylor is hosting Texas Tech for a chance to play in the Big 12 Championship Game. Those aren't the games this is about though. 
Future Big 12 Conference member BYU has a shot to go 6-0 against the Pac-12 this Saturday. The very conference that held its snooty nose up at eight Big 12 schools, plus BYU, could lay an egg in the win column in six games against the very school it rejected. For 11 years, the Pac-12 said "no thanks" to BYU. This Summer, the Pac-12 said "no thanks" to eight Big 12 schools looking for a train to hop on as the Big 12 seemed like a sinking ship. 
Big 12 Conference fans should root for BYU this Saturday when they play USC at the Los Angeles Memorial Coliseum. 
Two Conferences Trending in Opposite Directions
Now, the tables have turned. The Big 12 might be stronger than ever and the Pac-12 is the sinking ship. As Oklahoma and Texas seem to be taking on a destiny of doom, particularly a losing Texas program quickly rolling downhill, the eight remaining schools have come together and have bolstered the conference. Cincinnati could crash the College Football Playoff by going undefeated. They have a road victory over Notre Dame. Houston's only loss is to Big 12 Conference member Texas Tech. BYU is 6-1 against Power Five Conference teams, with its lone loss coming at Big 12 Conference member Baylor. And in case you've forgotten, the Colley Matrix crowned UCF as National Champions in 2017. Additionally, UCF is currently 7-4 and will likely be 8-4 after playing South Florida in the War on I-4. 
Meanwhile, the Pac-12 has two schools who lost to FCS teams. Arizona, who really is just an atrocious football team, lost to in-state rival Northern Arizona. Washington, who was ranked in the AP Top 25 to begin the season, dropped its season opener to Montana. The Mountain West Conference is 5-5 against the Pac-12. San Diego State is 2-0 against the Pac-12. It's like the Mountain West should replace the Pac-12 as the Power Five conference in the western U.S. 
Additionally, the Pac-12 has not placed a team into the College Football Playoff since 2016. Yes, I know. College football is not a meritocracy. The College Football Playoff selection committee certainly doesn't believe in merits, just brand recognition. However, the Pac-12 has brand recognition. It has Oregon, which is backed by Nike. Oregon appeared in the first College Football Playoff and hasn't returned since. It features USC and UCLA, two schools who constantly fire coaches. UCLA has fired four of its five coaches in the new millennium. The fifth is their current coach Chip Kelly, and he was on the hot seat prior to defeating USC a week ago. Meanwhile, USC can't move away from controversy no matter who is in charge of the football program. They've already fired Clay Helton this season. Prior to Helton, they fired an intoxicated Steve Sarkisian in 2015. Yes, the same Steve Sarkisian who has become the first Texas head coach to have a losing season in his first year since 1937. Before Helton, it was Lane Kiffin being let go on the airport tarmac. Of course, Kiffin replaced Pete Carroll, who was blasted with NCAA violations. The most successful head coach since Carroll was Ed Orgeron, who only served on an interim basis after Kiffin was left on the tarmac. Orgeron finished the 2013 season 6-2. Despite the incredible finish, USC chose Sarkisian over Orgeron prompting Coach O to resign before the bowl game. Then, there is Stanford who defeated Oregon in one of its three victories this season. 
So, who is the best team in the Pac-12? The current answer is Utah, a team BYU defeated by two scores. Utah just obliterated Oregon 38-7. The Utes won the Pac-12 South Championship and defeated every division foe by two scores or more. Its only conference loss came by eight points at Oregon State. Oregon State hosts Oregon this weekend. The Beavers have a shot to win their division, but control is not in their hands. First, Oregon State must defeat arch-nemesis Oregon. Additionally, Washington will have to defeat Washington State. Now, if Washington State wins the Pac-12 North, then BYU will have victories over both teams in the Pac-12 Conference Championship Game. It's almost like Big 12 fans should root for Washington State just for the pride and joy of reminding Pac-12 fans that BYU beat both of their teams. Also, how funny would it be that an interim head coach won the Pac-12 North Division? Just mores reasons to laugh at this joke of a conference. 
BYU vs. USC Importance
If BYU wins this Saturday at USC, the Cougars should raise a 2021 Pac-12 Championship banner. They should create a faux Pac-12 Championship trophy and place it into their case. BYU would be 6-0 against the Pac-12 Conference. They defeated the Pac-12 South Champions. They should have fun at the expense of the very conference who rejected them. The Big 12 Conference should join in on the fun too. Big 12 fans should embrace this moment if it comes true. The schools in the Big 12 Conference understand what its like to have the snooty Pac-12 hold its nose up at them. BYU spent 11 years as an Independent trying to convince the Pac-12 it belongs. They were rejected. They are now joining the Big 12 Conference.
Fans of the eight remaining Big 12 schools should root for BYU to beat USC this Saturday. If they do, we all should hold our noses high at the putrid conference that is the Pac-12 Conference. After all, they don't belong in the Power Five with the Big 12. They don't deserve an automatic bid to a New Year's Six Bowl. The Big 12 Conference has high standards for its football programs, and the fans shall look down on those grotesque programs of the Pac-12. They are the peasants of college football, and we shall laugh in their face as we welcome a new team to the fraternity that is the Big 12 Conference.