Kansas Jayhawks
CBS Sports Grades First-Year Coaches: Leipold Passes, Sarkisian Fails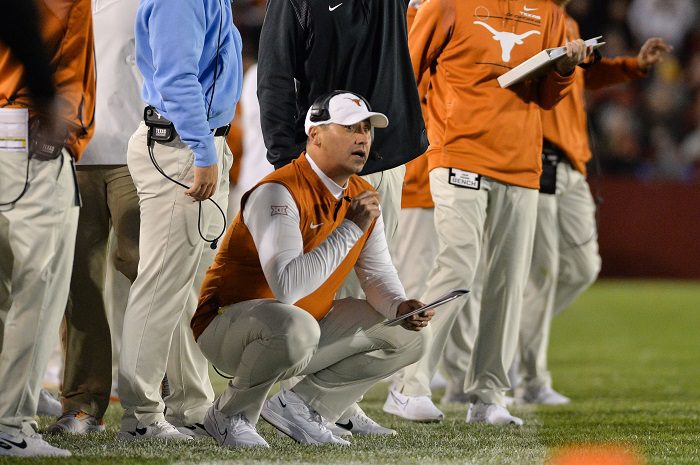 All that remains of the 2021 football season are the bowls and then we will close the book on one of the most memorable years in recent memory. There has been an unprecedented amount of turnover at the head coach position this year and we will have a lot of first impressions next season with big programs breaking in their new coaching staffs.
This year, the Big 12 had two coaches making their start at new schools, Kansas' Lance Leipold and Texas' Steve Sarkisian. Obviously, the Texas hire was the headline of the two, but Leipold is actually who came out on top in the regular-season matchup between the Longhorns and the Jayhawks. Now that the season has come to a close for both of the programs, it's time for report cards.
Barrett Sallee of CBS Sports graded all of the first-year head coaches in college football on the A-F scale and Leipold and Sarkisian won't be taking the same classes next semester based on the returns.
Here's what Sallee had to say about Leipold and Sarkisian:
---
Kansas Head Coach Lance Leipold
"Leipold's 2-10 record was par for the course at Kansas, but the Jayhawks did top Texas for their first road conference win since 2008. A glimmer of hope is something that Kansas fans haven't had in a long time."
Grade: B-
---
Texas Head Coach Steve Sarkisian
"Texas is back … to being below .500 for the first time since the Charlie Strong era. What's more, Sarkisian's Longhorns lost to Kansas at home in the middle of a historic six-game losing streak. What an abject disaster in Austin."
Grade: F
---
Sarkisian needs to turn Texas around in a big way next season, especially if they are headed to the SEC in 2023. Meanwhile, the win over Texas may have bought Leipold a few years to build something. If he can manage to win three of four games in 2022, Kansas will have seen a great return on investment in two years.