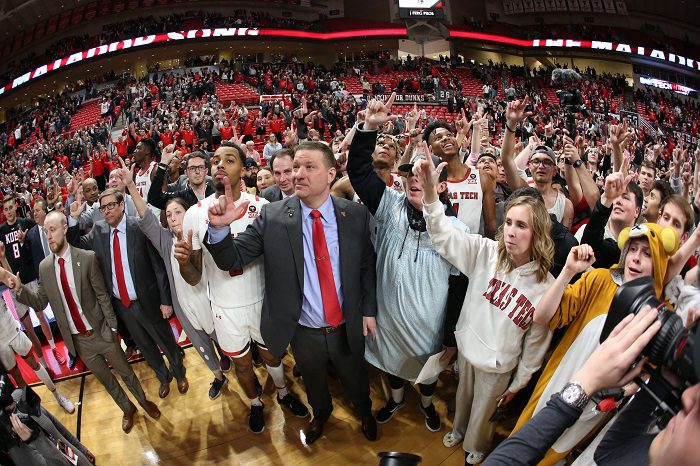 Imagine the following:
A coach is hired by a school looking to boost its basketball profile. The coach takes the job and leads that program to unprecedented heights, including a trip to the Final Four. After a time, the school and the coach part ways. That coach eventually finds work at a school closer to home. When that coach returns to his former school, he is given a hero's welcome, a fond remembrance of what he did for that former school, before tip-off.
That's the way it should work. That's actually HOW it worked for Rick Barnes on Saturday in Austin. After leaving Texas in 2015, he ended up at Tennessee, which is three hours from where he grew up in Hickory, North Carolina. He returned and Texas treated him with the respect he deserved. Barnes even got Texas-themed sneakers.
If Chris Beard gets sneakers in Lubbock on Tuesday night, he'll be lucky if there isn't a lit firework attached to it.
Shouldn't it be the same for Beard as it was for Barnes? I mean, Beard went to Lubbock and took them to unprecedented places, including a national championship appearance. Leaving Lubbock for Austin meant returning to his alma mater, Texas, which I imagine was his dream job as he served as a student manager for Tom Penders in the 1990s. Shouldn't Beard get a round of applause for all that hard work?
What was it Cher said in 'Clueless' when that one guy came up to her in the quad? 'As IF!?'
Yes, as if, indeed, if you're from Lubbock or a Red Raiders fan. In fact, those fans started lining up on Saturday for this game. In fact, it was hours after the Red Raiders beat Mississippi State.
Yes, they started lining up Saturday night. For a game that will be played Tuesday night. In a game that won't determine anything more in the Big 12 standings than third place, between two teams with the exact same record.
Barnes left Austin with no animosity toward his former employer, nor his former employer toward him. After 17 years, Texas needed a new voice and Barnes needed a new challenge.
Beard and Lubbock? Well …
Beard's departure struck a raw nerve last spring. To many in Lubbock, they felt Beard was ALREADY home. It's not like Beard had no connection to Lubbock, parachuted in to take the head-coaching job several years ago and moved on after a few years. That probably would have been LESS painful for them. That was Tubby Smith.
No, Beard spent a decade as an assistant coach under Bobby and Pat Knight in Lubbock. After a year at Little Rock and taking the UNLV job, he slid out of Vegas two weeks after taking that job to take the Tech job after Smith left. Part of the rationale was to be closer to his three daughters, who lived in the Lubbock area.
He left for Texas last April. Texas Tech athletic director Kirby Hocutt threw up his hands during his press conference after Beard left. He wondered aloud what more he could have done to keep him. The Red Raiders built a beautiful new basketball facility, the Womble Center. He said Beard didn't give him a chance to counter. Longhorns athletic director Chris Del Conte waited until after April 1 to close the deal, saving at least $1 million in buyout money. He even tweeted out the McDonald's receipt from his celebratory breakfast in West Texas.
The fact that it was Texas that lured him away was like a hot needle in the eye of Lubbock, too. The two schools are rivals. Maybe not on the level of a Texas-Oklahoma or Texas-Texas A&M, but there is animosity there for sure.
For example, when I covered the Stephen F. Austin-Texas Tech football game in September, that was the night Arkansas blew out Texas. When that score was announced, it was one of the loudest cheers of the night.
Last month, when Texas Tech was winning at home over Iowa State, Texas lost to Kansas the same night. When that score was announced, well, perhaps that applause was louder, even as I watched on television.
When Beard attempted to tweet congratulations to current Red Raiders head coach Mark Adams after a victory, it went over like, well, what's the term my grandmother used to use? A fart in church?
Red Raider Nation isn't having it from Beard or anyone else that makes apologies for him. At least not right now. At least not as long as the wound is still raw. And at least not as long as Adams is in charge in Lubbock. Not as long as Adams is dropping tweets like this.
That was Sunday night. Two days before the game.
If Beard got his 'dream job,' well, in an odd twist, so did Adams. The Brownfield, Texas, native went to Texas Tech and followed around then-head coach Gerald Myers with a notebook soaking in every bit of knowledge he could. He related that story during his first press conference as head coach. Red Raider fans like to say these days that 'Adams didn't get on the plane,' a nod to the fact that Adams chose not to join Beard in Lubbock. He finally saw his shot to coach his alma mater. And he took it.
It's not hard to see why Red Raider fans love Adams. They went from a coach they THOUGHT wanted to be there to a coach that they KNOW wants to be there. Adams has maintained the standard that Beard built, the standard that Adams helped Beard build as an assistant.
Their success in Lubbock is intertwined, even as some want to separate it and even if there is a perception by some that the national media has its weight firmly behind Beard because he has the higher profile. Jeff Goodman, especially, will probably have a hard time getting a hotel room in Lubbock for a while. But he isn't the only one.
Was Adams Beard's 'defensive coordinator' in Lubbock? Sure. Beard was smart enough to trust Adams. Beard was also smart enough to learn from him. Texas, like Texas Tech, is one of the best defensive teams in the country. In fact, no team in the nation allows fewer points per game than Texas.
Does Beard have a great track record as a recruiter? Yes, but it's ridiculous to assert that Adams wasn't involved with recruiting. Adams has had to recruit differently throughout his career as a head coach, everywhere from Division I to junior college. If his first year in the first chair in Lubbock is any indication, Adams picked up a few things from Beard in that department. Or did everyone just miss how Adams worked the transfer portal this summer?
Tuesday's game isn't for the Big 12 lead, but it will sure FEEL like it. The home-court advantage that Beard helped cultivate during his time in Lubbock is going to do everything possible to bite him on the butt. From the second he walks out of the visitors' locker room right before tip-off to the second he walks off the floor at the end of the game, that crowd will be as insane as you can imagine.
Oh, and Ric Flair will be there too because, why not?
It's not going to be your typical Tuesday night in the Big 12.
It's going to be better.
And if Texas Tech manages to win on Tuesday night, they're going to need to cancel classes on Wednesday.
You can find Matthew Postins on Twitter @PostinsPostcard.