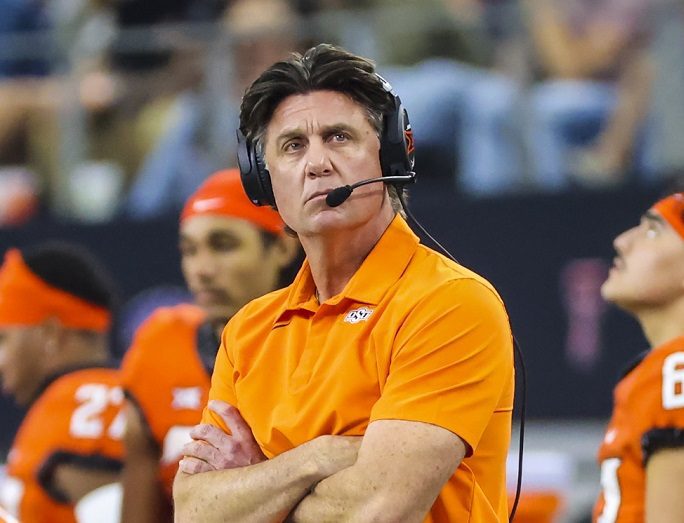 Oklahoma State head coach Mike Gundy has a knack for finding ways into the headlines for years. Obviously the "I'm a man, I'm 40" rant will be the first thing that comes to mind, and then after that it's likely his video in a wrestling singlet and a "Big Daddy" mug getting people to come out and support the wresting team.
There was also the time that he took off the shirt in Gallagher-Iba Arena for a Friday Night Pep Rally, which led the crowd to lose its mind, naturally.
Or perhaps it was the time that he dubbed his haircut the "Arkansas Waterfall" and talked at length about his regular use of butch wax to keep his hair in line.
Now, Gundy is in the headlines again, but this time it's his demonstration on how to do a one-armed pushup to the local media in Stillwater.
Whether you bleed orange or are a fan of one of the Pokes' rivals, its hard not grin when Mike Gundy is in the news, because it is almost always widely entertaining.
Earlier this week, the Cowboys' head coach made headlines for an interview he did with ESPN's Chris Low, when he said that Oklahoma and Texas "took a lot of history" away from the Big 12 and college football when they left for the SEC.
Oklahoma State is set to kick off the 2022 season against Central Michigan on September 1 at 6:00 p.m. CT.