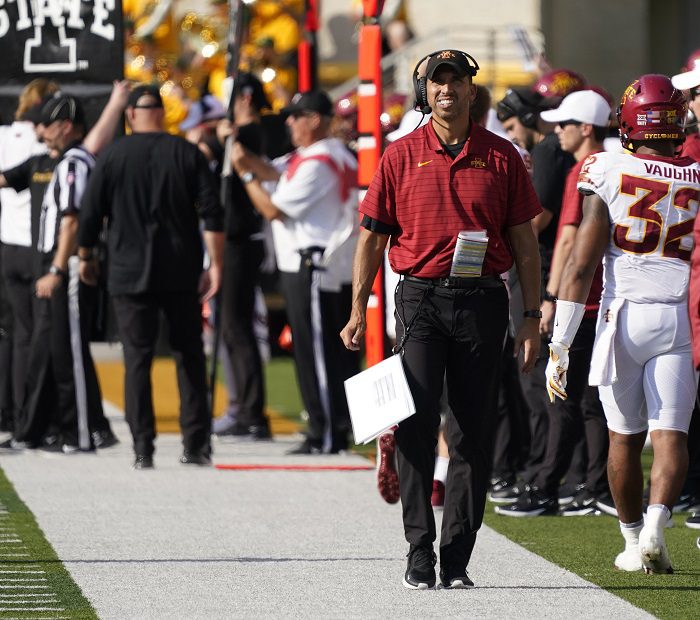 Some games are just better than others. It's a simple rule in the life of a college football fan and one that doesn't take long to figure out. Most nonconference games anymore are ho-hum, with FBS opponents taking on FCS opponents and beating their brains in by 42 points every other week.
Once conference play starts, things seem to get a little better, other than when your team plays the cellar dweller of the conference (you know who you are).
However, on every magical Saturday, there are a handful of games that are truly spectacles in their own right; games that you absolutely cannot miss out on, so you set your DVR (or your VCR I suppose) so that you can catch all the action if you must choose one over the other.
Those are the games we wake up for on Saturday.
Here are this week's Heartland College Sports' Staff Big 12 Games of the Week.
Pete Mundo
The Iowa State-Baylor match up has become one of the most underrated games of the Big 12 schedule for the last few seasons. In fact, the last three games have been decided by a grand total of 11 points. Also, the winner of this game has ended up playing for a Big 12 Championship Game each of the last three seasons. Baylor won 23-21 in 2019 and then lost to OU in the Big 12 title, Iowa State won 38-31 in 2020 and also lost to OU in the Big 12 title, while Baylor won 31-29 last season and won the Big 12 Championship. It's been a great game and I am expecting another close one this weekend, as both teams come in with defense as the strength of their team. And while it's the first conference game of the season, it will go a long way to determining how the early conference standings shape up. 
Bryan Clinton
The 17th-ranked Baylor Bears hit the road this weekend to take on the undefeated Iowa State Cyclones in Ames. This game has been close in recent years and I expect more of the same in 2022 as Baylor has been a little disappointing offensively as Blake Shapen has struggled to create big plays in the passing game. Meanwhile Iowa State looks like a dangerous team on the rise and should not be overlooked by anyone as a contender. This game could go either way, and the Cyclones being favored should not surprise folks as much as it does. If Hunter Dekkers can continue his success under center in Week 4, this team is plenty good enough to take down the preseason Big 12 favorites.
Derek Duke
Forget about game of the week in the Big 12, this should have been the national game of the week and College GameDay should have gone to Lawrence this weekend. Kansas is 3-0 and they have an excellent offense led by quarterback Jalon Daniels who continues to get better each week. They are fresh off a big road win against Houston and they already have a win in Big 12 play over West Virginia. This offense has really carried the team so far this season and I expect them to have more success against Duke. If Kansas beats Duke and if Iowa State beats Baylor, College GameDay better get their butts to Lawrence, Kansas or else I am going to riot.
Matthew Postins
There are actually plenty of good games on the schedule, but I'm most interested in TCU and SMU. The storyline of TCU coach Sonny Dykes going back across the Metroplex to face his old program in a rivalry game is intriguing. Dykes left his offense in the hands of new SMU coach Rhett Lashlee, who worked with Dykes at SMU. Many of the SMU players were recruited by both coaches. But, from a Big 12 perspective, I don't think we know how good TCU is yet. Colorado was obviously not a good team, and the win over Tarleton was a 'happy meal' game. SMU is the best team TCU has faced to this point, and with this being a rivalry game there's no better time to find out more about TCU than this weekend.