Baylor Bears
Big 12 Football Week 4: The Good, the Bad and the Ugly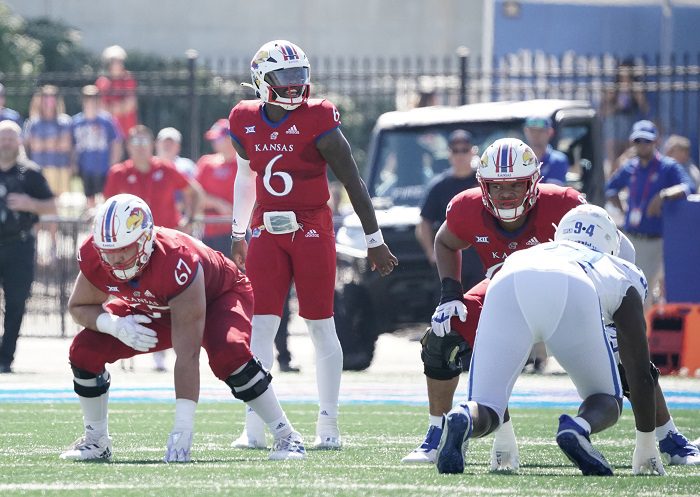 We are now four weeks in to the 2022 college football season as we head into conference play. With conference play in the rear view (except for TCU and West Virginia), there was plenty of Big 12 action on Saturday. Here is the good, the bad, and ugly from week four in the Big 12.
The Good
West Virginia (Beat Virginia Tech 33-10)
I didn't like the way this game started because there were so many missed opportunities for West Virginia. They had two drives stall out in the red zone and fumbled on a drive where they were marching right down the field. Despite the struggles in the first half, the offense got better in the second half. The offensive line opened up holes for CJ Donaldson and Justin Johnson Jr. all game long as the Mountaineers had 218 rushing yards in the game. And how about the defense? They held Virginia Tech to just 228 yards on the day and got off the field when they needed to. Virginia Tech went 2/12 on third and fourth down combined as West Virginia completely shut them down. Neal Brown desperately needed a win, and he got one on the road as the Black Diamond Trophy stays in Morgantown.
Baylor (Beat Iowa State 31-24)
The Bears didn't have their best day running the football, but it didn't matter because Blake Shapen played one heck of a game. Shapen went 19/26 for 238 yards and three scores. He was very calm under pressure and was able to use his feet to move around and make plays down the field. Despite being a first-year starter, he looked like a very experienced quarterback. Blake played a big role in this game and so did this Baylor defense. They held Iowa State to just 66 rushing yards on the day and kept Hunter Dekkers in check. I know some of us had some questions about Baylor after that loss to BYU, but they look like a team who will be a serious contender for the Big 12 title.
TCU (Beat SMU 42-34)
How about this offensive explosion from TCU? Max Duggan once again got the start and he delivered with a big performance. Duggan went 22/29 for 278 yard and three touchdowns. Meanwhile, running back Kendre Miller had a big day with 142 rushing yards and a score. By no means did TCU have their best day on defense as they allowed 476 yards of offense, but thanks to the offensive firepower of their own (487 yards of offense), Sonny Dykes brought the Iron Skillet back to Fort Worth for the first time since 2018.
Kansas (Beat Duke 35-27)
In case you don't know who the best quarterback in the Big 12 is, I will give you the answer: Jalon Daniels. Time and time again, Jalon continues to make big plays for this Kansas offense, and he had another monster game throwing for 324 yards and four touchdowns. Not only did he lead his team with his arm, but he also led the team in rushing with 83 yards and a score. Even with running back Devin Neal injured for most of the game, Jalon put the offense on his back and this man seriously needs to be in the Heisman conversation. Yes, you read that right. A Kansas quarterback in the Heisman conversation. Also, check out this play from backup running back Daniel Hishaw Jr. as he took this pass 73-yards to the house.
Listen up folks, this Kansas team is the real deal at 4-0. They host Iowa State next weekend and College GameDay you better be in Lawrence, Kansas.
Texas Tech (Beat Texas 37-34 in OT)
It wasn't always pretty, but the Red Raiders got the job done. They were down 31-17 in the third quarter, but they never threw the towel in. Donovan Smith took control of the game as he had a big day throwing for 331 yards and had three total touchdowns. His favorite target was Myles Price who caught 13 passes for 98 yards. Something that may be overlooked is the play of the Tech defense in the second half. In the final 20 minutes of the game, they allowed just three points. Also, give Joey McGuire some kudos because that guy took a lot of gambles in this game that paid off. Texas Tech converted six of eight fourth downs against Texas. I said after the win that Jones AT&T Stadium was rocking, and tortillas were flying as Tech got their first win over Texas in Lubbock since 2008.
Kansas State (Beat Oklahoma 41-34)
Do you remember the loss to Tulane last week? Neither do I because this was a completely different team against Oklahoma. Deuce Vaughn had a nice game, but this was all about Adrian Martinez. He put the team on his back and kept on making play after play. Martinez ran for a team high 148 yards and had four rushing touchdowns. The man was simply unstoppable on Saturday night and the play of the game was the third and sixteen conversion where he capped it off with a 55-run to set up a score. This was the Adrian Martinez we have all been waiting for and he certainly put on a show that people are going to remember for a while. What a win for Kansas State.
The Bad
Iowa State (Lost to Baylor 31-24)
It was a tough game for the Cyclones. They had a tough break with some penalties in the first half yet were down by only three at halftime. The biggest issue was that the run game was nonexistent for the offense. Iowa State ran the ball 27 times for just 66 yards which is an average of just 2.4 yards per carry. Plus, Baylor was able to pressure Hunter Dekkers as they got to him four times. With the pressure, it made Hunter Dekkers uncomfortable as he missed a few throws and had a bad interception in the fourth quarter. I will be interested to see how this team responds next week as they travel to Lawrence to take on a 4-0 Kansas team.
Texas (Lost 37-34 to Texas Tech in OT)
I have some news for you, Texas is not back folks and it showed on Saturday. First off, what was this offense doing? Bijan Robinson had a total of 17 touches in this game which is criminal. I know he had the fumble in overtime, but you have to your best player on offense the ball. Also, it was extremely concerning when wide receiver Xavier Worthy went out because there was a clear drop off in the passing game when he left. And please, get rid of the wildcat.
As for the defense, I am not sure what was going on. Texas was aggressive early on and rattled Donovan Smith a bit and then all of a sudden, they stopped brining any sort of pressure. Combine that and the fact that they couldn't get off the field which equals a recipe for disaster. This defense was completely worn out by the end of the game as Texas Tech's offense ran 100 plays. Until serious changes are made, this will continue to be the same old Texas who struggles to make a bowl game.
Oklahoma (Lost to Kansas State 41-34)
For whatever reason, Kansas State is always a thorn in the side of the Oklahoma Sooners. The defense couldn't stop Adrian Martinez at all because he absolutely torched them on the ground. Oklahoma allowed Kansas State to run for 275 yards which was a little bit shocking considering they knew what was coming. Offensively, Dillon Gabriel wasn't at his best. He definitely left some throws out there and overall this team just made too many mistakes to win. Oklahoma had 11 penalties in this game and when you combine that with the other mistakes, they put themselves in a hole they couldn't get out of.
The Ugly
Big 12 Refs
The specific crew I am talking about is the one who did the Iowa State/Baylor game. I mentioned it in my four thoughts after the game that Baylor was the better team on Saturday, and they deserved to win the game. With that said, the first half of that game was embarrassing to watch. Here is a list of some questionable calls in the first half.
Within the first five plays in the game, Iowa State Safety Beau Freyler was ejected for targeting. I get it, he used the crown of his helmet. While I don't agree with the targeting rule in general, it's a rule. However, if you call that then shouldn't the hit underneath it be targeting as well? If you are going to enforce the rule, then be consistent.
Then things just got worse as the first half went on. On the same drive of the Beau Freyler hit, Iowa State linebacker Colby Reeder was flagged for unnecessary roughness on this hit.
I guess I missed the memo of football being a two-hand touch game.
As bad as these two calls were, this one stole the show. Baylor had a third down and ran the ball. Iowa State ended up stopping them but due to a penalty, Baylor got a first down. The flag was on Iowa State safety Anthony Johnson Jr. for a block below the waist. What a joke.