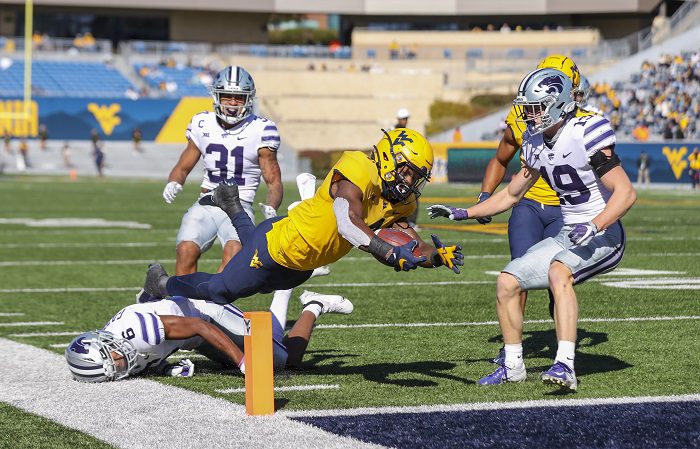 Here is everything you need to know about the upcoming matchup between the Kansas State Wildcats and the West Virginia Mountaineers.
GAME INFO
Saturday, November 19, 2022; 1:00 p.m. CT; Milan Puskar Stadium; Morgantown, West Virginia
TV: ESPN+ (Mark Neely, Barrett Brooks, Tori Petry)
Radio: K-State Sports Network (Wyatt Thompson, Stan Weber, Matt Walters); Mountaineer Sports Network (Tony Caridi, Dwight Wallace, Jed Drenning)
Records: Kansas State (7-3, 5-2); West Virginia (4-6, 2-5)
Rankings: Kansas State ranked No. 19 in CFP Top 25; West Virginia unranked
Last Week: Kansas State 31, Baylor 3; West Virginia 23, Oklahoma 20
Series History: Series tied 6-6
Last Meeting: Kansas State 34, West Virginia 17 (2021)
Favorite: K-State (-7.5)
Fun Fact: Since WVU entered the Big 12 in 2012, K-State won the first four, and WVU won the next five before the Wildcats snapped the streak in Manhattan in 2021.
KEY PLAYERS
Kansas State Wildcats
QB Will Howard
It's official: Will Howard is QB1 for the foreseeable future, and I believe that is a good thing for the Wildcat offense. During his time at the controls in 2022, Howard has completed 53 of 84 (63.1%) pass attempts for 717 yards and nine touchdowns with just one interception. He has also added 16 rushes for 40 yards and one score in the three games that he has appeared in. If he can continue to find a rhythm and help K-State win its last two games, the Wildcats will appear in their first Big 12 Championship game since 2003.
S Drake Cheatum
Senior safety Drake Cheatum will need to be a dude in the back end of the Kansas State defense from here on out as Kobe Savage will miss the remainder of the season with a leg injury, according to K-State head coach Chris Kleiman. Cheatum recorded one of Kansas State's two interceptions last week in a 31-3 win over Baylor and he will need to be on point with a West Virginia offense that has been pretty good at home.
West Virginia Mountaineers
QB Garrett Greene
Last week, J.T. Daniels was ineffective against the Oklahoma defense in the first quarter and Neal Brown elected to give Garrett Greene a run at quarterback. The dual-threat signal-caller came in and gave the Mountaineers a spark, and helped lead them to a 23-20 victory over the Sooners. Greene was responsible for a couple of touchdowns on the ground in the pouring rain and his competitive spirit lifted WVU to heights we haven't seen much this season. Now, Neal Brown has a quarterback controversy on his hands and hasn't named a starter for Saturday's game. I'll help him out: it needs to be Greene.
LB Jasir Cox
Senior linebacker Jasir Cox is coming off a 12-tackle performance against Oklahoma in which he also recorded a pass break-up and one tackle for loss. This week, Cox will have the difficult task of keeping K-State running back Deuce Vaughn under wraps, and that will be incredibly hard, as it has for everyone over the past few seasons. Fellow linebacker Lee Kpogba leads the team with 66 tackles and will be a major factor in stopping Vaughn.
KEY STORYLINES
Kansas State Wildcats
Kansas State is two wins away from a Big 12 Championship berth and it starts with a game in Morgantown. The Wildcats have put themselves in a great position, but in the 2022 version of the Big 12 nobody can afford to take a Saturday off and that goes for K-State this week as well. Chris Klieman's group needs to keep their focus this week and take care of business one week at a time. If they don't, it could cost them a trip to Arlington.
West Virginia Mountaineers
Can West Virginia build on the momentum it built last week against Oklahoma and keep its chances of reaching a bowl game alive? The Mountaineers must defeat K-State this week and Oklahoma State next week to get to six wins and find themselves in a bowl game. An interesting note? There's a chance that all 10 teams in the conference find themselves in a bowl game, but West Virginia will need to win this week to make that happen.
PREDICTION: K-State 31, West Virginia 21
As much as I'd love to see all 10 Big 12 teams make a bowl game, I just think Kansas State is too much for West Virginia in this game. The K-State offense is dynamic with Will Howard on the field, and that should make life difficult for the WVU defense. On the flip side, the K-State defense is disruptive and opportunistic, which will take West Virginia off-script. Give me KSU by 10 as they improve to 8-3 and one step closer to a date with TCU in Arlington.