Big 12 News
Oklahoma's Jayda Coleman, Jordy Bahl Sweep Big 12 Awards for Week 12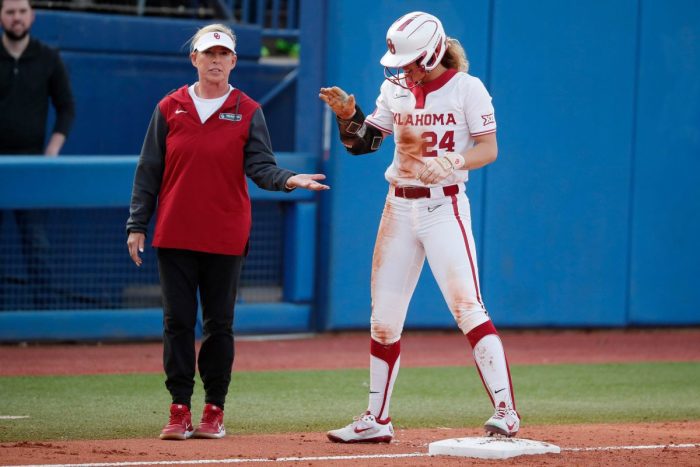 We've arrived at the last weekend of the regular season in Big 12 softball, and the conference race is officially over. The Oklahoma Sooners are Big 12 champions for the 11th straight season, and that's without even having to play Oklahoma State.
The Sooners have rounded into form and look like the juggernaut we expected them to become in 2023, and much of that is thanks to Jayda Coleman and Jordy Bahl.
After standout performances this week, Coleman and Bahl were named Big 12 Player and Pitcher of the Week.
Coleman batted .667 (6-for-9) with two home runs, two doubles and six RBIs on the weekend with a 1.556 slugging percentage. The junior centerfielder scored five runs and tallied 14 total bases while drawing one walk and stealing a base. The two-time NFCA First Team All-American's .443 career batting average ranks second in Big 12 history.
Bahl threw 6.2 scoreless innings in two appearances during the weekend. The sophomore threw a complete-game shutout in OU's 8-0 five-inning victory over the Jayhawks while giving up just four hits with no walks and seven strikeouts for her sixth individual shutout of the season. The native of Papillion, Nebraska closed out Sunday's game three, throwing 1.2 scoreless innings while holding KU to one hit to go with three strikeouts and zero walks. The 2022 NFCA Division I National Freshman of the Year's 1.09 career ERA (min. 150 IP) ranks third all-time among league pitchers.
Oklahoma is scheduled to play at Tulsa on Tuesday night before heading to Stillwater for a three-game series against No. 6 Oklahoma State.