Baylor Bears
Texas, Oklahoma Among Highest Revenue Earning Athletic Departments in 2022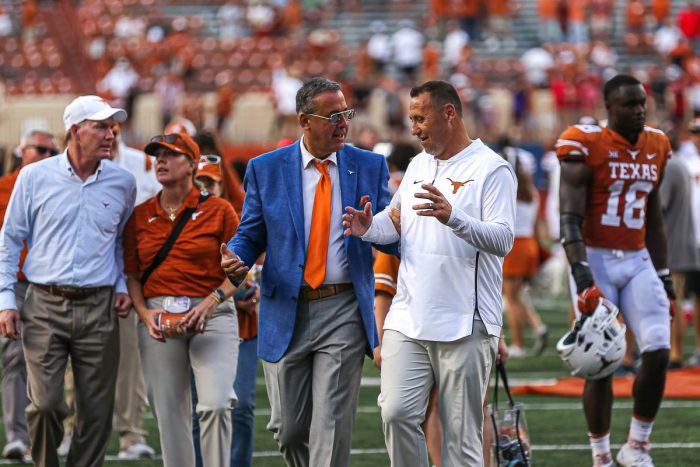 USA Today recently released the total revenue figures for FBS schools, and two current Big 12 athletic departments cracked the top ten for highest revenue earnings in 2022.
According to the database, Texas was the second-highest revenue-earning athletic department in the country with $239,290,648 in revenue for 2022, ranking only behind Ohio State with $251,615,345.
Oklahoma comes in at No. 10 on the list, making $177,320,217 for 2022. Interestingly, the Sooners rank behind five SEC programs, six if you include the Longhorns, ahead of their jump to the SEC in 2024.
Unsurprisingly, the SEC and Big Ten dominate the top of the conference revenue earnings, with the SEC earning $2.17 billion to the Big Ten's $2.04 billion, with each conference having 13 public schools each.
The Big 12's next highest earning school behind Texas and Oklahoma is Kansas, who comes in at No. 35 on the list with $118,020,175 reported revenue in 2022.
Here's a quick look at all Big 12 schools' revenue from last year, including the four new schools, plus Texas and OU.
*Note: Baylor, BYU, and TCU are not included as private schools are not required to report financial figures.
| Rank (Big 12) | School | Conf. (2022) | Total Revenue | Total Expenses |
| --- | --- | --- | --- | --- |
| 2 (1) | Texas | Big 12 | $239,290,648 | $225,153,011 |
| 10 (2) | Oklahoma | Big 12 | $177,320,217 | $175,997,457 |
| 35 (3) | Kansas | Big 12 | $118,020,175 | $108,696,078 |
| 39 (4) | Iowa State | Big 12 | $111,287,492 | $111,227,458 |
| 41 (5) | Texas Tech | Big 12 | $110,154,695 | $104,778,443 |
| 45 (6) | West Virginia | Big 12 | $105,193,311 | $97,067,706 |
| 46 (7) | Oklahoma State | Big 12 | $104,404,398 | $103,317,156 |
| 49 (8) | Kansas State | Big 12 | $100,822,204 | $82,220,606 |
| 52 (9) | UCF | AAC | $89,228,205 | $69,099,289 |
| 55 (10) | Cincinnati | AAC | $83,344,028 | $75,902,262 |
| 56 (11) | Houston | AAC | $78,088,086 | $73,806,404 |
USA Today